Rectify

Apr 03, 2013 12:36PM, Published by Ryan Frisch, Categories: In Print, Today
---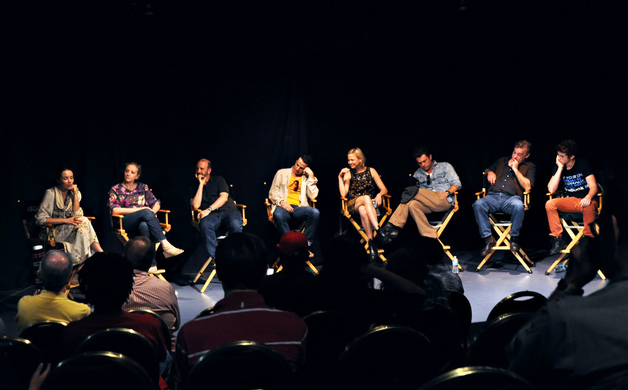 ---
---
by Heather Beauchamp
  I never imagined that I'd find myself standing in a prison cell on death row, but there I was. A stack of books on the floor next to the tiny bed was the only sign that there was a life being lived inside this 9 x 12 space. Or, rather, had been livedthere for 19 years, until the day that Daniel Holden was released and allowedto resume the life he'd left behind in small town Paulie, Georgia.
Going back to that world is as unexpected and jarring to Daniel as standing in that cell block would be for me, had it not been a set on the soundstage for the Sundance channel's new series Rectify, which has been filming in Griffin since March. Walking around the set with Denise Godoy, the show's publicist, I was able to get a better understanding of what many Griffin locals have asked at some point this summer…."What is Rectify?"
 Set to air in early 2013, Rectify begins with Daniel's release from prison based on new DNA evidence in the rape and murder case of 16 year old Hannah Dean. Although Daniel's sister, Amantha, played by Abigail Spencer (All My Children, Mad Men) has been fighting diligently for his release for many years, the sudden freedom and consequent readjustment to "normal" life comes as a shock to Daniel, as well as to the town he left behind.
 Denise and I sat and talked just outside of one of the stage doors where the crew was setting up lighting for a scene that was taking place in a carefully staged bedroom. We discussed what it would be like for Daniel, coming home to face not only an array of people from his past, many of whom are not happy with his release, but also dealing with the fact that everything in the world has changed so drastically during his time in prison.
 Rectify's writer Ray McKinnon, a Georgia native,  is  a well-known actor, with roles in both television (Sons of Anarchy, Deadwood) and movies (The Blind Side, O Brother Where Art Thou?)  Perhaps most notable about his career is the Academy Award he received in 2001 for his short film, The Accountant. His writing of Rectify was inspired by the real life stories of prisoners being released after many years thanks to new developments in DNA evidence. What it would be like that first day back in the world. The second day, the first month? McKinnon's is a character driven script that instead of crazy twists and cliffhangers, focuses on the feelings and relationships between the people involved in Daniel's life. Denise assured me that it is an exciting and involving story, and that it will generate a lot of personal opinion and speculation in its audience.
  Rectify takes place in a fictional town called Paulie, Georgia. Because it captures the essence of the town McKinnon describes in the script, Griffin was chosen as the principle location for shooting. Dave Blass, the show's production designer, talked about what it was like to film here. He was able to capture the essence of small-town Georgia by using many of our local businesses for filming. Hill's Tire, Murphy's, Jerry's Shell, Bank Street Café, and Anderson's are a few of the locations that lent themselves to the creation of Paulie. 
     
 Talking with Dave, I was able to get a better idea of what goes into the scenes we watch on television shows that we may not have considered before. One particular evening, the crew was hard at work turning Bank Street into a coffee shop for a day of shooting. Dave and set decorator Amy McGary, along with a dedicated crew, placed fake band fliers on all the tables, brought in the right style of furniture, and hung quirky paintings on all the walls. Coffee menus went up on the board and espresso machines were set up on the downstairs bar.
 Extras were set to arrive at 7 am, and the shooting went on for most of theafternoon. Afterwards the crew quickly replaced the restaurant's furniture anddecorations, and Bank Street Café was itself once again.
  One of the difficult things about shooting outside of Los Angeles is that it can be harder to find props needed for designing sets, according to Blass. Every detail is so important, and so he must focus on everything in the scene, from the art on the walls to the dishes in the kitchen. Once filming has wrapped, every item is photographed, labeled, bagged, and stored so that when those sets are needed again, it can all be recreated just as it was before. Dave knows from experience that the audience notices the details, and that anything out of place or resonantly artificial in a scene can be distracting from the story.
  Of course, not all the locations needed to be tweaked much. The great advantage about filming in a place like Griffin for a show like this, Blass explained, is that for the most part it looks like what it should look like already, which brings a natural feeling of authenticity to the show. The crew seems very excited for Griffin natives to see our city as Paulie, GA on television to feel a sense of involvement in the making of Rectify.   
   Another important piece of the machinery in creating any film or television show is the director behind the camera. I had the fortune to speak to director Romeo Tirone when he was in town to work on Rectify. Tirone moved into directing after 6 years as a cinematographer on the Showtime series Dexter. He recently directed two episodes of HBO's hit show True Blood, and was then asked by producer Keith Gordon to direct on episode 5 of Rectify. Romeo explained to me that he was very taken with the
scripts, and the human drama behind the story. It is traditional in episodic
television to use different directors throughout the season because it can
bring new dimensions of creativity to the series without straying from the story line or the atmosphere of the show. The constantly original collaboration of actors and director can bring fresh surprises to the development of character and narrative- a prospect Tirone seemed enthused to explore.
         
  Under the direction of Tirone and others is the cast that brings Daniel Holden's journey to life. This group is made up of talented actors that all have notable experience in the industry. At a recent Q&A session, Abigail Spencer, J.Smith-Cameron (True Blood), Luke Kirby (Mambo Italiano, Take This Waltz), Adelaide Clemens (X-Men Origins, Silent Hill 3D), Clayne Crawford (A Walk to Remember, 24), Bruce McKinnon (The Dukes of Hazzard, The Wronged Man), and Jake Austin Walker (The Chaperone) sat down to take questions from both the press and a group of drama students from Griffin and Spalding High Schools. They each told a little about their individual backgrounds and starts in the film industry, and provided some guidance and tips for the excited aspiring actors. After all it's not just the turns of character that the cast must make real as the inhabitants of Paulie, but also the many subtle details of performance that create believable small town Georgians to populate Daniel Holden's story.  I asked Adelaide to give us a sample of her best southern accent (she's actually Australian) but she insisted we all must wait until the show airs to hear it. 
    The cast also gave details about the characters they are portraying on Rectify. Abigail Spencer, who plays Daniel's sister Amantha, gave us some insight on how Daniel's homecoming affects not only himself, but the people closest to him. She alluded to the idea that because Amantha has made Daniel's freedom her life's focus, that it may be hard for her as well to readjust to this new reality and find something else to live for. J. Smith-Cameron, who plays his mother, must deal with learning how to be a parent to a man who left as a boy so many years ago. 15-year old Jake Austin Walker, who plays Daniel's step-brother, explains that his character becomes an important piece of the puzzle for Daniel because he is able to show him what's going on in the world today that he's been missing. Giggles from the cast and audience both ensued when the final question for Jake was "Are you single?" (He is.) 
 
  Griffin's involvement in Rectify has been beneficial for many. It's been a season that added around 200 jobs to the local economy, allowed for showcase of our unique places, gave exciting experience too many locals acting as extras, and maybe even inspired some dreams for the dramatic arts.  All of the imported actors and crew members have spoken very highly of their time in Griffin, which is especially important, since they will likely be returning to our town next summer to shoot the second season.
Many have become somewhat like locals themselves, having birthday dinners at 6th Street Pier, drinks at Bank Street, seeing movies at the theater, becoming a part of our community. It's been a privilege to host the show and be a part of the Rectify story. It will be a thrilling experience for all of us to see our little town make its screen debut in a few short months. I have a feeling we'll pull off the role of Paulie, Georgia just beautifully. 
---
---
art arts entertainment film griffin rectify television vol 45
---