Keep You

Apr 26, 2013 01:13PM, Published by Ryan Frisch, Categories: In Print, Today
---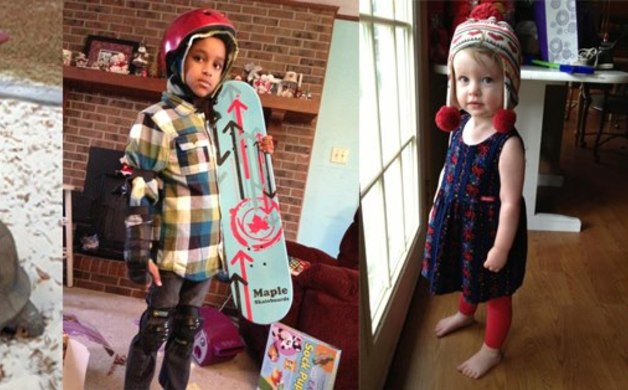 ---
---
Eather Beauchamp
There are two defining periods in a person's life…well, a person that makes the decision to become a parent, that is. Before kids, and After kids. You know what I mean. For example, remember pool parties B.K.? Lounging in the sun, swilling margaritas, playing chicken with the boys, dancing to the blaring music with your friends? Fast forward to A.K. Suddenly you're in a bathing suit that looks more like a sad dress, eyes darting from one end of the pool to the other making sure everyone's head is above water, maniacally applying SPF 95 to squirming little bodies, keeping everyone hydrated, and making sure no one swims for 20 minutes after their PB&J (I think that whole thing was debunked years ago, BTW). Meanwhile, the one margarita you were going to allow yourself is condensating all over the People magazine that you knew was a friggin' joke to even bring.
It can be frustrating. You can look around and see lots of people having more fun than you. When you're in a cycle that includes caring for others 95% of the time, you can start to lose your mind a bit. And when that happens….drumroll, please…..cue the Mommy Guilt. That's the voice in your head telling you that you should feel TERRIBLE about being frustrated by these gorgeous little beings that love you more than anything in the world, even when they are calling you a meanie for turning off the TV or because you forgot to get graham crackers again. Parenting and the feelings toward it are not consistent things.
Some days it is euphoric. I know that part well. Watching my three kids play at the park, helping one another. Glancing in the rearview mirror to see my girls, 2 and 4, giggling hysterically at an inside joke that no one else will ever understand, while the sunshine streaming into the car makes them sparkle even more than they already do. Hearing my son, 7, sneak into his baby sister's room to lean into her bed and kiss her goodnight one more time. Having him try to curl up in my lap like he used to, and me pretending he still fits perfectly. The pride when my daughter wrote her name on a birthday card by herself for the first time. Every "I love you" I hear from them goes straight to my heart, and I keep them there, because that is my sweetest treasure, and I will take every syllable with me forever.
I know so many moms. All different kinds, with different goals and priorities when it comes to parenting. I know moms who homeschool. Moms with full time jobs, stay-at-home moms, full time moms, divorced moms who share custody, moms who haven't left their children's side for years, literally. Moms who allow TV, moms who don't. Moms who buy happy meals, moms who make vegan, gluten-free everything. There's one thing in common. We love our kids. And we all worry about if we are doing the best we can for them.
I've developed a new way of thinking about this topic. And my new answer is "yes". We are.
We all are.
My situation is different than a lot of parents. I get more free time than a lot of mothers I know. I have my kids a little more than half of the week, and the rest of the time, they are with their dad, a few miles away. Nothing turns the volume of that nagging Mom Guilt Voice up to 11 like not tucking your kids in every night. For the first year or so, I struggled with it. I filled up the free time with extra work sometimes, and extra fun a lot of times. Without going in to a lot of detail, it wasn't my best time. I was punishing myself, but really I was punishing them, too. And it could have been a lot worse.
Luckily, I turned a corner. I let the guilt go. I accepted that I'm just not going to ever be like any other mom than the one I am. My personality has not changed much since my twenties and I used to hate that. I'm supposed to be a grown-up now! But there's a difference between gaining knowledge and responsibility as your get older, and losing yourself. I'm wiser, and I'm better, but I'm not much different. One of the things I've heard the most about being a mother is SACRIFICE. You have to sacrifice for your children. Sacrifice everything if you have to. Moms always look proud when they talk about sacrifice. The older generation talks about what they sacrificed for their children. That word always comes up. But I always wonder, if I sacrifice everything I am, what is left for them?
My children need my substance. They need my joy. They need my wit and my compassion and the lessons I can show them, rather than tell them. I can't teach them what I don't know. Some things we will learn together, and I'm not embarrassed about that. My life includes a lot of moments that don't involve them all the time. My work, my friends, my new interest in community service, which I love. Dancing with friends at live shows. Lying on a rock by High Falls listening to the water. Riding my bike too fast with music in my ears. Laughing with my whole everything over drinks with my girls. These are parts of me that they don't see, yet, and yet they make up part of who I am. And who I am is what they need. I don't want them to only have the version of me that was worn out and stressed and questioning everything.
I know what it looks like. Sometimes I feel badly for posting photos online of something I'm doing that a lot of moms don't get the chance to anymore. Trust me; those women are usually getting a good deal, too. There are pros and cons to any of our situations, but neither is right or wrong. It took me a long time to believe that, and I'm sure there are a ton of people who disagree. The traditional idea of family is great, but in my opinion, it can be a toxic weapon against those of us who are living differently. It's where the guilt comes from, really. When you finally realize that you don't have to do it like everyone else does, you're free to be the parent your kids need and want.
I'm not justifying my free-wheeling life that some may find flawed or off-balance. The point is we shouldn't have to. Whether you're a full time bartender mom or a full-time stay at home mom or a corporate job, traveling mom….you have to take care of yourself so that you can take care of them. Don't sacrifice everything. Sure, give up some things to make room and don't be selfish about the whole thing. They are always the most important thing.
But keep your light on for them. It will be their guide, more than anything else.

---
---
---