Tattoo Controversy Spreads Ink Around Town

Oct 01, 2013 01:12PM, Published by Ryan Frisch, Categories: In Print, Today
---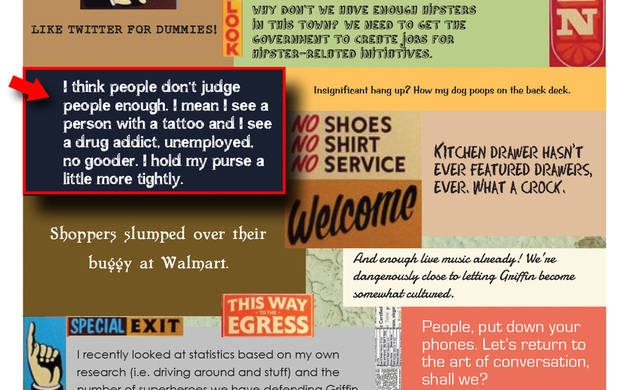 ---
---
What's a weekend without a good ol' fashioned
small town mini-drama?
It came to our attention on Thursday afternoon that a page of our most recent issue had been photographed and posted on a reader's Facebook page with the captions

"This is the Most ignorant thing I've seen in a while"

and 
"What ignorant person put this in kitchen drawer?? I Am about to go around throwing out every issue I see around griffin."
(Posts not edited)
Here's what all the fuss was about: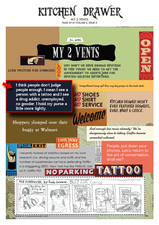 Now, obviously this reader is correct in his thinking. That is a totally ignorant and really horrible thing to say about tattooed folk. Fortunately, it was meant to be sarcastic. A few months ago, we did a satiric version of the Griffin newspapers "My Two Cents", which publishes gems such as:
and…
So, obviously, we all get a huge kick and some laughs from that column. I'm not even sure if it's posted JUST to make people laugh, or if it's for reals. Either way, we and a lot of readers had fun making up our own, which we affectionately titled "My Two Vents". Here are a few from that Facebook thread:

SO, we thought we were pretty hysterical, right? And anytime we think we are funny, we go "Man I wish we had a magazine to publish this stuff in, that would be great, oh, wait we totally do! Yes!"

And so we did. Out of 9 Vents on the page, 6 are jokes and 3 are real. They are all reader submissions. What we failed to do was to add a disclaimer or a warning that some of the items on the page were meant to be satire and not to be taken seriously. In fact, they should have conveyed that we at KD in no way believe that tattooed people are dangers to society. Obviously, that was not the case. Confusion ensued.
Once the photo made a few rounds on Facebook, it became apparent that the issue was that our Vent page actually promotes ignorance by allowing readers who may actually share those opinions to feel validated in their assholery. Someone pointed out that MOST Kitchen Drawer readers do in fact share that opinion. To which we scratched our heads and thought, 'how is our magazine surviving, because we definitely don't cater toward that kind of thought?' A lot of us have tattoos; we write pretty liberally, we support art and creative thought and open mindedness.
The fact that no one on our staff considered that this might be the outcome of the apparently unfunny parody page makes me wonder if we are completely overestimating the power of perception. As in, how hard is it to print sarcasm? Impossible? Adding a warning label really takes the humor out of it, don't ya think? But maybe we should have. You know what they say about assuming and all that. Colbert does it beautifully, but he's on camera and well known for it. The Onion is a good one, but again, that's their shtick all the time. Can we not dabble in satire? Is it all or nothing?
So for anyone who read that and thought it was serious, it wasn't. (But please come forward and identify yourself. I have to know that you exist, are you serious??) For anyone who knew it was joke and disapproved of the printing, we'd love to hear your thoughts, too. And if you saw it and got the joke, please let us know.
Further disclaimer:
We also love hipsters, don't care about featuring actual drawers in the magazine, and really love the fact that we've had more live music in town lately. However, we do fully support the opinion that Griffin needs more superheroes. It's total BS, and that's no joke.
We feel the best way to go forward is to put this out there for you guys to discuss and guide us. Plenty of people seemed to share the negative reaction to the piece, so the floor is open.
Should we maybe do a color coded sarcasm system so there's no more confusion?
See what I did there?
In closing, tatt it up, Griffin. Maybe we will do a feature on our most tattooed residents and the stories behind their art. We look forward to your discussion, and this means everyone!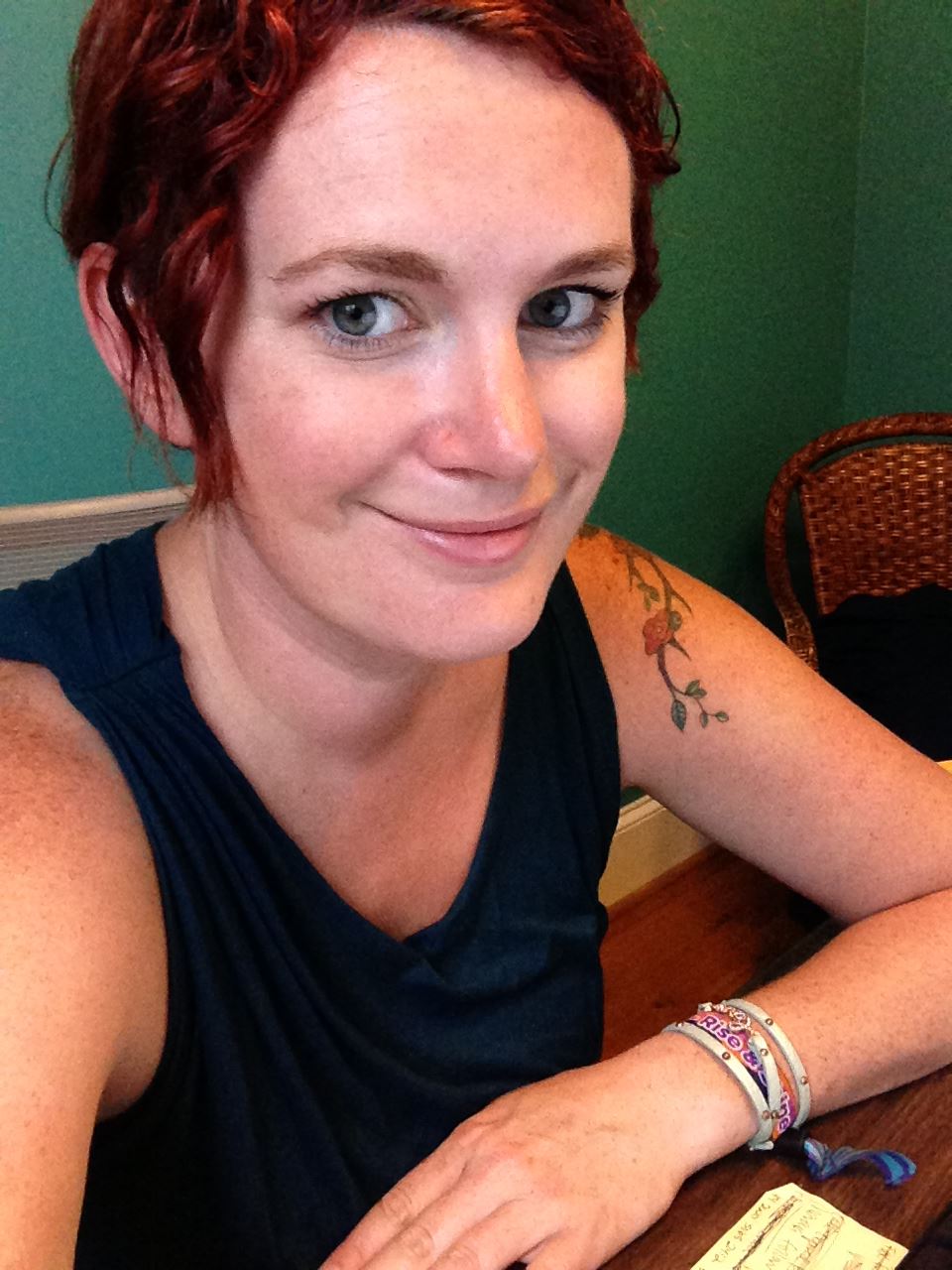 Peace, love, and ink,
Heather Beauchamp
KD staff writer and photographer (6 tattoos)


---
---
2013 discussion volume 5 issue 5 my two vents plug in reader submission tattoo vent volume 5 55 septemberoctober
---