Chili Cookoff

Oct 31, 2013 11:28AM, Published by Ryan Frisch, Categories: In Print, Today
---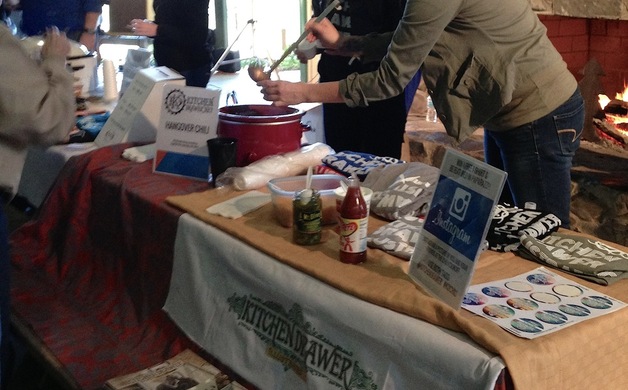 ---
---
We had great weather and a great turnout this past weekend for the 14th annual Chili Cookoff!  Organized by the Griffin-Spalding County Humane Society, the event was held at The Pavilion of Griffin.  Warm chili on a brisk fall day…it doesn't get any better than that!  Twenty-five teams participated in the fundraiser and The Crossroads Band provided great entertainment to keep the party going. Amidst the dancing and mingling, attendees tasted all kinds of chili, from spicy Indian flavors to vegetarian options as well as marinara-based recipes.  There were hotdogs, plenty of beer and someone even handed out homemade dessert.
But let's get to the main question.  What was our favorite chili?  Our very own, of course! The Hangover Chili!  It featured a special combination of beef, beans and vegetables, garnished with parsley, hot sauce and of course cheese.  We can't give away the rest, as it is our secret recipe.  What we can say is that it was nothing short of delicious. The feedback was great and we had several repeat visitors!  And our prime real estate in front of the fireplace didn't hurt. 
After a much anticipated drum roll, Eric Ridley with Perkin's Engines accepted the award for People's Choice.  Coming in as another favorite, the Griffin Fire Department won for Judge's Choice.  Congrats to those teams and we look forward to another fun event next year!
---
---
---