Welcome to Atlanta Where...We Can't Drive on Ice.

Jan 30, 2014 05:19PM, Published by A Kitchen Drawer Writer , Categories: Community, Today
---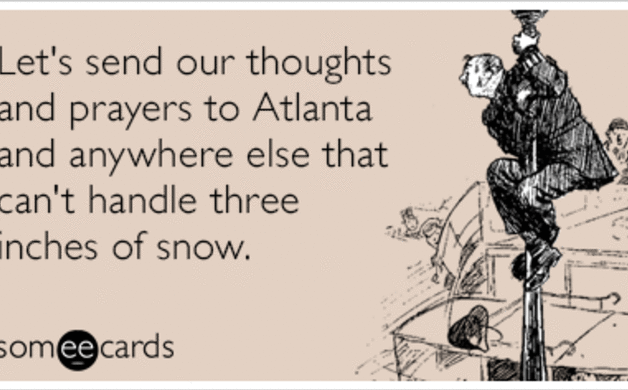 ---
---
By Heather Beauchamp
Technically, there should only be one of anything that is deemed a "Somethingpocalypse". But no matter what, if it snows here in Georgia, it's a Snowpocalypse. Or a Snowmageddon. Because it's the end of the known world, EVERY SINGLE TIME. We just add whatever year it is to the end and hashtag that bad boy to death. After this week's particularly hellacious debacle, it is even more apparent that we Southerners are just not equipped for these things. Well, that and we FINALLY decided to ignore the weatherman. (90% of the time, they're wrong every time!)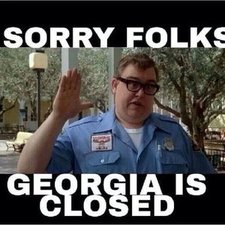 There's been a lot of smack talk between us and our Northern friends (and frenemies) this week. Basically it's like this: "OMG, you silly people let your whole city collapse because of two inches of snow?" and we're all "YEAH, so what? We aren't used to this crap." And they're all "BUT STILL, LOL." And then we're like "Hey, shut up, meanies." (I'd like to note that none of the people I know personally from up North were anything but supportive, because I know awesome people.) But the general conversation via social media went something like that.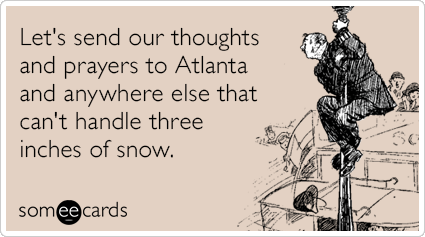 I really think it's a silly thing to fight over. Obviously we all have different skill sets based on our environments. I once visited friends that live in St. Paul. I visited them in DECEMBER. With a 3 year old and a 4 month old. (I clearly really like these people.) I remember standing there, in awe, watching as they prepped their children to go out. They have outerwear and innerwear and waterproof this and here's the shovel, let's clear the driveway and snow chains and tires and ice scrapers and super thick socks and like, gloves for your FACE with little holes in them. (I think we just use those to rob banks down here.) It's a total production. But they are used to it. Just like we are used to filling coolers full of cold water and slathering on SPF 85 and stripping down to as little clothing as legally allowable just to go to the grocery store in August without having a heat stroke.
So, I gotta hand it to the people who live up North and deal with snow and ice like pros…I commend you. Being able to drive in that mess is a really neat skill to have. I'm not offended at all if someone from up north thinks I can't drive over sheets of ice on a road with a million other people going the same direction. However, feelings got hurt, especially since a lot of folks were reading the criticism from the discomfort of their frozen cars on the side of a highway. Until their phones died, that is. Or their baby was born on the side of the road. You know, stuff like that.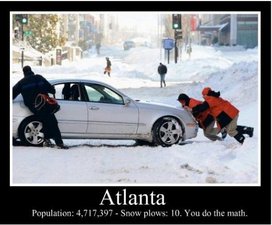 And it's not just that we aren't used to it. For me personally, I just kinda don't care. I don't want to know how to maneuver through ice any more than I want to learn how to walk on hot coals or train to be a lion tamer. My family barely has matching socks, much less snow tires. And since I don't live on the beach, I don't spend too much time studying the feeding patterns of sharks, either. And my French sucks, but it doesn't affect me too much, because I don't live in France. I tried to figure out the NYC subway system once, and ended up AT a Subway restaurant instead of a train station. Again, not affecting my daily life, so it's no bigs.  I'm not saying we should all stay in our little bubbles and never broaden our minds. Just stop expecting everyone else to do things the way you do them.
The  infamous "2 inches" of snow is now melting and pretty soon we will be back to our normal, less frigid traffic jams. We ain't even mad. Judging from the way total strangers responded and pitched in to help each other out this week in Atlanta, we got something better than driving skills. We got the love, baby. And it's mighty warm.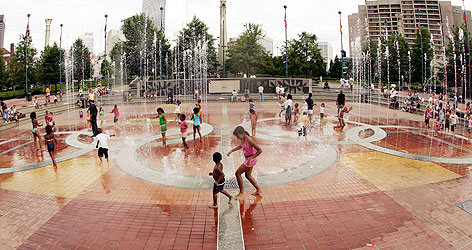 ---
---
uncategorized snowmaggeddon snowpocalypse 2014
---