Local Photographer Publishes Fine Art Photography Book

Mar 28, 2014 03:06PM, Published by Ashley Popham, Categories:
---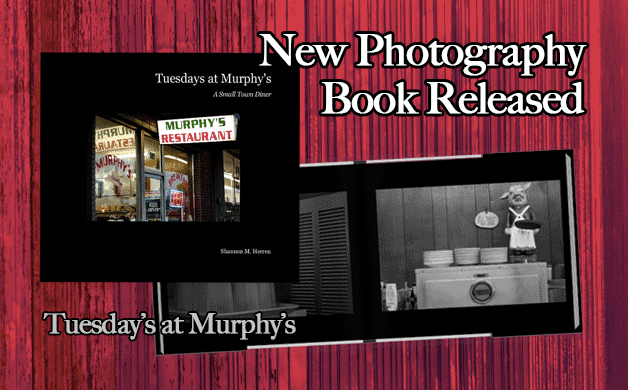 ---
---
Local photographer, Shannon M. Herren, has published her first fine art photography book, entitled Tuesdays at Murphy's: A Small Town Diner. Murphy's Restaurant, owned by Mrs. Becky Standridge, is a local breakfast diner that has been serving Griffin over forty years. 
Tuesdays at Murphy's is a reminder of the unique experience of living in a small town. All across America, diners like this keep alive the community relationships that comprise the fabric of small town life. A compilation of dozens of black and white images made on a typical Tuesday morning, Tuesdays at Murphy's showcases the talent of the self-taught photographer. "I love small town life," states Mrs. Herren. "I enjoy capturing the aspects that make Griffin and rural America unique. I think it's easy to forget the great reasons to rear a family and make a life in a small town, especially when the news, and even other residents, often focus on the negative. I've enjoyed Tuesday morning breakfast with friends at Murphy's for several years now. I wanted to make a record of one of the highlights of my week as a reminder to myself and others."
Herren began a lifelong interest in photography as a child. Given her first "real" camera, a 35mm Nikon SLR, at 16, she pursued this passion throughout her life. Mrs. Herren  has displayed work in numerous shows, including the local annual event, SlowExposures (held in Pike County the last two weekends each September), where she received an Honorable Mention in 2009. She is also an active citizen-participant in the local government, having previously contended for the District Three City Commission seat. She is employed as secretary at Union Baptist Church in Griffin. Mrs. Herren, her husband, and her youngest son reside in Griffin. The couple's four other sons live in South Georgia.
Tuesdays at Murphy's: A Small Town Diner, is available for purchase through the Blurb website at www.blurb.com/user/smhgrace. The artist can be reached at smhgrace@gmail.com.
---
---
---