McIntosh Trail Community Service Board

Apr 08, 2014 10:27AM, Published by Anonymous, Categories: Community
---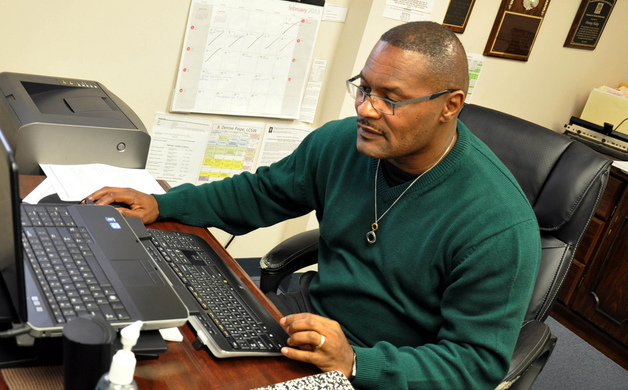 ---
Gallery: McIntosh Trail Community Service Board [7 Images] Click any image to expand.
---
---
McIntosh Trail Community Service Board
by Rachel Scoggins
McIntosh Trail Community Service Board (CSB) was created by state law to provide mental health, addictive disease, and developmental disability services. It is one of 27 members of the Georgia Association of Community Service Boards, Inc., and  is accredited by the Commission on Accreditation of Rehabilitation Facilities. It serves residents from seven counties: Spalding, Pike, Fayette, Henry, Lamar, Upson, and Butts, providing community-based outpatient, crisis intervention, and residential services that offer support and hope for optimal living. McIntosh Trail CSB employs over 300 staff members of varying clinical, medical, and paraprofessional levels. Last year, it served over 6,000 people.
Established in 1993, McIntosh Trail CSB provides assistance to people with mental illness, addictive disorders, and developmental disabilities. Mental illness is a condition that affects thoughts and feelings, causing changes significant enough to make social interaction difficult or cause personal harm. Addictive disorders are typically characterized by the chronic abuse of a drug. The term "developmental disabilities" applies to persons identified before age 22 with conditions that affect functioning and daily living.
Mental health core services begin with a full mental health evaluation, nursing assessment, psychiatric evaluation, and medication monitoring.  Other outpatient services include individual, family, and group therapy; crisis intervention; and community support. McIntosh Trail CSB offers three levels of residential services: intensive, semi-independent, and independent. Intensive services provide temporary housing with 24-hour staffed supervision, semi-independent services provide on-site staff 36 hours a week and available support 24 hours a day, independent services allow individuals the choice of residential placement and the opportunity to be fully integrated into the community. Since mental illness is a brain disease, it is treated like any other illness: in addition to physician care and medication, patients are advised on alternate ways to promote wellness, such as diet and exercise plans.
The Pine Woods Crisis Stabilization Program, located in Barnesville, is a ten-bed, medically monitored crisis unit for people who are a danger to themselves and others. The program provides short-term care so patients can be stabilized and returned to the community. A new program, Assertive Community Treatment (ACT), focuses on individuals with serious mental illnesses such as schizophrenia, bipolar disorder, and major depression; it functions as a "hospital without walls" for this high-risk, vulnerable population. ACT's 10-person staff includes a psychiatrist, licensed clinical staff, a registered nurse, and paraprofessionals.
The Peer Support Program is a day program for individuals with severe mental illness. The groups are led by people with mental illness who are doing well enough to give assistance to their peers. McIntosh Trail CSB's Executive Director, Pam McCollum, states, "Sometimes it's easier to hear from peers, especially on topics like how to deal with stress and other problems." Groups are supervised by staff members. The Peer Support Program promotes paths to success, such as getting a job, going back to school, volunteering, and encouraging participants to  follow their passions.
Reflections Geriatric Services is geared towards individuals with Alzheimer's disease and dementia. This day program offers activities related to cognitive ability to help with memory and stimulate the brain, and provides respite for caregivers through competent and compassionate care. The day programs are located in Griffin and Thomaston, but are accessible to residents of Butts, Lamar, and Pike counties through a transportation system. A monthly support group offers support and education for families and caregivers.
McIntosh Trail CSB offers a variety of addictive disease treatment services. These include the Transitions program, New Choices, DUI school, and outpatient treatment. Transitions, or Inspiration, is a short-term residential program for adults who have significant problems with addiction. It provides treatment and support for people who are making the transition from acute care to a long-term program. New Choices, serving women who suffer from addictive diseases, is a residential program lasting six to nine months. It is specifically funded to assist women receiving Temporary Aid for Needy Families or those who are being served by DFACS Child Protective Services. The program helps women stop abusing drugs and alcohol, learn child care skills, find employment, and gain other skills needed to re-enter the community.
Developmental disabilities services include four-person, four-bedroom group homes within the community. The homes provide 24-hour assistance and supervision with medication and daily living chores, like laundry and food. McIntosh Trail CSB also offers day programs, in which every day, for five or six hours, participants build skills; socialize with others; have opportunities to volunteer; and/or gain employment and learn job skills at local grocery stores, hospitals, and other businesses.
A new program, the Butts County Counseling Center/Child and Adolescent Clubhouse, is geared towards preventing at-risk young people from entering the mental health system. These kids are generally at risk of failing or dropping out of school and getting involved in the juvenile justice system. The clubhouse is an after school program that offers GED and SAT preparation, employment counseling, guitar lessons, field trips, and a game room. The goal is to help young people learn to deal with conflict, improve relationships, and strengthen their resiliency in dealing with day to day challenges.
McIntosh Trail CSB seeks grants to support their efforts.  A recent report showed that individuals with serious mental illness die, on average, 25 years earlier than the general population; these deaths are often due to conditions unrelated to mental illness such as cardiovascular problems, diabetes, and respiratory illnesses. These findings have created a movement within the behavioral health field to place more emphasis on the physical health needs of mentally ill individuals. As a result, McIntosh Trail has partnered with Hope Health Clinic and Kaiser Permanente to address this critical area. Several grants are supplemented by the state; the CSB has also received funding from the United Way and the Healthcare of Georgia Foundation. Local businesses and organizations have helped McIntosh Trail get much needed items for the different programs; for example, funding provided by an EMC helped to purchase beds for Pine Woods.
"Our goal is to treat people in the community," McCollum states. McIntosh Trail CSB helps people focus on being more independent, get jobs, and face whatever mental health barriers keep them from functioning in their homes or communities. "If we give them the help they need, we can keep them out of the hospital or jail, and help them to become valued, contributing members of their community."
For more information, contact McIntosh Trail CSB at 770-358-5252 or visit their website at www.mctrail.org.
---
---
community service board mental health addiction medical care
---