Movie Review: Flight

Apr 08, 2014 10:49AM, Published by Anonymous, Categories: Arts+Entertainment
---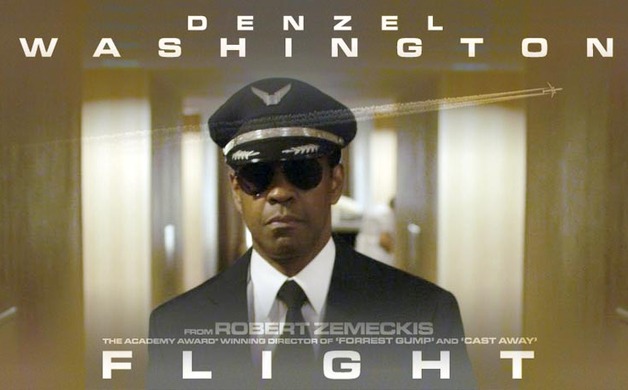 ---
---
Movie Review
Flight
by Clark Douglas
When we're first introduced to Whip Whitaker (Denzel Washington, Remember the Titans), he's hung over after a long night of carousing. As the woman he spent the evening with gets dressed, Whip argues on the phone with his angry ex-wife. He stumbles out of bed, quickly downs some whiskey, and then does a line of cocaine to give himself an energy boost (a move which is cheekily underscored by Joe Cocker's "Feelin' Alright"). In mere moments, our protagonist has been defined by sex, drugs, and rock n' roll. It's clear that this guy's life is a disaster, but that fact becomes considerably more alarming when we learn that he's also an on-duty airline pilot. Ah, but when Whip boards the plane and greets the passengers, he has the measured confidence of a man in complete control. This is a guy who has turned flying while impaired into an art. Alas, Whip's about to encounter a flight which will put that particular skill to the test in horrific fashion.

The flight encounters some turbulence, and the equipment begins to fail. Before long, it becomes clear that the plane is going down one way or another. Using quick thinking and a variety of innovative techniques, Whip makes a valiant attempt to successfully crash-land the plane. The sequence is arguably the most harrowing plane crash ever committed to film—a white-knuckle ride filmed with great skill and tension by director Robert Zemeckis (who gave audiences another terrifying plane crash sequence in the deserted island drama Cast Away). There were over 100 passengers on board Whip's flight, and only six of them are killed in the crash. That's a sad fact, but by all accounts, most pilots wouldn't have been able to keep anyone alive. Whip is hailed as a hero by the media and the general public. However, an investigation into the crash threatens to reveal the fact that Whip had copious amounts of drugs and alcohol running through his system at the time. Suddenly, Whip is forced to confront his own demons as he desperately attempts to keep the truth from coming to light.

Flight is remarkably canny in the way it manages to make the viewer quietly root for Whip to get away with his crimes. "Nobody could have landed that plane like I did," he argues, and the evidence suggests that he's absolutely correct. He couldn't possibly have handled the situation with greater skill, but the fact remains that he was flying while impaired. One doesn't expect a great deal of suspense from a film that is essentially about alcoholism, but that's precisely what Flight delivers. After the crash, Whip fearfully swears off booze and dumps out every bottle in his possession. His newfound sobriety is going fine until he hears about the investigation into his drinking—news which drives him to drink again. During one nail-biting sequence in the film, the simple sound of a bottle of vodka being opened serves as the dramatic equivalent of a gunshot. As Whip and his attorney (an understated Don Cheadle, Hotel Rwanda) work to bury the truth, we find ourselves breathing a sigh of relief as each toxicology report is dismissed and each loophole is found. In some ways, Zemeckis has essentially crafted an "innocent man wrongly accused" thriller, in which the man in question has been accused quite correctly.


Denzel Washington is one of cinema's most reliable actors, but his performance in Flight is remarkable, even by his usual standards. His portrait of a man in the grip of addiction is multilayered and endlessly compelling—it's a performance which is alternately sly, charismatic, weary, and heartbreaking. Whip is a man unwilling to admit to himself that he's an alcoholic ("I can stop any time I want" might as well be his catchphrase), and Washington captures the character's self-delusion with skill. The film's other key performance comes from Kelly Reilly (Sherlock Holmes) as a heroin addict who strikes up a romantic relationship with Whip. Her tale parallels Whip's in a number of ways, with the crucial difference being that she's fully aware of the toll her habits are taking on her life. Giddy moments of comic relief arrive in form of Harling Mays (John Goodman, The Big Lebowski), Whip's enthusiastic pal and drug dealer. Goodman doesn't have a lot of screen time, but boy, does he make the most of what he's got. The character waltzes into the movie, chews up the scenery, and delivers lots of gut-busting laughs. It's remarkable how well Flight manages to juggle so many different tones as it proceeds. This is a film with plenty of room for both wicked humor and deep sadness. It's as intensely moving and truthful as any of the great films about alcoholism (The Lost Weekend, Days of Wine and Roses, Under the Volcano, and Leaving Las Vegas spring to mind), but somehow it manages to be supremely entertaining, too. It's a trip well worth taking.
---
---
movie review clark douglas flight movie
---