Brew Nation - The Beer Revolution

Apr 08, 2014 11:18AM, Published by Anonymous, Categories: Community
---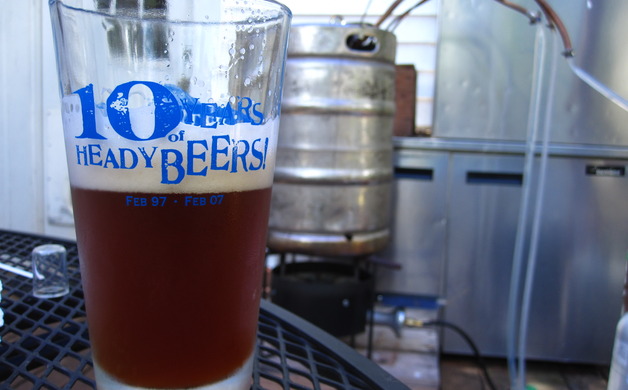 ---
Gallery: Brew Nation [23 Images] Click any image to expand.
---
---
Brew Nation—The Beer Revolution
by Brandon Tober
Beer is an American staple. Its history in our country reaches back to the first colonies. Before the Prohibition era, beer consumption was booming, and nearly every community boasted its own local brewery. Unfortunately, most of these were forced out of business during Prohibition. Local craft breweries are finally coming back, bringing unique and creative offerings not found from mass-production breweries. We are fortunate to have several of these breweries within a short drive from home. Here's a little taste of what each has to offer.
The newest brewery to make our local scene is Macon Beer Company, founded by college buddies Cory Smith and Jeremy Knowles, who pride themselves on "engineering great beer." Knowles' chemical engineering background, fused with Smith's creativity, delivers a great product. Macon Beer Company plans their grand opening in the late spring with two beers: Macon History, a brown ale, and a pale ale called Macon Progress. In addition, they plan on releasing a seasonal cherry wheat in conjunction with Macon's Cherry Blossom Festival, and later hosting an Oktoberfest celebration, complete with a homebrew competition. More information can be found at their website maconbeercompany.com.
Fairburn's Strawn Brewing Company, known as "the working man's brewery," fittingly brewed their first batch of ale on Labor Day 2012. Founders Will Strawn, Lamar Strawn, and Doug Evans brew on nights and weekends, while still holding their day jobs. The brewery is like none other—all of the equipment was re-purposed from other sources, demonstrating these brewers' ingenuity: the mash tun (vessel used to convert grain starch into sugars for fermentation) was once a dairy tank; the fermenters were originally used for Campbell's soup. Strawn Brewing Company currently offers a refreshing wheat, a popular amber, and a delicious Scottish ale. Their much-anticipated India Pale Ale (IPA) is in the works and should be available later this year, along with a bottling line. Find out more at strawnbrewing.com.
Another great local craft brewery is O'Dempsey's, started by Randy Dempsey in 2009, after 20+ years of homebrewing. O'Dempsey's creates "balanced beers for a balanced life." One taste of their IPA and you'll agree. Demonstrating terrific examples of style and balance, the O'Dempsey's line-up includes Your Black Heart Russian Imperial Stout, Inukshuk IPA, and Big Red Ale (an Irish-style red ale). O'Dempsey's is unique in that they do not maintain their own brewery; they contract out another craft brewery's facilities to brew their beer. This makes a great opportunity for a brewery that is just starting out, since large-scale brewing equipment can cost well over half a million dollars. O'Dempsey's products can be found across the Southeast, and even as far north as Pennsylvania. Over the coming year, they plan to add some new beers to their line-up and grow their distribution on the East Coast. For more information, visit odempseys.com.
The closest local craft brewery, Jailhouse Brewing Company in Hampton, was started in 2009 by Glenn Golden, who was inspired by his love of craft beer and desire to create a product that could be embraced by his community. Since then, Jailhouse has become a popular staple in the area south of Atlanta. The brewery is operated out of an old jail, which provides the theme for their beers. Jailhouse's line-up includes Slammer Wheat, Misdemeanor Ale, Mugshot IPA, and Breakout Stout, as well as seasonal beers throughout the year and occasional one-off releases. Jailhouse's commitment to quality is evident in every pint, and the brewery will continue its experimentation with seasonal releases of great craft beer over the coming year. Find out more at jailhousebrewing.com.
Many of the breweries mentioned above are still fairly new and continue to expand. Canning and bottling equipment is costly and takes up a great deal of space. One of the more expensive investments a brewery must make is a packaging line. Most craft breweries start out by kegging only, and then move on to other packaging as time and money permit.
Growlers are jugs used to transport draft beer, and are commonly sold at breweries and brewpubs as a means to sell craft beer. A revision in Georgia law in late 2010 allows growlers to be sold at locations that do not sell distilled spirits. Gremlin Growlers in Peachtree City caters to the growing growler needs in our area. Owner Glenn Gresham, a longtime beer blogger and contributor to beer publications, explains that his love for beer and the local beer community inspired him to open the shop in September 2012. Gremlin Growlers features 16 taps to fill either a 32 or 64 oz. reusable growler. "This demonstrates a focus on green business as well," according to Glenn. One-third of the taps in Gremlin Growlers are from Georgia-based breweries, with new beers added several times a week. Gremlin Growlers is the first growler ship south of Atlanta and the first in Georgia to collaborate with a commercial brewery to brew their own beer. They are planning their second collaboration with Red Brick Brewing to brew a beer that will benefit Healing 4 Heroes, an organization that benefits military personnel by providing and training service dogs. More information on Gremlin Growlers can be found at facebook.com/GremlinGrowlers.
You may find yourself inspired to brew your own beer. Homebrewing, legalized by Jimmy Carter in 1978, is a fun and educational hobby practiced by millions of people in America. Many professional brewers started out as homebrewers. Getting into the hobby is easy. Most beginners buy a starter kit and ingredients to yield a five-gallon batch. Novice homebrewers normally use concentrated malt extract that is boiled with hops, cooled, and sprinkled with yeast to ferment for a couple of weeks. The beer is then bottled or kegged for enjoyment. More advanced brewers will often create their own mash by steeping malted grains in water, extracting the liquid, and boiling it with hops. In all, the process will typically take three to four weeks. With a little experience and quality, sanitary practices, homebrewers can produce incredibly good beers.
We are fortunate to have an exceptional homebrew shop in our area. Just Brew It (JBI) in Fayetteville has been providing local homebrewers and winemakers with equipment and know-how since 1993. JBI has everything needed for beginners to advanced homebrewers. Owner Doug Kimpel is excellent at taking time to explain to his customers how the brewing process works and how to properly care for and manage everything available in his shop. JBI frequently hosts "Learn to Homebrew" events in which experienced brewers bring their personal brewing systems and show beginners how to get started. This hands-on experience helps beginners grasp the concepts of brewing. Just Brew It is a great place to start your own homebrewing hobby. More information can be found at aardvarkbrewing.com.
Our area also boasts several homebrew clubs. The South Atlanta Homebrewers, founded in 2006, is our area's oldest and largest homebrew club. With members from the entire southern crescent of metro Atlanta, SA Homebrewers are a great group of people to aid your brewing endeavors. Many of the professional brewers in our area were once members of this club. To learn more and join a meeting, please contact them via their website, sabrewers.net.
A newer homebrew club, Hop Breakers, meets twice a month in Newnan. They specialize in developing skills for intermediate to advanced-level brewers. To join a meeting, contact them at hopbreakers@gmail.com.
Griffin has a homebrew club of their own called Brew Something!, which meets monthly and focuses on advanced techniques and experimentation in homebrew practices. More information can be found by contacting brewsomethinggriffin@gmail.com.
With all of the growth in the craft beer market, it's clear to see that the people have spoken. We want to taste our beer, and we want to support our local brewers! Prost!
---
---
---