Artist Profile - Brice Johns

Apr 08, 2014 12:02PM, Published by Anonymous, Categories: Arts+Entertainment
---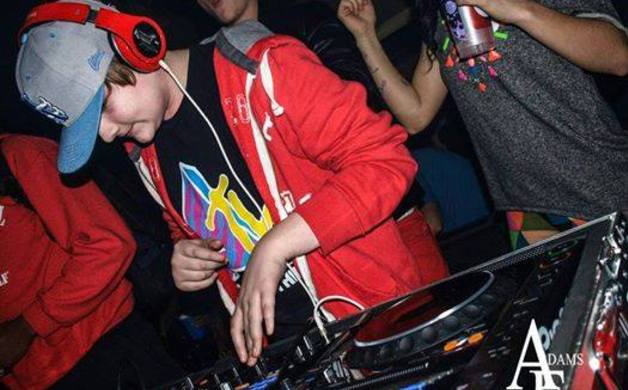 ---
---
Artist Profile
Twelve-year-old DJ Brice Johns
by Heather Beauchamp
 When you watch Brice Johns leaning over his professional mixing equipment, working a party or event, it's obvious that the kid knows what he's doing. A lover of music since age three, Brice is adamant that this is the career he will stick with into adulthood. (How many 12-year olds already know that?)
With his dad Chip as his manager and mom Emily also on board to help out, Brice is able to balance his busy work schedule with school. He's currently booking birthday parties and corporate events, and he is a regular at Padre's in McDonough and Arve's in Griffin. Brice had a blast spinning at the Black Ops 2 Release Party at GameStop in Griffin, as well as an Atlanta Dream NBA function.
Brice knows how to liven up any event, large or small. Because of his young age, his interest could seem like a novelty. It's not—this young man has real talent. He's as good as any grownup we've seen. From the photos posted on Brice's Facebook page, it appears that his fans adore him.
When asked about his musical background, Brice responds, "I listened to rock music when I was really little because my dad did...The Doors, Tool, the Beatles. Now I'm more into dubstep and electronic, like Skrillex and DATSIK. I've gotten my parents into that now." Brice has a knack for knowing how to play to any crowd, though, and can easily bounce around from genre to genre depending on the environment.
Brice acquired his professional equipment at age 11 and hasn't looked back. Thanks to supporters TJ Imberger; Ray Redding; Stephanie and Jeff Freeman; Mick, Todd, and Chad from Padre's; and of course his own folks, he has the foundation built to jump-start an impressive career in music. Brice is also excited that Maximus, Rocky, Chad, and Ray from Armada FM are helping him move into the Atlanta club scene. You can contact his dad, Chip Johns, for booking information at 678-603-3682. Become a fan and keep up with Brice on Facebook at DJRivenGA. He also has a YouTube channel with the same name. Look for this talented young man at a party near you, and be ready to have a great time.
---
---
---