Movie Review - The Hobbit

Apr 08, 2014 12:37PM, Published by Anonymous, Categories: Arts+Entertainment
---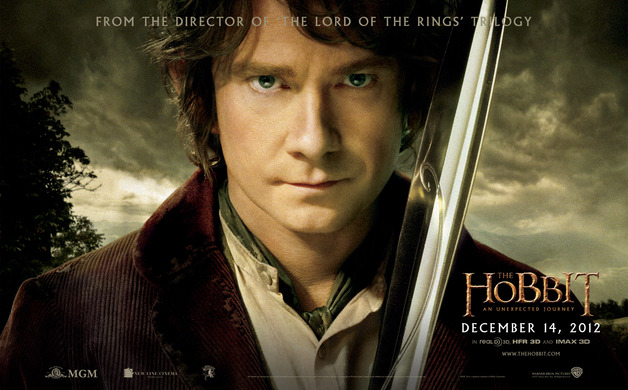 ---
---
Movie Review
The Hobbit: An Unexpected Journey
by Clark Douglas
Permit me a brief moment of hyperbole: The Lord of the Rings series (hereafter referred to as LOTR), which comprises three lengthy films released between 2001 and 2003, remains one of the most remarkable artistic achievements of the 21st century to date. Though J.R.R. Tolkien purists may take issue with some of the decisions director Peter Jackson made in adapting the classic fantasy novels for the big screen, it's hard to find much fault with Jackson's epic, thunderous, and immensely entertaining approach on a purely cinematic level. The films were massive hits at the box office and have retained an intensely loyal fan base over the past decade, so it should come as no surprise that Jackson eventually decided to return to Middle-earth with an adaptation of Tolkien's The Hobbit. Though the first film in his latest trilogy is exceptional entertainment on its own terms, it never quite manages to recapture the incomparable magic of the LOTR series.

The Hobbit: An Unexpected Journey is, of course, a prequel to LOTR, and as such begins many years before the events of that series. The main character is Bilbo Baggins (Martin Freeman, Sherlock), an amiable fellow whose peaceful existence is disrupted when a wizard named Gandalf the Grey (Ian McKellen, X-Men) invites him on a grand adventure. Soon, Bilbo finds himself aligned with a group of rowdy dwarves on a mission to destroy the evil dragon Smaug. Alas, along the way they'll be forced to fend off hungry trolls, savage orcs, rock-slinging mountains, and other obstacles.

When it comes to the original novels, the key difference between The Hobbit and The Lord of the Rings is that the former is essentially a children's book: a cheerful, frothy adventure which relies more on gentle British whimsy than dark drama. The movie adaptation seems conflicted on whether to remain true to that playful, charming tone or to deliver another portentous blockbuster in the vein of the LOTR films. The end result is something of a compromise, offering some scenes which feel like the closest Jackson has come to truly capturing the essence of Tolkien's writing and other scenes which feel like a rather forced attempt to add a jolt of adrenaline. Perhaps unsurprisingly, it's the gentle material which works best. When the movie focuses on the charming, conversation-fueled moments between its likable characters, it's a delight. Alternately, the action-packed subplot involving a ferocious, revenge-seeking orc (a subplot which is nowhere to be found in Tolkien's novel, incidentally) feels like run-of-the-mill action/fantasy material.

There's plenty of action and adventure to be found in the novel, so why did the filmmakers feel a need to stuff more into the mix? Because The Hobbit—which is a rather short book—is being spread out across three feature films. The Hobbit: An Unexpected Journey only covers the first seven chapters of the novel, most of which are rather low-key affairs. Had Jackson made a strictly faithful adaptation of those chapters, the majority of the film would be about a hobbit, a wizard, and some dwarves who had a nice dinner and went on a long walk. After Jackson's tinkering, we have a film about a hobbit, a wizard and some dwarves who had a nice dinner, went on a long walk, and FOUGHT A BUNCH OF BATTLES AND STUFF! You see the subtle difference, I trust. While Tolkien's story probably could have been told rather effectively in two films—ah, who am I kidding, it could have been told effectively in one film—Jackson's approach inevitably leads to some needless padding.

Even so, there's one key sequence in which the director offers some of the finest work of his career. It's an extended, riddle-filled conversation between Bilbo and the sinister Gollum, a computer-generated imagery (CGI) creature enhanced greatly by the voice and motion-capture performance of Andy Serkis (King Kong)—a scene so spellbinding that it stands on its own as a miniature masterpiece. It's a welcome reminder that Jackson is still capable of fully capturing the depth and richness of Tolkien's work. The Hobbit: An Unexpected Journey may have its faults, but when it works, it becomes something rather special. When you see that unmistakable twinkle in Gandalf's eye, when you listen to the dwarves sing a haunting melody, and when you get one of those long, awe-inducing shots of the New Zealand—er, Middle-earth—countryside, you're reminded of why you fell in love with this franchise. Here's hoping there's even more of that magic in the next two installments. To paraphrase Anton Chekhov: "If in the first movie you introduce a dragon, in the next movie you should let him do something."
---
---
movie review clark douglas movie the hobbit
---