Artist Profile - Jennifer Schultz

Apr 08, 2014 12:47PM, Published by A Kitchen Drawer Writer , Categories: Arts+Entertainment, In Print
---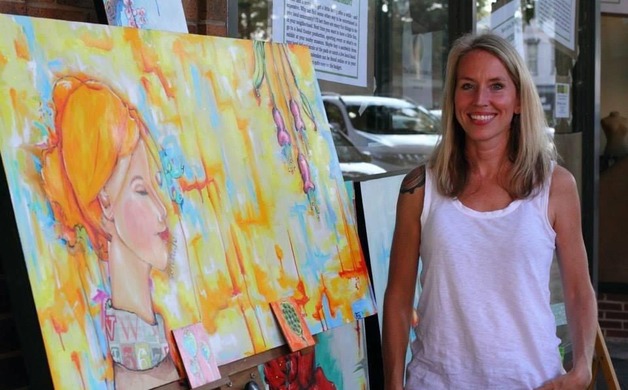 ---
---
Artist Profile
by Allison Smyly with Jennifer Schultz
Photography by Jennifer Schultz and Mike Soto
The truly creative mind in any field is no more than this: A human creature born abnormally, inhumanely sensitive. To them...a touch is a blow, a sound is a noise, a misfortune is a tragedy, a joy is an ecstasy, a friend is a lover, a lover is a god, and failure is death. Add to this cruelly delicate organism the overpowering necessity to create, create, create—so that without the creating of music or poetry or books or buildings or something of meaning, their very breath is cut off...They must create, must pour out creation. By some strange, unknown, inward urgency they are not really alive unless they are creating.
--Pearl Buck, U.S. Novelist in China (1892-1973)
KD: Tell us about your journey as an artist.
I am a self-taught artist. I've always enjoyed drawing, even as a kid. I remember sitting down at the kitchen table, with magazines in front of me. I would just sit and draw all of the different faces that I saw. Sometimes, I'd sketch random objects around the house. I still have some of those drawings. It's so funny to look at them now, 30 years later.

Just like a lot of folks, I got married, we had a couple of critters and I put all of my focus and energy in their direction. My youngest is now four. Over the last couple of years, I've had the opportunity to get back to my art, and I've rediscovered my passion. I haven't been able to stop drawing and painting since. I'm officially obsessed! My poor husband puts up with my art supplies all over the place. One day, I'd love to have a studio space of my very own. Until then, I've claimed a tiny corner of our house. I'm hoping our kids, being exposed to my love of art and painting, will maybe be impacted in some small way and develop a passion for it themselves. My daughter seems to have an interest in art, and I'm hoping it sticks. I think my son, who is eight, would rather play with his Nintendo.
KD: What media do you use for your art?
I mainly work with acrylics. I do enjoy incorporating oil paints, sometimes, but I'm fond of the quicker drying time that acrylics offer. I also like to mix a little watercolor into my paintings. Obviously, it's a bit of a free-for-all with my art! I just get in there and do what I feel at that particular moment.
KD: Where do you find inspiration?
I am drawn to interesting faces. I love a good quotation. And birds. I am completely fascinated by and in love with birds. So, roll all of that up and add a lot of bold colors and you have the recipe for my inspiration.
KD: Tell us about being "One Happy Little Mama."


I honestly don't have a super clever explanation for the name I've given myself. I wanted a name for my Etsy shop and my website. I have two amazingly sweet children whom I love with everything I am, so "One Happy Little Mama" just seemed fitting. I think it pretty much tells my story. I was at an art show once and a curmudgeonly old man approached me and asked, "Why?" while pointing to the "One Happy Little Mama" chalkboard sign that I had so proudly created. Perhaps I should get to work on a solid answer to that question, for future reference. I'm thinking of, "Why not?!" We'll see.
KD: How do you find time to create?


I have had several people ask me this question. It never occurs to me that I'm squeezing so much into my days. I'm a mommy with a full-time job, which does amount to a pretty full plate. I find all sorts of creative ways to sneak art time into my day, including sketching in my car during lunch breaks. I know it's cliché to say, but art, for me, isn't just a passing hobby. I truly feel the need to create, every day. I read a quotation by Pablo Picasso: "Art washes away from the soul the dust of everyday life." When I paint, I am so happy and content and full. It just feels like something I have to do.

KD: How can we learn more about you and your work?


I have a Wordpress blog, a website, and a Facebook page. If any of your readers would like to view more of my art, see what One Happy Little Mama is up to, or contact me, please visit:
Wordpress: www.onehappylittlemama.wordpress.com
Website: www.jenschultz32.wix.com/onehappylittlemama
Facebook: search One Happy Little Mama
I have also scheduled a few shows for this spring and summer. You can find me in Cornelia, Georgia at the Spring Art Fest for Burnt Bourbon Pottery Gallery & Studio and Tanyard Branch Heritage Center on Saturday, May 11, 2013. I'm excited to be a part of the Sixth Annual Penny McHenry Hydrangea Festival in Douglasville, Georgia on June 1st and June 2nd.

Stay tuned to my Facebook page and my website, as I plan to add more shows to my schedule. Come out and see my little ladies, my birdies, and me!


KD: What are your plans for the future?
Ah, the future. My hope is just to continue my growth as an artist. My first art show was in September 2012. I've had a few since and have had so much fun with them. I'm planning to line up several for 2013. I want to gain as much experience as possible and see where it can take me. For me, it's all about getting my creations out of myself and onto some type of canvas. I just may have to consider a storage unit soon; my tiny corner of real estate in our house seems to be shrinking.


I have had the opportunity to do a few commissions over the last few months and hope to do more in the future. I really enjoyed working on these pieces. The clients asked me to paint their children. It felt so good to experience their reactions to the finished pieces! It's a great feeling of accomplishment to do that sort of thing for someone. It's something they will have for years to come.
My main goal, in the end, is just to create my art and to share it with anyone who will pay attention. And to be happy.
---
---
artist profile may/june 2013 volume 5 issue 3 jen schultz
---