Artist Profile: Peter Potter

Apr 09, 2014 01:57PM, Published by A Kitchen Drawer Writer , Categories: Arts+Entertainment, In Print
---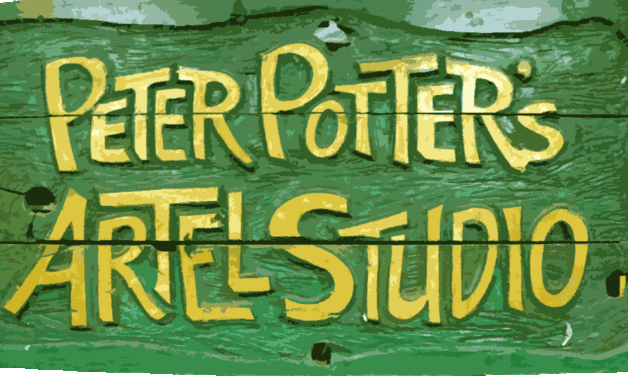 ---
Gallery: Peter Potter Artist Profile [5 Images] Click any image to expand.
---
---
Originally published in our March/April 2014 Issue 
by Elaine Krugman with Betsy Harris
Photos by Elaine Krugman
Upon arrival at the Concord home of Peter Potter and his wife, Joy Walker, Betsy Harris and I noticed something parked in the front yard that you don't see every day: a camouflage-painted airplane. This isn't your typical lawn ornament—nor is a glider, which I noticed parked next to a sports car. This was going to be an interesting interview.
As we entered the Potters' bright and airy rural home, three large but docile Rhodesian Ridgeback dogs greeted us—quite the contrast to the bubbly Peter Potter himself. We found that the storytelling began the moment we entered their large country home. Peter was proud to tell us that Joy was the first female pilot for Delta Airlines and is still an avid aviator. That explained the presence of a glider and a plane.
After a story or two, we were led through the fascinating living room, through the kitchen, and down the basement stairs to a cheery yellow room tucked behind closed doors. A carved green and gold wood sign indicated "Peter Potter's Artel Studio."
Artel is a Russian term for cooperative associations that existed in the Russian Empire and the Soviet Union. Historically, artels were semi-formal associations for various enterprises, where members, often far from home, lived as a commune.
This is a perfectly fitting term for the art studio belonging to a man who spent most of his life far from home. Not only did Peter live in many different places, but he also traveled extensively for some of his jobs. His position as a territory sales manager for a New Jersey-based printing equipment company took him throughout the entire Southeast. Peter finally settled down in Concord after reconnecting with Joy some 22 years ago.
Born in Massachusetts, Peter moved to Mississippi as a child when his parents divorced. Memories of the Eastern Seaboard have lingered, as marine themes are his favorite to paint in his preferred medium of watercolors. As evidence of this, a beautifully painted watercolor of a fishing boat was propped up in his cozy studio.
Peter remembers being artistically inclined even as a toddler in Massachusetts. He grew up wanting to be an artist, though he didn't have much in the way of formal training. "I never had any art instruction except for a couple of classes when I was in grade school. When I got to college, I took an introductory art class with a great art teacher. He really helped me to develop," Peter said.
At the University of Southern Mississippi, Peter majored in art; however, he switched his major to library science so he could graduate sooner. Art and library science then dovetailed nicely for Peter when he was offered a job at the university's library. One of the librarians, Lena Y. deGrummond, was overwhelmed with starting a children's book collection, so she asked him to assist her. As Peter recalled, "In those days, if you had done illustrations for children's books, you could donate a manuscript and your art and get a tax deduction. So she [the librarian] solicited everybody she knew who had ever written or illustrated a children's book. They had children's book festivals every year, and it was a fantastic opportunity [meeting so many famous authors and illustrators]. I ended up being the curator of that collection at the library. It was a wonderful experience."
Peter continued with his education as well, earning a Master's degree in library science, which qualified him to teach at the college level. Over the years, he moved often as he went on to teach art, English, and communications at William Carey University; English as a Second Language for the University of Chicago aboard a ship; art at the University of Alabama and the University of South Alabama; and art to older adults in a continuing education class at a junior college. It was this last experience he described as a "hoot" because of the interesting personalities of the students who had never drawn or painted a picture in their adult lives.
It was his college advertising art students who provided him an unexpected challenge, however: "A lot of kids were whizzes on computers, but they could not put together a sketch for a client when sitting with that client [and discussing an advertising project]. These students often had the best Apple computers with all the latest applications and would come to class with beautiful static graphic designs. If you gave them a sketchpad and a pencil, though, and gave them 15 minutes to come up with an advertising campaign for a client, they couldn't do it. There was a real struggle with those kids," Peter explained, adding, "I was fortunate. I made most of my money working in selling advertising for a newspaper, because I could draw."
Although Peter no longer teaches art at the college level, he has taught art privately to teenagers and adults, passing along the same lessons he taught his college students. "I try to get my students to develop their own style." Peter advised, "Spend a lot of time drawing, and find out who you are."
Asked about the style he developed in his own art, Peter replied, "I love to draw. I don't consider myself to be a photo realist. I consider myself to be interpretive and not really impressionistic, but sometimes I get that way. I do portraits, but not as many as I used to, because I don't enjoy it as much anymore."
In addition to his favorite watercolors, Peter works with oils. Betsy and I wondered if Peter had plans to explore any other media in the future. Peter laughed, "I don't think I've missed any!"
At the present, Peter's own works of art stay pretty much close to home, although he has exhibited his paintings in cities such as Boston, Philadelphia, Houston, Savannah, and several others across the country. "I used to do a lot of outdoor shows, but it became a hassle," Peter lamented.
In addition to pursing his love of painting, Peter is currently serving on the regional library board, spending time with his kids and grandkids, and mostly just having fun savoring life with Joy. Further, Peter speaks several languages, so perhaps he'll tell his next visitors a story in one of them—perhaps Russian—and then show you the way to his cheery yellow "artel" studio.
---
---
in print march/april 2014 artist profile peter potter
---