Movie Review: About Time

Apr 09, 2014 04:02PM, Published by A Kitchen Drawer Writer , Categories: Arts+Entertainment, In Print
---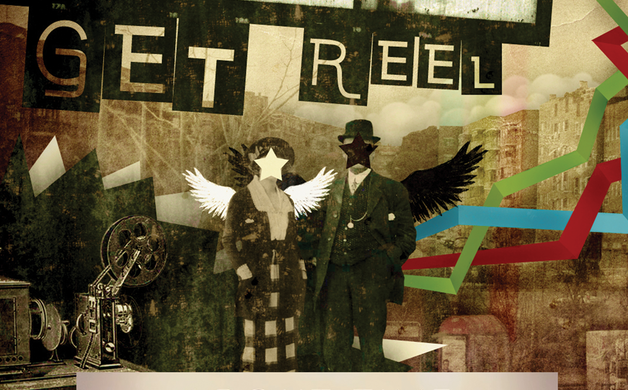 ---
---
Originally published in the March/April 2014 issue of Kitchen Drawer Magazine
By Clark Douglas 
On his 21st birthday, an ordinary fellow named Tim (Domhnall Gleeson, Anna Karenina) receives an extraordinary piece of information from his father (Bill Nighy, Notes on a Scandal): for many generations, every male member of the family has had the ability to time travel. There are limitations, of course: they can only go back into the past and they can only revisit places they've already visited before. There are all sorts of things one might do with such an ability, but Tim primarily uses it in the romantic pursuit of a woman named Mary (Rachel McAdams, The Notebook). Every time he says the wrong thing or makes the wrong move, he simply has to travel back a bit and start over.

Time travel movies are often complicated affairs, as the mere inclusion of the idea requires many movies to spend an inordinate amount of time detailing the complexities of such a thing (recall Christopher Lloyd's frantic rants throughout the Back to the Future series). About Time director Richard Curtis (who previously gave us the delightful Love Actually and the underrated Pirate Radio) mostly brushes such concerns aside, never worrying much about the possibilities of infinite parallel universes or doppelgangers or accidentally changing the course of human history. Curtis is much more interested in using the plot device as a springboard to discover more relatable, emotionally driven ideas. It's bad science, but good storytelling.

At first, About Time appears to be an updated riff on the classic comedy Groundhog Day, as a hapless man relives the same moments over and over again in the hopes of finally making a woman fall in love with him. However, this romantically charged plotline is more or less concluded by the film's halfway point, subtly guiding the viewers into a deeper, more emotionally complex film about bigger themes. This is the uncommon cinematic love story which is about something bigger than two people—it's about romantic love, yes, but also about the love we all share with siblings, parents, children, and friends. In fact, it's even bigger than that: it's about the way we approach life itself and what we do with the precious time we've been given. I won't spoil the plot developments which unfold to get us there, but suffice it to say that this is much, much more than a quirky romantic comedy with a sci-fi twist.

That being said, I have no hesitation about telling you that the performances are endlessly charming. Lead actor Domhnall Gleeson is a real discovery; he has the stammering charm of a young Hugh Grant. I suspect we'll be seeing a lot more of him in the years to come. McAdams is as effortlessly natural and appealing as ever, while Tom Hollander shines in a smaller supporting turn as an irritable playwright. However, the finest performance comes from that incomparable character actor Bill Nighy, who played key roles in two of Curtis's previous films. (Who can forget his rakish, drug-addled rock star in Love Actually?) The veteran actor brings so much understated humor and grace to the role of Tim's father and ultimately forms the heart and soul of the film.

The more I consider About Time, the more I realize what a rare thing it really is. It's simultaneously deep and accessible, hilarious and heartbreaking, lovable and challenging. It's also an overtly sentimental film which wears its heart on its sleeve at all times, but there's never a trace of insincerity or calculated manipulation in that sentiment. This is a great, big, warm bear hug of a movie, and I can't think of many things more appealing than that. Watch it with someone you love.
---
---
march/april 2014 movie review clark douglas
---