You and Chris Pettis Are Now Connected

Apr 10, 2014 11:42AM, Published by A Kitchen Drawer Writer , Categories: In Print, Community
---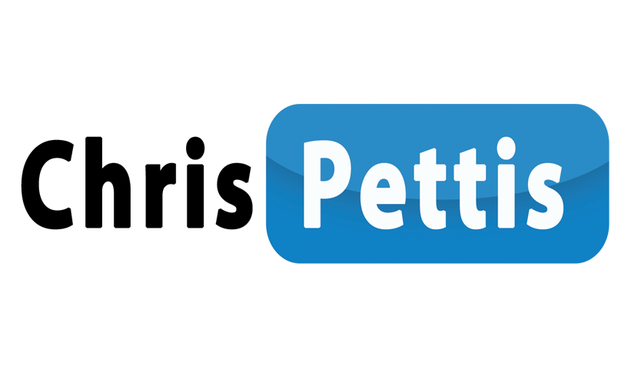 ---
Gallery: Chris Pettis & Family [5 Images] Click any image to expand.
---
---
Originally published in January/February 2014 Issue of Kitchen Drawer Magazine. 
By Allison Smyly Photos by Wiley Hilley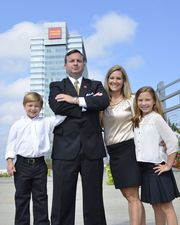 It's no secret that to make important deals happen in the business world, who you know can be as important as what you know—a truth that businessman Chris Pettis embraces every day. Chris is Vice-President of Business Development in the Business Banking Unit of Wells Fargo. A large part of his job is community networking in his assigned 28-county area, which includes metro Atlanta and areas south of the city. Chris finds out what the needs are, discovers who needs access to capital to make things happen, and helps those deals come to fruition, sometimes even when Wells Fargo is not involved. Chris describes his work simply: "I'm a sales guy. I go out and find new relationships for the bank."
As what he calls a "paid professional networker" for the fourth-largest bank in the United States, Chris finds plenty of opportunities to help people make connections. He networks in a variety of ways: to spread the word about the bank's unique abilities, to help clients and prospective clients grow their businesses, and to assist local communities in finding economic development opportunities. According to Chris, "The real beauty of what I do is helping growing companies with access to capital because Wells Fargo fills in the lending gap above where most Georgia banks have an ability/appetite to lend, but downstream from where the Big Three banks will come in with personal service. Historically, that is a very large gap in Georgia, and companies don't like having to go out of state to get a loan just because they've outgrown their bank...As they say, 'a rising tide lifts all ships,' and that is my job—tide-riser for the bank, as well as our clients and communities."
Chris thrives on making things happen by introducing people. At work, he has nicknames like "Mr. Linked-In," "Mr. Rolodex," and the "I Know a Guy Guy." Linked-In is an essential tool for his work; in fact, Chris had one of the top 1% most-viewed profiles in 2012. "I do the majority of my work using Linked-In," says Chris. "If it had existed 20 years ago, I'd be retired today."
The Power of Networking and Pinewood Atlanta Studios
Chris's understanding of the importance and power of networking has resulted in some really big deals for our area, the most recent being his key role in bringing the 300-acre development of Pinewood Studios to Fayette County. It all began when Chris was contacted by the President/CEO of the Fayette County Development Authority, Matt Forshee, about a studio project being planned by private investors. Matt and representatives of the ProMaker Development Group met at The City Café in downtown Fayetteville to discuss plans. The proposed studios were to be on about 11 acres near the Peachtree City Airport, adjacent to the site where Drop Dead Divas is filmed. Chris reports, "Since I was asked to help with finding the studio, I knew a guy, as I often do, and made an introduction to an attorney friend of mine in Midtown Atlanta." After asking some questions about the project and contacting some potential stakeholders, Chris's attorney friend told him, "You need to think bigger—a  lot bigger."
From there, the project grew into plans for Pinewood Atlanta to create, over the next seven years, a multimillion dollar, full-service film and entertainment studio complex in Fayette County. According to press releases, "The project is fully funded and will become a world-class studio for the production of film, television, music, and video games." Phase I of the project will feature five stages totaling 100,000 square feet, 100,000 sq. ft. of production offices, and 200,000 sq. ft. of workshops and service provider space. A film training crew component is also planned that is anticipated to create hundreds of new jobs. Plans for Phases II and III include an additional 600,000 sq. ft. of stages, more than 70 acres of additional back lot space, and more office and warehouse space. With home offices in the United Kingdom, Pinewood's international network of studios includes Toronto, Canada; Berlin, Germany; Iskandar, Malaysia; the Dominican Republic; and now, of course, Atlanta. Pinewood Studios has played a key role in the filming of many James Bond movies. Other film credits include portions of The Hobbit: An Unexpected Journey and Les Misérables.
The Georgia Economic Developers Association presented Pinewood Atlanta Studios and the Fayette County Development Authority with the award for 2013 Deal of the Year in the Large Community category. "That deal came together purely through networking," says Chris. "It all started around a little white tablecloth at the City Café."
This is not the first time that Chris Pettis has had an important role in helping deals come together. In 2009, Chris used his networking skills to help set in motion a collaboration between two Thomaston businesses, United Media Graphics and Triumph Packaging, resulting in multimillion dollar contracts with Fortune 500 companies. In the same year, Chris also made an initial contact to a state project manager that helped bring a biorefinery demonstration plant and about 30 jobs to Thomaston.
Coming Home
Chris, his wife Heather, a former nurse, nine-year-old daughter Abi, and son Wyatt, five, reside in Thomaston. Both Chris and Heather are Thomaston natives who returned to the town to raise their family. "When I left town, I had zero interest in returning," says Chris. When Abi and Wyatt came along, his priorities shifted. "We wanted to raise our children in a small community, close to family, close to church." The charm of the couple's hometown drew them back. Heather says, "It's a fabulous community." Chris, having rediscovered the attraction of his hometown, is working to make it even stronger. "I would like to see a redevelopment of our little corner of the world," Chris says.
Carving Out Time for a Hobby
Though a businessman through and through, Chris has a creative and artistic side. When Chris and Heather first met, he learned of her interest in The Godfather movies, and rather than wooing her with chocolates or flowers, Chris caught his future wife's attention with a pumpkin carved into a likeness of Vito Corleone. It worked—Heather took notice, and Chris decided to try another pumpkin carving design. Since both Chris and Heather are big fans of the Georgia Bulldogs, he then carved an "Ug-A-Lantern," which won The Atlanta-Journal Constitution's pumpkin-carving contest in 2003.
At the time, Chris worked at Smith Barney in the Atlanta Financial Center in Buckhead. The UGA Alumni Center's offices were in the same building just a few stories below Chris's. Some of Chris's friends from the Alumni Center heard of his Ug-A-Lantern creation and asked him to bring photos to their offices. When he did, his friends showed the photos to Vince Dooley, former head coach of the Georgia Bulldogs, who remarked, "That is the best pumpkin I've ever seen." After that encounter, Chris's friends suggested that the Ug-A-Lantern be replicated as a fundraiser, which required obtaining product licensure through the Collegiate Licensing Company. Chris's product idea flew through the application process, setting the stage for the launch of his Ug-A-Lantern business.
The rest is history: Chris found a small Florida business willing and able to produce Ug-A-Lanterns, which became an instant sensation, selling out in all locations. Famed cartoonist Jack Davis, a UGA graduate, received an Ug-A-Lantern through his membership in the Jacksonville Bulldog Club and sent Chris and Heather one of their most prized possessions, a rare original drawing of them holding an Ug-A-Lantern. Chris and Heather remain avid Bulldog fans, and you can be sure that on Halloween their porch will showcase one of the most intriguing jack-o'-lanterns around.
Community Champion
In addition to staying connected professionally, spending time with family, and enjoying his hobbies, this businessman is a crusader of sorts for local communities, especially his own. He is passionate about bringing businesses and native talent back to the area and is involved in a number of projects designed to do just that. As a banker in Thomaston during the economic downturn, Chris focused on economic development, attracting Thomaston natives to bring their businesses back home. He continues to brainstorm and implement ways to strengthen local communities by drawing local talent. "My hope is that we would find a way to use social media to convince homegrown talent to come back home. I would like to find everyone who wants to retire and find their replacement as someone from the hometown," Chris says. "I want people to move back and bring their businesses with them. Every banker has an interest in that."
---
---
januaryfebruary 2014 chris pettis
---