Travel: Cave Girls

Apr 10, 2014 11:56AM, Published by A Kitchen Drawer Writer , Categories: Arts+Entertainment, In Print
---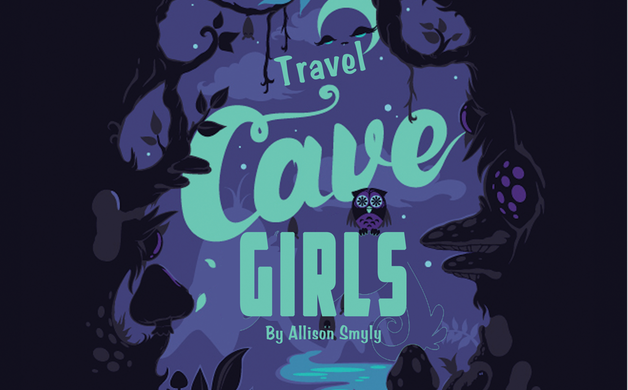 ---
Gallery: Travel: The Caving Experience [6 Images] Click any image to expand.
---
---
Originally published in the January/February 2014 Issue of Kitchen Drawer Magazine
By Allison Smyly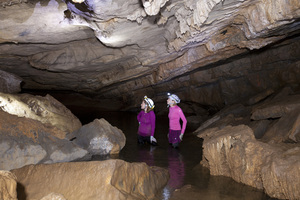 "Hey, we should do this," said my college roommate, Des, as she handed me a flier which advertised a caving expedition sponsored by our university's outdoor recreation program. I was a bit skeptical, since I had never known Des to be the outdoor type; but she was enthusiastic about the opportunity to explore a real cave and then camp in the mountains, so we paid our deposits and signed up.
We collected our gear, borrowing some items from our families and friends: warm coats that were not too bulky, thick jeans, gloves, boots, long underwear, and heavy-duty sleeping bags—this caving and camping trip would be in the north Georgia mountains in January. The night before we were to leave, we attended a meeting led by the organizers. Des had only one question, "Are there bathrooms in the cave?" It turned out that there were no bathrooms in the cave.
As I packed, although it was never exactly stated, I began to figure out that Des was not going to be attending this particular bathroom-free caving expedition. I think she had been expecting more of a Ruby Falls-type cave experience: riding an elevator to the cave; admiring lovely illuminated formations; enjoying the finale of a dramatic waterfall, complete with uplifting music and multicolored lights; and then riding the elevator back up to the earth's surface an hour later.
Since my parents had generously covered the non-refundable cost of my trip, I decided to go ahead with it even though I didn't know any of the other participants. My roommate's assessment had been correct. This was not the kind of tour that was illumined by red, yellow, and blue electric lights and narrated by an avuncular tape-recorded voice on a loudspeaker. This was more of the crawling-on-your- belly-in-the-dark kind of expedition. Illumination was provided by the battery-powered lights on our caving helmets. There was no narrator.
This was how I found myself, for almost eight hours, slogging through underground streams, squeezing through small gaps between rocks, slipping in cave mud, and (successfully) trying not to panic while I dragged my body through yards and yards of a "crawl" so low that I couldn't even hold my head upright. This was also how I found myself camping in 18-degree weather that night. (Our group had to choose one of two options—camping outdoors or camping in the cave. I had been one of the more vocal opponents of camping in the cave on the grounds that there might be bats in there, which there were. However, at about 1 a.m., I was so cold camping outside that the idea of camping in a 56-degree cave, even with bats, seemed mighty appealing. Despite getting really dirty in the cave and really cold camping outside, I made it safely back to college, where I immediately threw cave mud on my roommate. (Not really, but the thought crossed my mind.)
My college caving adventure was years ago—an experience which made for some good stories but not one that I was particularly eager to repeat. However, when my family and I made plans to hike in Cloudland Canyon—ironically, the site of my own college caving and camping trip—a friend who had just been to Cloudland mentioned that she and her family had gone on the Georgia Girl Guides Wild Cave Tour there. She recommended it as "unforgettable" and "amazing." Memories of my own long-ago caving expedition returned, and I began to wonder what it would be like to do it all again with my family. Besides, as the mother of three daughters, I was intrigued by the name—just who are these Georgia Girl Guides? I signed us up for the two-hour Wild Cave Tour.
Caving was much like I remembered it—slippery, a bit damp, and comfortably cool, since Sitton's Cave at Cloudland Canyon stays a constant 56 degrees year round. What I hadn't remembered was how much fun caving can be. The Georgia Girl Guides, Christine and Amy, helped to make our experience outstanding. Christine, with a degree in Environmental Education and a Master's in Ecological Teaching and Learning, taught us about cave formations; showed us fossils; and pointed out creatures such as bats, salamanders, and cave crickets.
Amy, who is certified in cave rescue and a trained wilderness first responder, seemed to enjoy taking my daughters on what she called "challenges"—very low crawls, tight squeezes, and climbs. I wasn't surprised that my girls were adventurous and surefooted in the cave, because they've been exploring the woods near our home and climbing on slippery rocks in the woodland creeks since they could barely walk. I was, however, impressed at how they negotiated claustrophobia-inducing squeezes through inches-wide openings between rocks and crawled under "ceilings" that looked barely over a foot tall.
At one point, we all turned off our headlamps and agreed to remain silent for a time. A cave is one of the few places in the world where we can still experience absolute darkness and silence. It was moving. It was awe-inspiring. It was—a little unnerving after a while. After a few minutes of majestic silence and darkness, I, the voice of wisdom and maturity, the one who countless times assured my young girls at bedtime that the dark was nothing to fear, cracked. "Can we turn our lights back on?" I asked in a slightly squeaky voice.
I attempted a few of the challenges, but during one maze-like crawl in which half my body seemed to be going southwest and the other half seemed to be headed southeast, I was quite unsure if I would be able to get both halves going the same direction again. "It's always the hips that are a problem," Christine, who is also a mom, called helpfully. "Yes," I agreed, wondering if power tools would be necessary to get me out of my predicament. I eventually managed to pry myself free, but decided then that just getting out of the cave without the aid of jackhammers would be challenge enough for me.
As Amy and my daughters emerged from their last challenge, an elevated crawl that looked barely high enough to allow a Barbie doll to stand upright, Christine turned to me and said of Amy, "We call her Tiny." I could see why.
As we explored the cave, we learned the story of the Georgia Girl Guides, an excellent example of what a successful partnership between a government entity and a private enterprise can look like. Christine and Amy both worked at Cloudland Canyon State Park when it became apparent, in light of increasing cuts and layoffs, that their jobs could soon be eliminated. The friends began exploring their options and in 2011 founded the Georgia Girl Guides (also known as G3), realizing that this would be the perfect opportunity to combine their love of nature, especially of Cloudland Canyon, with their entrepreneurial interests. Through a concession agreement with the state park (the park receives a portion of the business's proceeds), the friends lead tours of varying lengths, typically one, two, or four hours long, with the two-hour tour being the most popular. Cavers who want to take their exploration to the next level can schedule a six-hour Extreme Cave Tour. The motto of the Girl Guides is "No Destination—Just Exploration."
The adventures are called "Wild Cave Tours" to avoid confusion with the cave tours in which visitors stand upright, admire electric lights, and listen to narration. After two hours in the cave, our whole family emerged extremely muddy but exhilarated by our new adventure. The Georgia Girl Guides Wild Cave Tour, like the caving expedition of my college days, is definitely a crawl-in-the-mud, light-on-your-head, watching-for-bats, no-bathrooms-in-the-cave kind of tour; but after spending a couple of hours in the cave with my family and the Girl Guides, I realized that I wouldn't have it any other way.
To schedule your own caving adventure, call 706-913-7170. Note: For conservation reasons, the caves at Cloudland Canyon State Park are closed from November through March. During these months, the Georgia Girl Guides lead cave tours at Pigeon Mountain, Georgia, approximately 26 miles from Cloudland Canyon State Park. The Georgia Girl Guides resume their tours at Cloudland Canyon in April.
---
---
january/february 2014 caving travel
---