Haralson Bleckley Architecture

Apr 10, 2014 02:33PM, Published by A Kitchen Drawer Writer , Categories: In Print, Community
---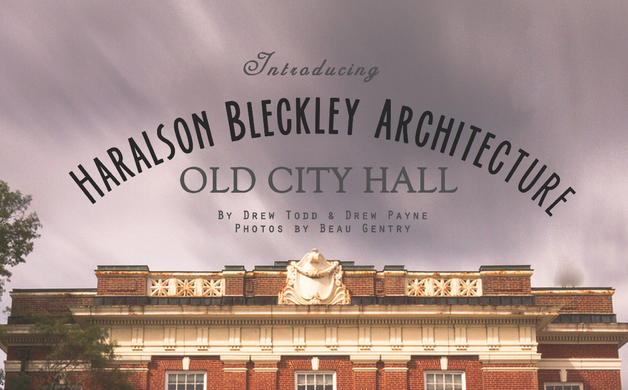 ---
Gallery: Haralson Bleckley Architecture [6 Images] Click any image to expand.
---
---
Originally published in Volume 5 Issue 6 of Kitchen Drawer Magazine
By Drew Todd & Drew PaynePhotos by Beau Gentry 
Over the past few years, Griffin's historic district has experienced a desperately needed partial renaissance, greatly contributing to the city's emergent downtown charm. Previously neglected storefronts have seen faces lifted and interiors repurposed to accommodate new retailers and restaurateurs, enabling a rapidly growing wave of local entrepreneurship.
Alongside these newly revitalized properties, one abandoned, cloud-capped, downtown tower continues to grow mold and gather dust. Yet even in its current state, this site holds a great deal of historical and architectural significance, perhaps more than any other structure in Spalding County. The building, of course, is Griffin's old City Hall at Solomon and Sixth, by the new bridge.
From the outside (and from the inside, for that matter), Griffin's former City Hall seems to be in pretty rough shape; and, based on firsthand reports, it most certainly is. City Commissioner Ryan McLemore says the site is in a "sad state," with basic restoration costs estimated at $700,000. With such a hefty price tag, it's no surprise some have labeled government-funded work on City Hall "cost prohibitive." In fact, for those strictly concerned with dollars and cents, demolition may be preferred over preservation. Removal would certainly be an effective money-saving measure. But the renovation of City Hall should be considered an investment, rather than a boondoggle—a doubling down on Griffin's future by saving one of the crown jewels from its past.
A little about City Hall's history:
In 1910, Atlanta architect Haralson Bleckley, son of a State Supreme Court Chief Justice, designed Griffin's City Hall in the Beaux-Arts style. Bleckley's services were much sought after in the early 20th century, with his design firm responsible for several prominent Georgia landmarks constructed during this time, including, but not limited to, Buford's Bona Allen Mansion, Atlanta's Ponce de Leon Baptist Church, and Peabody Library in Athens. With such an impressive résumé, it's no surprise Griffin's leaders chose Bleckley for the design of City Hall.
Bleckley did not disappoint. He supplied Griffin with a grand structure, elaborately decorated, comprising many aspects of the then-popular Beaux-Arts style. Beaux-Arts is known for its incorporation of design motifs from several different architectural styles, an amalgamation plainly utilized by Bleckley on Griffin's City Hall. From the Italianate-influenced cornice to the Baroque-inspired, subsequently destroyed cupola, City Hall is truly eclectic—memorable to anyone who has ever visited downtown Griffin.
In addition to its remarkable form, City Hall also has been tremendously functional for the better part of a century, serving as Griffin's administrative hub until a few short years ago. Alongside Griffin offices and courtrooms, City Hall housed firefighters and their equipment, making the structure one of the first mixed-use developments in Spalding County.
While City Hall's rich history and beautiful design are, when taken alone, compelling enough reasons to favor renovation, the building's future potential makes the decision to renovate a no-brainer. What City Hall once was—visually striking, architecturally important—justifies a certain level of attention, but our concern is the here and now. So why not reclaim some of the beauty? Why not use existing resources to meet current needs? 
According to McLemore, Griffin officials have plans to incorporate the City Hall structure into future development, but, in order to attract a responsible buyer, an investment of public funds may be necessary. McLemore says a few ideas have been mentioned, including "archives, a museum, conference meeting space, leasable space for restaurants and law offices, or some combination," with most recent discussions centering on "tying the old City Hall building into the redevelopment of the entire block…a 2.7 acre park plan with amphitheater…creating a population center and amenity downtown."
You can fill in your own blank on the site's future. One thing is clear, though; downtown development would greatly benefit from a utilization of the City Hall building. In forgoing a scorched-earth teardown, Griffin officials could reclaim a bit of history, using the best of our past to create a dynamic future. City Hall represents an opportunity—a chance to rebuild, but on an already existing foundation. Any other option would result in a loss. City Hall would be gone forever, "and the place thereof shall know it no more."
---
---
november/december 2013 haralson bleckley architecture
---