Movie Review: Before Midnight

Apr 10, 2014 03:13PM, Published by A Kitchen Drawer Writer , Categories: Arts+Entertainment, In Print
---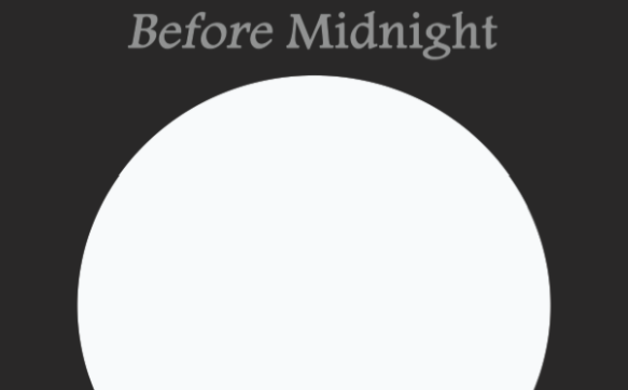 ---
---
Originally published in Volume 5 Issue 6 of Kitchen Drawer Magazine
By Clark Douglas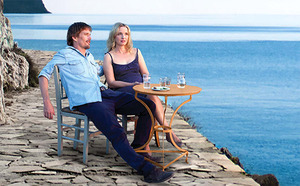 In 1995, director Richard Linklater released Before Sunrise, a quiet, intimate drama about two starry-eyed young people sharing a romantic evening together in Vienna. Jesse (Ethan Hawke, Training Day) was an American wandering across Europe, while Celine (Julie Delpy, 2 Days in Paris) was a French student enjoying her summer vacation. It's a lovely, bittersweet movie which perfectly captures the pangs of falling in love against your better judgment. Nine years later, Linklater released the sequel Before Sunset, which finds Jesse and Celine sharing another chance encounter, reconnecting and filling each other in on what's happening in their lives. They're a little older, a little wiser, and a little more guarded in the second film, but one can still see traces of the youthful passion that fueled their characters the first time around. Fast forward another nine years to the latest film in the series, Before Midnight, which finds our two characters in the middle of a long-term relationship.

This is unlikely material for a movie franchise, to be sure, but that's also a large part of what makes the Before series one of the most unique film sagas of all time. Given the nine-year chunks of time between installments, it's always striking to see how much our beloved characters have changed over the years. It's a series of films which adds up to more than the sum of its parts—a series which takes on the ambitious task of examining how we view both life and love changes as we get older. The woozy infatuation of Before Sunrise gave way to gentler affection in Before Sunset, which in turn gives way to weary determination in Before Midnight. On their own, the films are expertly crafted character studies, but as a group they represent an invaluable look at human nature.

That being said, I'd argue that Before Midnight is the most powerful film in the series to date, and one which is sure to resonate with anyone who is or has been in a long-term relationship. Now that Jesse and Celine have actually been living with each other for nine years, elements of their personalities which were once endearing quirks have become grating habits. There's more tension and passive-aggressive sniping in their current relationship; sometimes it seems as if their love for their two young daughters is the only thing keeping them together. As has been the case in all of the films, most of the movie simply observes the couple talking to one another. In the past, such conversations have led to profound romantic declarations. This time, the conversation leads to one of the most brutally honest and unflinching arguments ever captured on film: a hotel room spat so emotionally taxing that you may feel as if you're watching a horror film.

As bleak as it can get at times, Before Midnight isn't a cruel or nihilistic film. There are moments of genuine loveliness alongside the moments of misery, and the arguments are occasionally balanced by scenes which suggest that genuine love still exists between these two weary souls. The greatest accomplishment of the film is the manner in which it demonstrates that sustaining any long-lasting relationship is hard work. Hawke and Delpy deliver absolutely masterful performances and capture every nuance hidden in the dialogue (co-written by Linklater and the actors). Will these two make it another nine years? It's hard to say, but I'm sure that both the two lovers and their audience once again will have grown and changed a great deal by that point. Linklater and his superb actors are taking us on an unprecedented lifelong journey, and I'm looking forward to the next chapter nine years down the road.
---
---
arts movie review novemberdecember 2013 before midnight volume 5 issue 6
---