Entrepreneur Focus: Bette's, Christian Women's Center, Holly's House, Rogers Turf Care

Apr 14, 2014 09:28AM, Published by A Kitchen Drawer Writer , Categories: In Print, Community
---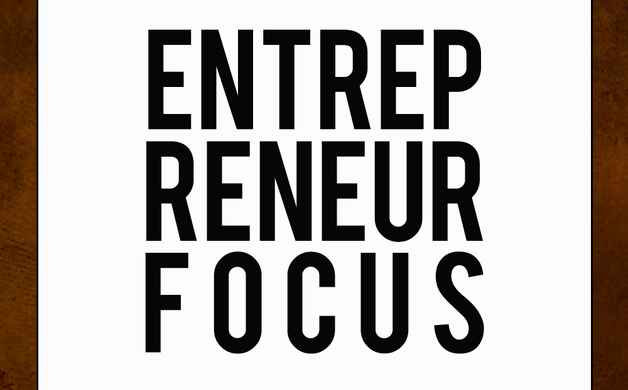 ---
---
Bette's Health Food Center 
Bette Richter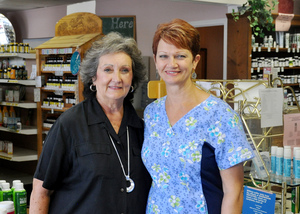 Bette's store on Solomon Street has been providing Griffin with healthy alternatives, whether food, medicine, or other items to promote general well being, for 26 years. When Bette purchased the store from her friend and mentor, she really began to understand, both for herself and her family, the importance of eating better.
Bette's main goals are to educate people and to provide alternatives to doctors and medicines when other solutions are available. While she knows that medicine has its place, she has seen better results with natural methods in many cases. Products from Dr. Oz are big sellers with great results. Recently, Bette's has observed increased interest in healthy alternatives. Bette and her staff see at least one new face each day and hear the stories that come with the new customers. One customer who suffered from a constant ringing of the ears and had been to four doctors with no results found a solution at Bette's.
Over the years, Bette has added services, including those provided by a massage therapist and a nutritionist, that vastly improve the lives of her customers. Diane Johnson, the massage therapist on staff since January 2012, specializes in Chinese, Swedish, deep tissue, and medical massage. Beginning in November, she will be certified in cupping therapy. Melody Roseau, an herbal specialist, runs Compass, a state-of-the-art nutritional program, out of Bette's. Compass is a system that gives bioelectrical feedback for every organ and system in your body. It's non-invasive, takes five to ten minutes, and provides a full reading that can help guide your journey to health.
Bette's Health Foods is an incredibly valuable resource to our community by providing quality health products and life-improving counsel and services. Bette and the staff follow market trends and keep up with what is in demand. Many customers, even those from as far away as Atlanta, say she has the best selection of products around. "One of the best things about coming to work at the store is seeing how much our customers appreciate the help we provide," Bette says. "It helps keep me inspired, seeing them feel better."
Bette's Health Food - Griffin, GA
Christian Women's Center
Stephanie Summers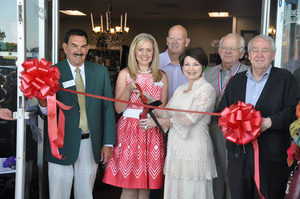 There are now even more opportunities for local shoppers to help women as they buy. The new Thrifty by Design Boutique, managed by Sherry Gilreath, offers higher-end unique clothing, accessories, housewares, and gifts. Proceeds from the boutique will help fund The Well, a volunteer-staffed crisis center for women scheduled to open soon. Of course, the Christian Women's Center Thrift Store in the same shopping center continues to offer shoppers bargain merchandise as well as a chance to help women and children; all profits from the CWC Thrift Store go to the general operating fund of the CWC shelter programs in nearby Sunny Side. CWC Executive Director Stephanie Summers says, "I like to say that the thrift store is for those who like to dig for treasure; the boutique is for those who like to see (the merchandise) as it should be." Also very popular at Thrifty by Design are jewelry, bookmarks, and magnets handmade by Women of the Well, residents of the CWC's extended shelter residential program. Visit www.cwcga.org to connect with the Christian Women's Center, including the thrift store, the new boutique, and the shelter.
The CWC seeks volunteers and monetary gifts for their ministries and welcomes donated items for their stores; they even accept clothing for recycling. Call the CWC at 770-227-3700 for more information. Like the Christian Women's Center Thrift Store and Thrifty by Design Boutique on Facebook to learn about special offers at the shops and ways to help the CWC accomplish its mission of providing refuge to women and children in crisis. One way to help is to sign up for the golf tournament to benefit the CWC to be held Monday, October 14 at Sun City Peachtree. The cost is $400 for a four-person team if registered and paid by Sept. 30, after that, it is $500. The price includes a cart, all green fees, and a lunch buffet. Prizes will be awarded. Tier and hole sponsors are also needed. 
Christian Women's Center - Sunnyside, GA

Holly's House
Chris & Holly Emery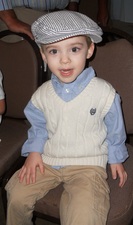 Though the name may sound like that of a little antique shop, Holly's House is actually a large antique mall, and it's growing every day. The 30,000 square foot building, formerly a warehouse, already hosts 17 vendors and will eventually have room for 30-35 more. Owners Chris and Holly Emery fulfilled a dream when they opened Holly's House this past January. They had dealt new furniture before, but never antiques. "This is more fun," says Chris.
The Emerys believe that their wide selection of new furniture sets Holly's House apart from similar businesses, but they also specialize in antiques, collectibles, and vintage furniture. Chris and Holly are pleased with the response to their new endeavor. Customers from all over Georgia and even out of state have been keeping the family-owned-and-operated enterprise busy. Even the couple's three-year-old son, Shaun Michael, is part of the team. If you come at the right time of day, he might give you a guided tour of the store.
Holly's House is seeking qualified vendors of quality merchandise as they enter a new phase of remodeling to keep up with demand. Located at the intersection of Williamson Road and South Pine Hill, Holly's House offers easy access, plenty of parking, and affordable wares. "I've had a lot of customers tell me that we have the best prices around," Holly says. Chris, Holly, and Shaun Michael see a bright future for antique shopping in Griffin. Chris says, "Griffin is becoming an antiques destination."
Holly's House Antiques - Griffin, GA

Rogers Turf Care
Ryan Rogers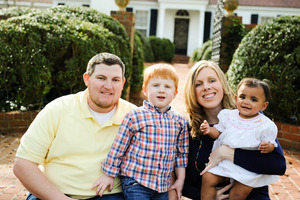 Griffin native Ryan Rogers has been involved in the turf industry ever since he worked on golf courses as a teenager. Motivated by his background in the industry, Ryan received a degree in Turf Management from Abraham Baldwin Agricultural College in Tifton, Georgia. In 2001, Ryan started Rogers Turf Care. As the company grew over the years, it added more employees. These days, Ryan stays busy all year round managing two crews for Rogers Turf Care.
Rogers offers landscape design and installation as well as year-round lawn maintenance and irrigation. The company has done large projects for local residents, including patios, outdoor fireplaces and kitchens, and even waterfalls. Rogers provides services for both residential and commercial clients.
Most of the lawns serviced by Rogers Turf Care are in Griffin, but the company also serves surrounding areas. They welcome new customers and even offer a free consultation to go over new clients' needs. "I love being outside and being able to do what I enjoy," says Ryan. "Seeing the finished product look so great and seeing the customer's reaction to the transformation of their lawn is the best." 
Between growing the business and spending time with his family—wife Amanda, three-year-old son Parker, and one-year-old daughter Brinley—Ryan's days are full. He jokes that his yard is the last to get done. He's not complaining, though. The family feels blessed to be a part of the community and looks forward to meeting new customers and friends. Find them on Facebook or call for more information. Let Rogers Turf Care make it a beautiful day in your neighborhood!
---
---
griffin volume 5 issue 5 entrepreneur focus septemberoctober 2013 georgia spalding county bette's health food center christian women's center holly's house rogers turf care sunnyside
---