Biography: Michelle Barker

Apr 14, 2014 09:51AM, Published by A Kitchen Drawer Writer , Categories: Lifestyle, In Print
---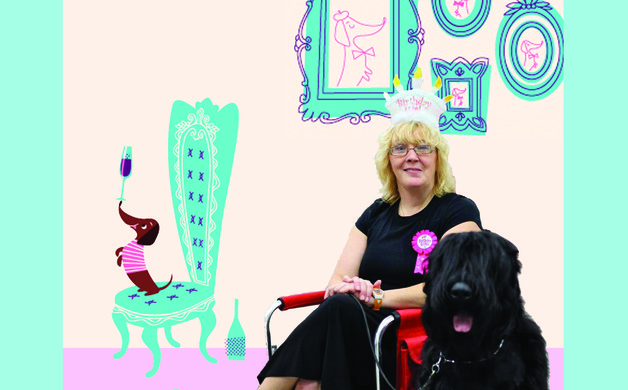 ---
Gallery: Biography: Michelle Barker [9 Images] Click any image to expand.
---
---
Originally published in Volume 5 Issue 5 of Kitchen Drawer Magazine
By Betsy Harris 
Sit. Stay. Come.
These are commands you would be unlikely to bark at children, but, if you're wise, you do use these and others in talking to your four-legged friends. Dogs can understand and respond to short requests.
Ask Michelle Barker, who works with Marcia Collins at Griffin Gallery. While with Marcia she does art-framing work, her credentials as a dog trainer are impeccable, and that avocation is the subject we're focusing on now. Those credentials include affiliation with the International Association of Canine Professionals (IACP), Canine Good Citizen (CGC), and the American Temperament Test Society (ATTS). The IACP certification requires attending school, graduating, logging 500 training hours under another professional trainer, and being recommended by a professional. The CGC is a test given by certified evaluators through the American Kennel Club, while the ATTS is certification for how sound a dog is temperamentally. To learn more, turn to Google.
Meanwhile, let's take a look at Michelle's passion. She recalls that her mom had dogs when she was born: "My mother taught obedience and showed, so I grew up with it. She also worked with horses." In fact, Michelle has also trained horses and even a cat. "I showed paint horses when I lived in Indiana. I had the Indiana high-point all-around mare, and the other one was the Indiana high-point halter mare in 2001. I have a cat who sits up, speaks, and retrieves a toy," she says.
Still, training dogs is Michelle's forte. She mentions her own canines, which she trains differently from those of clients, because she expects more of her own furry friends. "My dogs have jobs—they're service dogs, search-and-rescue dogs, and take part in competition. Mine are more than just pets. Many serve the community and must behave in public settings."
As for the unemployed canines she trains, such as my spoiled Manning and Milton, she still has common-sense recommendations for owners. For example, she uses hot dog pieces to train. Granted, hot dogs aren't very healthy, but then, as she points out, humans eat fast food, and it isn't healthy either. Healthy dog treats do exist, however. You can concoct some of these via recipes readily available on the Internet.
Feeding of dogs and puppies is of utmost importance. "Free-choice" or "free-fed" methods are no-no's. That is, owners should not leave food down all day and night. Rather, dogs should have two meals a day. Unlike food, water should be accessible to the tail-waggers at all times.
What about toys? Michelle's dogs love balls and empty detergent bottles, but many dogs enjoy Kong toys, which are very safe. "Stay away from stuffed toys," Michelle warns, "as many dogs destroy them and ingest the stuffing and squeakers—obviously unhealthy."
In determining how much exercise your dog needs, consider the pet's age; older dogs require less physical activity than younger ones. Some breeds are more energetic than others, so if you're a couch potato, a Belgian Malinois is not for you. "Please research breeds and visit dog shows before picking any breed," Michelle advises. "Make sure the dog you choose fits your family. There are hundreds of dog breeds, and many are good with children, even if they're considered one of the 'tougher' breeds."
"Remember, it's all about training and making your dog part of your family," says Michelle. "The elderly are often not as active, so if you're older and maybe don't get around well, consider your limitations when looking for a dog. The best idea is to contact a trainer. Since I show dogs, I prefer registered ones because I know their backgrounds, but there are so many wonderful dogs up for adoption. Please consider one for your family. No one should own any animal if they're not willing to make a lifetime commitment to said animal. Dogs live an average of ten to twelve years. Make sure you're willing to do right by the dog before purchasing or adopting. Consider your financial situation and the dog's medical and emotional needs. Dogs don't make the choice to be yours; you make the choice to be theirs. Please make sure you honor that commitment."
Only once has Michelle given up on a dog and its owner. The dog was a Presa Canario, which is an extremely aggressive breed. Simply, he was too much dog for the owner. "I find that in working with the public and their dogs, it's always the owner I have more trouble with. Owners often don't listen to the trainer. The human has to be the one always in control. You must be consistent, and you have to have your timing right when using positive reinforcement. Many owners fail to follow through regularly."
Another consideration is the age of the dog. "Puppies should stay with their litter mates for 8 to 12 weeks," insists Michelle. "Those of the same age and breed usually don't hurt each other in play, because their playing with their litter mates teaches bite inhibition, a term that is self-explanatory. When play becomes too rough, the litter mates correct that behavior. Thus, by the time you get your puppy, he's already learned when, in the eyes of others, biting and other offensive behaviors fall into the category of 'enough is enough.'"
In terms of vaccinations, the same advice pediatricians dispense about human babies applies. "Do as the doctor recommends," says Michelle. "As long as you make sure your pet has vaccinations at the appropriate time and eats high-quality food, you should have a healthy, happy dog. You can give him garlic on his food as flea prevention and put one tablespoon of apple cider vinegar per gallon in his water. You can also spray a mixture of ½ water and ½ apple cider vinegar on your dog's coat regularly. Diatomaceous earth also provides flea and worm remedies. This substance is a dirt-cheap way to control external and internal parasites in your dog. Check it out on the Internet."
At the risk of revealing too many of Michelle's training "secrets," I give you one more practical tip: "Socialization is key to all things to come in your dog's life," asserts the professional trainer. "Take your dogs out. Introduce them to lots of activities, people, noises, and the like. But remember—it all has to be positive!"
You might well ask about Michelle's own dogs. She has eleven, including prize-winning show dogs, a search-and-rescue dog so good that she has found lost dogs, and an expert in pet therapy and PAWS for a Cause. Are you convinced, as I am, that Michelle is THE go-to dog trainer? If so, you can contact her at 770-358-1598. She can provide group or private lessons. Whichever method you choose, you and your dog will both be the better for her influence.
---
---
griffin volume 5 issue 5 biography michelle barker septemberoctober 2013 animals georgia dogs animal care griffin gallery animal trainer
---