Canvas Chair Sailors

Apr 14, 2014 02:12PM, Published by A Kitchen Drawer Writer , Categories: Arts+Entertainment, In Print
---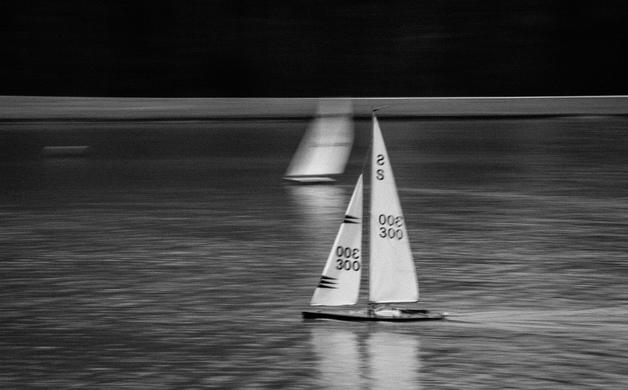 ---
Gallery: Canvas Chair Sailors [9 Images] Click any image to expand.
---
---
Originally published in Kitchen Drawer Volume 5 Issue 3 
By Allison SmylyPhotos by Beau Gentry 
            On Thursday and Saturday afternoons at 1:00, when it's not raining and the temperature is at least 50 degrees, the Canvas Chair Sailors take their canvas chairs to the lake at Wyomia Tyus Park to sail, and sometimes race, their radio-controlled (RC) boats. These sailboats are one meter long (3'4" hull), with a four-foot mast, and they have no propulsion power except for the wind. Each boat has two battery-powered servos that move the sails and rudder. The rechargeable batteries used on the boats allow many of them to sail for several days on each charge. Since the boats require no gasoline or oil, they are quite clean and environmentally safe.
            According to the club's founder, Don Hightower, sailing model boats is "amazingly parallel" to piloting full-sized boats, with a key difference being that in operating RC boats, the sailor is not on board to make the very fine adjustments that are possible when aboard a full-sized vessel. Radio-controlled sailing presents interesting new challenges with each change of the wind, according to Don. He describes it as "a barrel of fun" that costs very little.
            The Canvas Chair Sailors are seeking members from all over Griffin and surrounding areas. Most of the club's 18 current members live in Sun City Peachtree. "We want to get the rest of Griffin involved!" says Don enthusiastically. Membership in the club is free and open to all area residents. To find out more information, contact Commodore Dan Bookwalter at 440-552-1065 (danandmarilyn.bookwalter@gmail.com) or C.E.O. Don Hightower at 352-250-4321 (toodry2sail@yahoo.com). Prospective members are also welcome to simply show up at the lake on Thursdays and Saturdays at 1:00. Dan Bookwalter encourages local residents to give RC sailing a try, mentioning that learning to sail is a fun activity for the whole family.
            Novice sailors can receive help from the more experienced skippers in the Canvas Chair Sailors. "We train members in all aspects of sailing—you don't have to have any experience at all," says Don. "The ability to make the boats move at maximum speed with the available, shifting wind is what it's all about." Each new member is coached individually, with transmitter in hand, until able to sail independently. Prospective members don't even need to own a boat—the Canvas Chair skippers have boats they can use when trying out RC sailing for themselves. New members can learn skills such as how to set the sails and how to adjust for changes in wind direction.
            Prospective sailors would be hard-pressed to find better mentors than Don and his cohorts in the Canvas Chair Sailors. Don is quite an experienced sailor, both of radio-controlled boats and the full-sized variety. He and his wife, Binnie, spent 18 years sailing their 34' sailboat around Florida's east coast, the Bahamas, and the Florida Keys. Don has been sailing RC sailboats for 12 years and has participated in regattas from south Florida to North Carolina. His RC sailboat, the Black Widow, has placed in national regattas and won sixth place in the nation in 2009.
            Don started the Canvas Chair Sailors club in 2009, immediately after moving to the Sun City Peachtree community. Even before he moved to Georgia, Don had been corresponding via email with Louis Greene, Spalding County Parks and Recreation Director, about the possibility of starting a radio-controlled model sailing club in Griffin. Louis shared Don's excitement over the new opportunity for the area's residents. When the two finally met at Wyomia Tyus Park, Don mentioned that it would be nice to have a small launching platform at water's edge because the sailboats have deep keels.
            A few weeks later, Don received an email from Louis: "How do you like your platform?" After rushing to the lake, Don couldn't believe his eyes. There, floating out in the deep water, was an 8 foot square platform and a walkway, 3 feet wide and 12 feet long, ending in a fenced area with a gate—all supported by floating pads chained to anchors. Don says, "The Spalding County Parks and Recreation people have done the impossible for us, and we have a long-lasting launching platform for years to come...We have the perfect place for regattas or just sailing with a beautiful environment."
            According to Don, model RC sailing is a popular activity all over the United States and throughout Europe. It seems to be growing in popularity locally. According to Don, when the Canvas Chair Sailors invite RC skippers from Peachtree City to race with them, they end up with quite a few boats on the water—22 at their last gathering. The organization for model boating in the U.S. is called the American Model Yachting Association (AMYA); most RC skippers are members of this association. The small annual membership fee for AMYA includes a subscription to the national magazine Model Yachting.
            Come on out to the lake. It's great to have the chance to learn sailing right here in Griffin. Don says, "This is addictive, and you can't wait to get back out on the water!"
---
---
entertainment griffin canvas chair sailors volume 5 issue 3 mayjune 2013 georgia griffin city parks wyomia tyus olympic park wyomia tyus park stuff to do sun city peachtree boats clubs & organizations sailboats
---