Made Here: 1888 Mills

Apr 14, 2014 02:19PM, Published by A Kitchen Drawer Writer , Categories: In Print, Community
---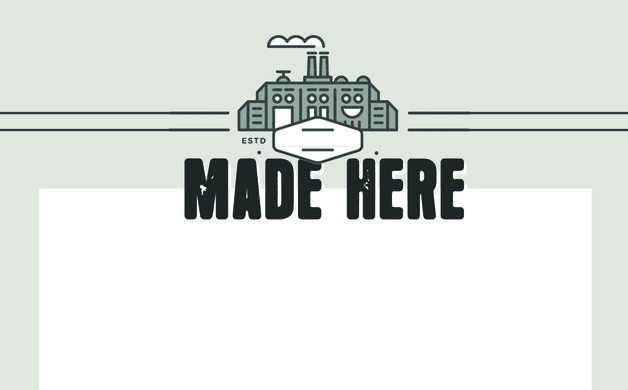 ---
Gallery: 1888 Mills [10 Images] Click any image to expand.
---
---
Originally published in Volume 5 Issue 3 of Kitchen Drawer Magazine
By Rachel ScogginsPhotos by Steve Smyly
In January, Walmart Chief Executive Officer Bill Simon announced that the company would invest $50 billion over the next 10 years in American-made products. One of the companies that will profit from Walmart's initiative is Griffin-based 1888 Mills, one of very few towel manufacturing mills left in the country.
After rolling out Phase 1 in March, 600 Walmart stores now stock towels manufactured in Griffin under the brand name "Made Here." Each hang tag features a picture of one of two 1888 Mills' Griffin employees: William, a second-generation textile worker of 26 years, and Joy, also a second-generation textile worker, with 27 years of experience.
Phase 2 is scheduled for the fall and includes approximately 1,200 stores, while Phase 3, planned for early 2014, will reach up to 2,000 stores. Towels manufactured in Griffin are also now available on walmart.com. Walmart's decision not only provides positive public relations by incorporating home-manufactured products and creating jobs, but it also makes financial sense by taking advantage of cheaper energy and transportation costs within the country. Walmart's new plan and 1888 Mills' contribution has gained national interest, with mentions in articles in The New York Times, the Los Angeles Times, and The Huffington Post, as well as a segment on ABC World News with Diane Sawyer.
1888 Mills' involvement is significant for the community. Phases 1 and 2 of the Walmart initiative will bring 35 new jobs to the community through 2014. Griffin has a long history of textile production, reaching back to 1888 when William Joseph Kincaid opened Griffin's first mill for the Kincaid Manufacturing Company. When first opened, the only product the mill produced was towels. Although local mills have gone through many changes since those early days, exactly 125 years later, a Griffin mill still produces quality towels. The locally made towels are sold under the Made Here brand, which was released by 1888 Mills. "We chose it because they're made here," said Doug Tingle, member of the mill's Board of Managers. "We're very proud of Griffin and the heritage of textiles in the area."
1888 Mills was started in 1996 by Gilliam Cheatham and family, Howard Gosset, and Doug Tingle, all of whom had worked in the local textile business for years. They opened 1888 Mills because they felt like there was still a place for U.S. textile manufacturing and believed that manufacturing jobs are extremely important. "We are very traditional folks," Tingle said.
Prior to the partnership, the Griffin mill only manufactured higher-end, better- or best-quality hotel towels. Because of this, the locally produced towels now sold at Walmart are heavier weight towels, made with cotton grown in California, Mississippi, Alabama, and Georgia. They are softer and more absorbent, and are considered upper-end "best" towels. 1888 Mills' commodity towels, which are middle-tier quality, are produced off shore.
In addition to towels, bath rugs are also sold under the Made Here brand logo. 1888 Mills only manufactures woven mats like those found in hotels, so they partnered with Maple Rugs, a business located in northern Alabama, to sell Made Here brand bath rugs in stores and online.
By the end of Phase 3, Made Here towels will be available in almost half of the Walmart stores across the country. Because of the increased demand, the Griffin mill has added another day to the work week. The company is also adding additional equipment; for example, they have purchased new looms and hemming machines with newer technology. These machines are wider, faster, automatic, and more sophisticated overall. "We get more towels with the same personnel and space," Tingle said. One new hemming machine costs $470,000, which makes it an important investment for the company.
1888 Mills is a global company. In addition to Griffin, which is responsible for 10-15% of the company's overall towel production, they have mills in Pakistan, Bangladesh, and Ghana. In the latter part of the twentieth century, more and more textile industry went overseas, which resulted in mills shutting down. This affected Griffin, with most of the mills in the community closing. Between labor costs, benefit costs, and tax structures, American mills still struggle to compete. "We're at a 9-12% disadvantage," Tingle said. Producing cheaper products like the commodity towel offshore is more profitable, whereas more expensive towels can be profitably produced domestically. Before the Made in America initiative, 1888 Mills was one of the largest suppliers of towels and other home textiles to Walmart, but those towels were produced in other countries.
Tingle believes that this partnership with Walmart will not only benefit the mill and its employees, but the entire Griffin community. "At one point," Tingle said, "Dundee and Springs used City of Griffin water, and then they closed and stopped that line of revenue." Since the extra work day and added production will increase the amount of water and power needed by the mills, the expansion will have an important economic impact on City of Griffin water and power. These are not the only local companies affected. 1888 Mills purchases goods such as paper, office supplies, propane, and machine oils from local businesses. International Paper, a local corrugated box plant, recently fulfilled an order for 5,000 boxes from 1888 Mills. "For every manufacturing job, it affects three other jobs," Tingle said. "It's a trickle down for the community."
Out of the five product categories that 1888 Mills manufactures, towels are the only component made in Griffin. However, the renewed interest in American-made products will likely open other categories for in-country production. The company is considering adding bedding to their U.S. manufacturing, but it will have to be an entirely new operation with different machines.
1888 Mills was singled out when Walmart started the Made in America initiative, though Walmart is working with many other companies. In 2012, 1888 Mills was the Vendor of the Year for the home portion of Walmart, which demonstrates the importance of the company. "We're a good partner for them and do a good job," Tingle said. Using 1888 Mills had the added benefit of working in an existing infrastructure, so no new mills had to be built and production could start immediately. "We don't think the consumer should pay more just because the product is made in the U.S.," Tingle said. "We need to give the consumer value, which not only means price, but quality and a higher-end product."
Walmart's initiative has the potential to have positive economic impact not only on Griffin, but on the country as a whole. "Once this story gets told in many communities, it will drive manufacturing, whether it's sheets or something else," Tingle said. "There are lots of people interested in manufacturing in the U.S., and what Walmart understands is that they have to create an environment that makes people want to bring investment back to the U.S."
---
---
griffin volume 5 issue 3 mayjune 2013 georgia 1888 mills made in america american-made made here griffin mills textiles walmart
---