Griffin Archives

Apr 14, 2014 02:30PM, Published by A Kitchen Drawer Writer , Categories: In Print, Community
---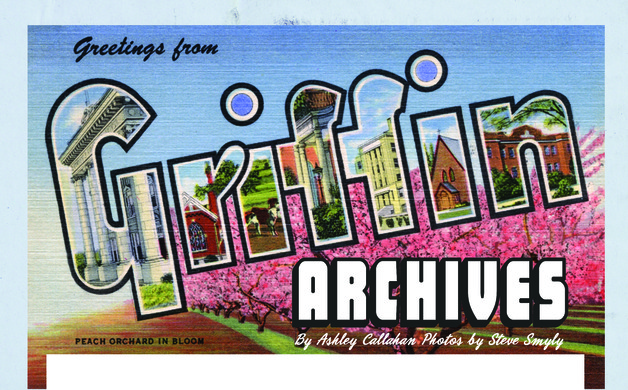 ---
Gallery: Griffin Archives [2 Images] Click any image to expand.
---
---
Originally published in Volume 5 Issue 3 of Kitchen Drawer Magazine
By Ashley CallahanPhotos by Steve Smyly 
Much like the line from the movie Field of Dreams, "If you build it, he will come," Dick Morrow has been building something. No, he's not bringing a baseball team to Griffin, but he is digging up the past, hoping to resurrect old stories, revisit forgotten characters, and preserve Spalding County's rich and at times tumultuous history. His pet project is, however, based on people coming to Griffin, based on Georgia's multibillion dollar heritage tourism industry that, as one example, draws 600,000 people a year to Savannah's historic cemeteries.
"People are traveling—spending vacation dollars to reconnect with the past, rediscover their roots, and find out who their ancestors were," says Morrow. That's why he's spearheaded the effort to create an archive for Griffin. He's modeling it after the nearby Thomaston-Upson Archives, which draws three to four thousand visitors a year. With the backing of the city, Morrow has secured a room furnished by the school system and hired Griffin's first archivist, Fayetteville resident Cindy Barton.
Barton's office is where we held our interview. The space itself is a step into the past. The approximately 1000-square-foot space where the archives are located was once an art room on the old Taylor Street Middle School campus. Clearing out closets for space, Barton has rediscovered forgotten art projects, and on one of the ceiling tiles above her head is a child's brightly painted depiction of a fish. Just a few days into her new assignment, she describes her project as humble and just getting started, but quickly follows that by saying, "My goal isn't for these archives to house folders and boxes that are shuttered away, not to be seen by the light of day. My goal is to make history come alive here for people to experience and enjoy."
Surrounded by more than three dozen boxes that the historical society has already donated to the cause, it would appear she has her work cut out for her. But as Barton assesses her new surroundings, she's convinced each one of those boxes—filled with old negatives, photo albums, books, and newspaper clippings—has a story to tell, and her enthusiasm for discovering those stories is palpable.
Nearly finishing each other's sentences, Morrow and Barton outline the two phases of their plan. Their first order is to collect and organize precious artifacts, before they are gone forever, to create a community asset dedicated to the area's history and genealogy. The second phase is to categorize, digitize, and make shareable what they collect to put the Griffin Archives on the tourism map. Already Morrow laments that "The mill town is getting away from us to where this generation doesn't understand the textile industry that past generations spent their lives building." And that's just one stitch of Griffin's history that is knitted into the fabric of not only our city and county but the whole country.
Morrow believes Griffin's most popular historical attractions will fall into three main categories: veteran and Civil War history, African American history, and ancestral tracking. In addition to Stonewall Confederate Cemetery where 514 soldiers—including one Union soldier, Nathan Kellogg—are buried, Griffin housed six Confederate hospitals to care for soldiers during the Battle of Atlanta and was home to Confederate infantry training Camp Stephens and cavalry Camp Milner (today's City Park). According to Brown's Guide to Georgia, Henry B. Holliday, the father of John Henry "Doc" Holliday, made his home on the land that would become Camp Stephens. That same piece of land also happens to be part of the old trading route used by Chief McIntosh of the Creek Indian Nation, now known as the McIntosh Trail.
African Americans are driving a huge movement within heritage tourism. As many African Americans left the South to find work up North, many of their descendants are now returning to the Southeast searching for their ancestry. Morrow expects Griffin's documents will reveal what Thomaston's archives have already found—censuses and ledgers that trace African Americans' journeys from slavery to freedom. "There are census and property tax records where people are only listed by their first names, recorded as property and slaves," says Morrow. "Then years later you can see the evolution where those same people have last names, and are now property owners and taxpayers." Griffin is also home to Rest Haven African American Cemetery, where the area's first black dentist is buried.
Of course this is just scratching the surface. Among other valuable historic sites, there is the Hawkes Children's Library, designed by famed architect Neel Reid. There are the mills, the Experiment Station, and as Barton puts it, "countless treasures and untold stories waiting to be discovered and shared."
The history is here. According to Morrow, up until now, people have traveled to Griffin to learn more but have walked away empty handed. What he believes we need is the infrastructure—the archives, pamphlets, guides, restrooms, restaurants, and lodging. If we build it they will come.
If you're willing to help build Griffin's archives, please contact Cindy Barton at archives@cityofgriffin.com. She would love to see discharge papers, paper clippings, yearbooks, histories of the mills, family genealogies, cemetery ledgers, and old meeting minutes. In many cases, she'll ask for copies so that owners may retain their originals. Any donations would be stored in the secure, temperature-controlled archives. A collection policy and public hours will be announced soon.
---
---
griffin volume 5 issue 3 mayjune 2013 georgia charitable organizations griffin archives spalding county history
---