Geocaching: Oh, The Places You'll Go

Apr 14, 2014 03:06PM, Published by A Kitchen Drawer Writer , Categories: Arts+Entertainment, In Print
---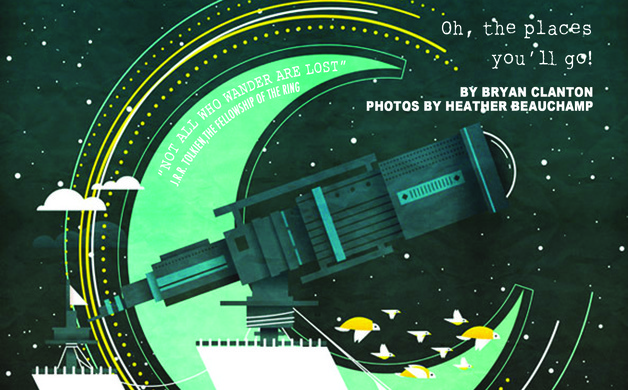 ---
Gallery: Geocaching [4 Images] Click any image to expand.
---
---
Originally published in Volume 5 Issue 2 of Kitchen Drawer Magazine
By Bryan ClantonPhotos by Heather Beauchamp
"Not all those who wander are lost."
J.R.R. Tolkien, The Fellowship of the Ring
Geocaching (pronounced geo-cashing) is a worldwide game of treasure hunting that can be described as "high-tech hide and seek." You can place a geocache, pinpoint its location using Global Positioning System (GPS) technology, and share its location online. Anyone with a GPS device can then try to locate it. A typical geocache (or cache) is a small waterproof container containing a log book in which a geocacher enters the date of the find and his or her code name. Larger containers may also contain items for trading, usually inexpensive toys or trinkets.
My son, Brandon, and I started geocaching after my wife and I discovered that he had a natural interest in hiding and finding treasure, especially after he watched National Treasure and Raiders of the Lost Ark. His teacher noticed that he had an affinity for drawing treasure maps in class, and I had observed that he was starting to hide objects around the house for my wife and me to find. Unfortunately, my feet were finding some of these in the dark. My wife suggested that I hide objects and draw maps for him to use to find them, but then I remembered that a young man at my church, Kyle Shedd, had participated in a similar activity on his vacation called geo…geo…geocrocheting...geosomething.
Geocaching, an activity that combines nature and technology, is rapidly growing in popularity. Its roots can be traced to a 150-year-old hobby, letterboxing, that began on the moors of England and incorporates orienteering, art, and puzzle solving. When GPS technology began to allow for a small container to be specifically placed and located, geocaching was created. On May 1, 2000, the first documented geocache, a five-gallon bucket containing software, videos, books, food, money, and a slingshot, was placed by Dave Ulmer of Beavercreek, Oregon. By May 6, it had been found twice and logged once. A metal plaque commemorates the site, and an active cache is still located nearby.
Geocaches are now placed in over 100 countries around the world and on all seven continents, including Antarctica. There is one next to a thermal vent on the ocean floor and one on the International Space Station. The Boy Scouts of America have a merit badge for geocaching. As of early this year, there are 1,987,484 active geocaches around the world, with more than 700 within a 30-mile radius of Griffin. The largest in Spalding County is titled Light and More Light. Some are as small as a fingertip (known as nanos); others are in five-gallon buckets or even larger containers. Small ammo cans, which can be purchased from Army-Navy surplus stores, are often used as geocache containers. Most caches have log books for participants to sign; many include trading items of personal or sentimental value, though usually of low monetary value. Some contain geocoins or travel bugs, both designed for geocaching, that "hitchhike" from cache to cache and are tracked via the Internet.
Our first geocache was relatively easy, and my son and I were able to locate it without a GPS device. Being familiar with local legends and landmarks enabled us to complete our first find, a Doc Holliday cache, in Griffin. Since my son continued to be interested, I started researching other caches. I also created a "geocaching go bag," which contains water, snacks, a first aid kit, items for trade, bug repellent, and basic survival items. Our hunts have led us to locations we never would have seen outside of geocaching, such as an abandoned monastery in Macon dating back to the early 1900s. We have found 235 caches in Georgia, Tennessee, Alabama, South Carolina, Florida, and California. Unfortunately, we do not always find them, either because of error on our part or due to theft of the cache (known as "muggling"), but we always learn something on our expeditions. A few years ago, we started searching for Georgia's State Park geocache series, which was created by the  Department of Natural Resources. We have been on mountain tops, rivers, the ocean, and underground in cave systems. Many times during our adventures, I think of the last book Dr. Seuss published before his death, Oh, the Places You'll Go!
The really attractive part of geocaching is that anyone can do it, and at minimal expense. Other than purchasing some type of GPS receiver (GPSr) and reliable transportation, there is little cost to hunt for most caches. Many mobile phones now come with GPS as a standard feature. Apple's iPhones have a really good geocaching application available in the App Store. The smartphone apps are good for beginners in urban settings, but a true GPSr, such as the Garmin eTrex, is recommended if you are venturing off-pavement. A vehicle-based GPS will help you drive close to a location, but will not be so helpful on the trails.
The website www.geocaching.com is easy to use, family-friendly, and allows searches by location to determine if a cache is reasonable based on distance, terrain, and difficulty. Most GPS receivers will interface with the site and download the coordinates. For the average family, searching for urban geocaches will remain relatively cheap. Simple caches are often called "drive-bys," "park 'n grabs," or "cache and dash." However, geocaches may be complex, involving lengthy searches or significant travel. Examples include caches that involve multiple locations, long off-road drives, and challenging environments, such as mountain peaks or under water. We have started to specialize in the more adventurous hunts. Once you get some experience, you also may want to seek out those mountain tops 
Geocaching is not without a little controversy. Some consider placing geocaches littering. Some geocachers try to mitigate this perception by picking up litter while they search, and even organizing "Cache In, Trash Out" events. Geocaching is usually positively received when it is properly explained. However, certain placements can be problematic. If hiders place caches on private property without adequate permission, intentionally or otherwise, geocachers might trespass. Caches should not be hidden in places where they could be mistaken for a drug stash or a suspicious device, or where the act of searching can make a finder look suspicious, such as near schools, playgrounds, banks, or courthouses. Caches in such areas are highly discouraged, and most geocache websites enforce guidelines that disallow these types of placements. Ultimately, it is up to both cache hiders and seekers to use discretion and to report any problems. Generally accepted rules are to minimize the impact on nature, respect private property, avoid alarming the public, and not to endanger others.
Geocaching has given me an enhanced perspective on nature. Most everyone speeds over bridges without a thought to the creeks, rivers, and salt water they are crossing. As I cross these bridges, I often wonder what is upstream or downstream, because nature rarely reveals its true beauty at points of public viewing. To discover the secret beauty, you must journey farther. A geocache accessible only by kayak renewed my interest in kayaking, and allowed me to teach my son to kayak. This cache required a lot more planning than our usual searches, and resulted in me poring over nautical charts and tide schedules. It was the first one that scared me a little, because I pulled a muscle in my forearm while paddling against a six-foot tide to exit a marsh creek. I decided to keep trying to complete the mission, despite the pain in my arm, because I wanted to teach my son to persevere. At one point of this expedition, we were interrupted by a boat with tourists wanting us to smile for photographs as they traveled by. We smiled and waved, knowing that we would soon become a permanent exhibit in some family's vacation scrapbook.
For me, the appeal is simply spending time with my son. I love seeing the look on his face when I ask, "Are you up for a little adventure?" and tell him, "Grab the compass; pick a direction." This wholesome family activity keeps us off the couch and out exploring the world. It allows a lot of father-son time, so that I will not be singing Harry Chapin's Cat's in the Cradle when he is an adult. Geocaching has given me the opportunity to teach Brandon many things. We have covered orienteering, algebra, geography,
social studies, problem solving, and complex thinking processes. I have also been able to teach him basic survival skills if he should ever find himself lost in an urban, rural, or wilderness environment. We have climbed, camped, hiked, kayaked, and driven off-road to seek out our targets. On our wilderness treks, we have observed a wide variety of plants and animals in their native habitats, and I  teach him to respect nature. He has a better understanding of longitude and latitude at a young age than I had in high school. Geocaching is not the final solution to all of your parenting challenges, but I believe that it strengthens bonds and allows for quality time with your children. It also encourages them to seek out adventure.
When I asked Brandon why he likes to geocache, he said, "I like finding things most people do not know about, and spending time with you." He stated that he especially enjoys the ones that require solving riddles, following clues, and cracking codes. "I really like the ones you can only get to by kayak," Brandon added.
You must experience geocaching to understand it. You may discover interesting items or learn about a subject you have never encountered. David Helms, a local police officer, and his wife Andrea, a schoolteacher, quickly caught the urge after seeing a post about geocaching on my Facebook page, and have discovered for themselves how much fun it can be. We have also helped other families get started. Try it for yourself. As Dr. Seuss says in Oh, the Places You'll Go!, "And will you succeed? Yes indeed...98 and three-quarters percent guaranteed."
---
---
griffin volume 5 issue 2 georgia marchapril 2013 geocaching gps technology
---