Biography: The Drs. Kong

May 12, 2014 03:44PM, Published by A Kitchen Drawer Writer , Categories: Arts+Entertainment, Community
---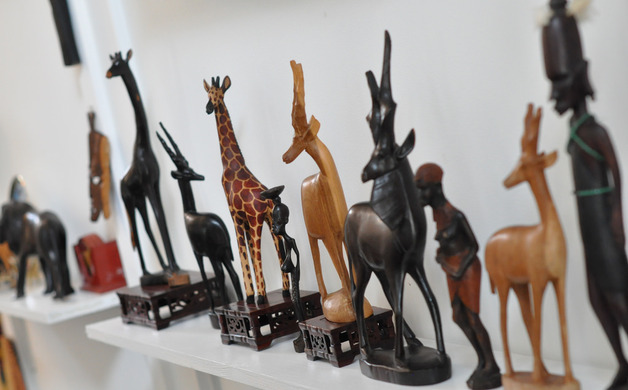 ---
Gallery: The Drs. Kong [13 Images] Click any image to expand.
---
---
Originally published in Volume 6 Issue 3 of Kitchen Drawer Magazine
By Allison Smyly with the Kongs
Photos by Heather Beauchamp
Dr. Stephanie Kong is President and CEO of ZOe Pediatrics, with offices in Thomaston, Barnesville, and Columbus. She has also served in leadership roles with a number of managed care companies, most notably as CEO of Family Plus, the HMO sponsored by Egleston Children's Hospital. Her husband, Dr. Waine Kong, is a retired psychologist and member of the Georgia Bar who currently serves as business manager for ZOe. According to Dr. Stephanie Kong, "It is not every pediatrician who can have a lawyer as their business manager!" The couple believes strongly in being proactive in health matters and teaching children and families good health habits to lower the risk of sickness. Stephanie and Waine have four successful children and six beautiful grandchildren.
Influences and Inspiration
Stephanie's father, who was born in Macomb, Mississippi, joined the army during World War II at the age of 15 and served under General MacArthur in Japan, where he met his wife. They had four children. When Stephanie was four years old, the family moved to Milwaukee, Wisconsin, where her father fixed planes for the army. Stephanie went to the University of Wisconsin for both undergraduate and medical school and received her pediatric training at Milwaukee Children's Hospital.
Dr. Stephanie remembers a defining moment during her training when she was treating a little girl for croup: "The treatment is as simple as placing a vaporizer next to the child's bed. Because the family could not afford to buy one and the hospital could not loan or give the family one, I had to admit the child to a $1,000 bed and place a vaporizer next to her. I decided then and there that this was not a good way to conduct the business of medicine." With a desire to improve such situations, she applied for and received the Robert Wood Johnson Fellowship for the business side of medicine and then served in administrative roles for a number of years, including director of medical affairs, CEO, senior vice president, and chief operating officer for several managed care companies. However, she always kept up her clinical skills by working in emergency rooms and substituting for other doctors.
Dr. Waine was born in Jamaica and moved to the United States when he was 15 years old. After graduating from Simpson College in Iowa where he attended on an athletic scholarship, he became a psychologist and later, a member of the Georgia Bar. He was a college professor at the University of the District of Columbia, vice president of Provident Hospital in Baltimore, executive director of the Urban Cardiology Research Center, and CEO of the Association of Black Cardiologists for 21 years before he retired. He is well known for involving lay people in improving community health, including training over 500 church volunteers to monitor blood pressure in their communities. He volunteers as a mentor at the local high school and is president-elect for Thomaston Kiwanis. When he is not at the office, you will most likely find him on a golf course.
ZOe Pediatrics began when Dr. Stephanie was in her car listening to a sermon on the radio. The preacher was talking about "Zoe," a Greek word meaning "gift from God." She immediately got the vision to start a practice and feels that God led her to Thomaston. She says, "I am a true believer that if God gives you the vision, he will also give you the provision."
An Ounce of Prevention
The pediatric practice adopted the mantra "Don't wait for sickness. Children do not have to be sick to get better." In the old days, parents would only take their child to a doctor when the child was really sick. The Kongs hope that has changed. "We are present when the child is delivered and hopefully we will establish a good partnership with parents to see the children regularly for well child visits until they graduate from high school," says Dr. Stephanie. "We are really good at picking up problems and addressing them long before they become obvious. Good doctors treat disease. Really great doctors also prevent disease."
The Kongs believe that being proactive in health matters can add years to life, enabling us to guide not only our children, but also our grandchildren, to happy, healthy, and productive lives. As they put it, no matter how good our therapeutic strategies in medicine and surgery may be, they will never be as good as preventing problems in the first place.
Africa and Art
Although they stay busy with their professional callings, Drs. Stephanie and Waine have made time for travel over the years. They have been to Africa 15 times and have brought back collectibles they couldn't resist, resulting in a large collection of African art. One item, The Praying Mambilla, is one of the oldest pieces of art in the world, according to Dr. Stephanie: "When man first set down roots and started farming, they were at the mercy of mysterious forces that they attributed to God… they believed that unceasing prayers were needed to keep insects and blights away and to bring rain to nourish their crops. When they couldn't be present to pray, they left these prayerful figures to continue to pray for a good crop." Other pieces in their collection include a life-size lion; a Tikar king's throne with large, delicately carved ivory tusks; several Shona stone carvings; and pieces from the Benin, Bamoun, and Entebelli groups.
Dr. Waine wrote The Lost Soul of Africa, a book highlighting the impact of African art, including the influences of African art on Pablo Picasso's cubism and making the case that metallurgy began in Africa. The Kongs point out that a major difference between African art and western or eastern art is that African art does not include the signature of a sculptor or artist. African artists believe their art is a product of their tribal group; therefore, individual artists do not even consider taking credit for their work because anything produced is a product of their culture.
Guiding Families
"The greatest gift parents and their pediatricians can give children is good health and good health habits," says Dr. Stephanie, believing that partnership between medical practitioners and families is necessary to achieve this goal. She remembers that a grandmother once told her that she couldn't buy her blood pressure pills because her granddaughter needed shoes. Dr. Stephanie reminded the grandmother that in emergencies on airplanes, adults are advised to put the oxygen mask on themselves first before attempting to take care of others. "If you are unable to function, you will not be able to take care of people who depend on you," she told the grandmother. "If you have scarce resources, buy the pills instead of the shoes."
When Dr. Stephanie has to give bad news to parents, she asks their permission to pray with them and has never had anyone refuse. "Believe me, it helps us all cope. What a privilege we have bringing everything to God in prayer!" she says. She also tells of studies that show that people who attend church regularly live 7 to 14 years longer than those who do not.
The Kongs are grateful for the growth the practice has experienced in the past two years. Dr. Stephanie gives credit to God; her supportive husband; her partners, Dr. Charlaya Campbell and Theresa Schornack; her dedicated staff; and to the parents who entrust their children to ZOe. According to Dr. Stephanie, ZOe will see "any and all who show up at our door" and take care of having new patients' records transferred. In addition to holding regular business hours during the week, they also have office hours from 9 a.m. to 1 p.m. on Saturdays to accommodate working parents.
ZOe Pediatrics has offices in Thomaston (210 Hannah's Mill Road), Barnesville (in the Upson Regional medical building behind Walgreens), and Columbus (959 17th Street). It is recommended that patients make an appointment by calling 706-938-0990; however, walk-ins are accepted.
---
---
art barnesville thomaston biography kong volume 6 issue 3 georgia lamar county zoe pediatrics pediatrician upson county african art dr kong
---