Kitchen Drawer Restaurant Review: Smokin' swine BBq

May 12, 2014 04:07PM, Published by A Kitchen Drawer Writer , Categories: Food+Drink
---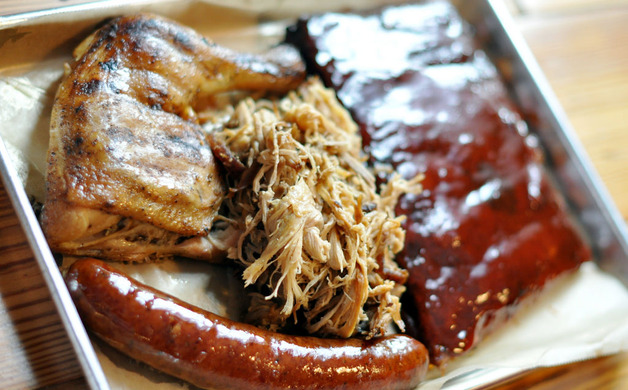 ---
Gallery: Smokin' Swine Restaurant Review [11 Images] Click any image to expand.
---
---
Originally published in Volume 6 Issue 3 of Kitchen Drawer Magazine 
By Allison & The KD GangPhotos by Heather Beauchamp


A+ + + —Ben

"Ridicu-licious" –Heather
Readers asked for it, and now you've got it—more about local dining options. (We're glad you asked, because we're more than happy to scout out restaurants in our area, despite the very real risk that our jeans will become too tight.)
With Smokin' Swine's five homemade sauces—South Carolina Mustard, North Carolina Vinegar, Kansas City Sweet, peppery Alabama White, and Georgia Spicy, you'll take a culinary journey around the nation without leaving their clean, spacious dining room. You will need LOTS of napkins. Perhaps because of her roots in that state, Heather's favorite was the North Carolina Vinegar. Her exact words to me were "The North Carolina sauce made me cry. Put that in there."
As a starter, try the fried dill pickles. Though they're served with a tasty ranch dressing, you'll also want to dip some of them in the Alabama White sauce. The meaty Smoked Wings (Sweet Chili, Buffalo, BBQ, or dry) are another excellent appetizer choice—I tried the Sweet Chili wings, which at first tasted quite sweet but also had a pleasantly spicy kick.
If you're a meat lover, you'll want the "Lil' Bit of Everything" entrée— ¼ pound of pulled pork, a quarter of a chicken, ¼ pound of smoked sausage, a half rack of ribs, and two sides. Couples often enjoy sharing this plentiful meal. It's fun to mix and match the varieties of meat with the different sauces. The ribs and chicken were so tender that the meat fell off the bone.
Another popular item is the BSE Burrito, a tortilla stuffed with pulled pork, BBQ Beans, cheese, and barbecue sauce, then deep fried, topped with MORE sauce and cheese, and served with a side. Though reasonably priced at $9, the BSE Burrito is huge. We agreed that none of us would have been able to eat the whole burrito even if we hadn't already been well on our way to being full of appetizers like BBQ Potato Skins and Triple Sliders.
The sides were unusually good—crisp, perfectly done fries; chunky, substantial Brunswick stew; flavorful Brisket Chili. Extra touches made the side dishes special—"loaded" potato salad, homemade sauce for the mac and cheese. The sweet tea was just right, and I admit that I'm picky about tea. Another factor I evaluate when dining out is whether the meals are a good value for the money, and Smokin' Swine passed my test with their very generous portion sizes.
Being fans of local businesses, we like how Smokin' Swine got started. Owners Craig McLendon, Rodney Baxley, and David Bartram were buddies who liked to cook barbecue. For some time, they traveled around the country, entering competitions and enjoying quite a bit of success. Finally, as Craig put it, they decided to jump in with both feet and open a restaurant. The guys all worked together to renovate the space, which was formerly a furniture store, hardware store, and funeral home—all at the same time. They built the tables, the bar, and even the wooden bathroom sinks using repurposed lumber from an old mill in Griffin. Smokin' Swine opened its doors in downtown Hampton in November 2013. Looking to the future, Manager Danny Oechsle says, "I'm expecting big, big things."
Suggestion—don't wear your favorite white shirt to Smokin' Swine. You'll want to sample all of the sauces without worrying too much about getting a spot or two on your clothes. Our consensus is that Smokin' Swine more than lived up to their motto: "The Flavor of Awesome."
5 East Main St.
Hampton, GA 30228
770-897-0203
Tues-Thurs 11-9
Fri-Sat 11-10
---
---
---
restaurant bbq restaurant review volume 6 issue 3 georgia smokin' swine bbq hampton
---