Recipe: Salsa Verde

May 22, 2014 12:00PM, Published by A Kitchen Drawer Writer , Categories: Food+Drink
---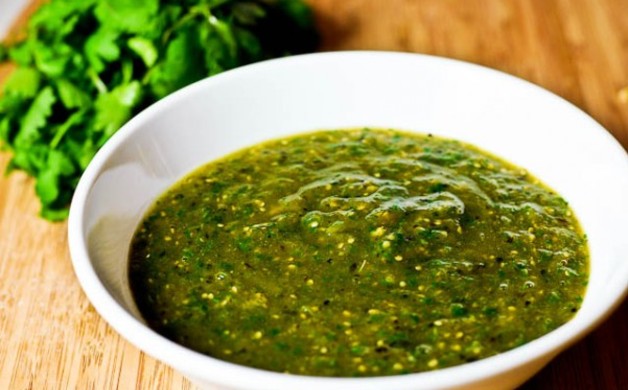 ---
---
Salsa Verde 
The other night I wanted a sauce to go with the shrimp/black bean/goat cheese quesadillas that my husband requested. Chipotle mayo? Too much dairy. Guacamole? Finding the perfect avocado can be tricky AND expensive. 
Enter: Salsa verde, but not from a jar. After researching several different recipes online I came up with my own ingredient list and took it from there. The result? Really good, smoky with just a hint of heat. Definitely the star of the quesadilla dinner.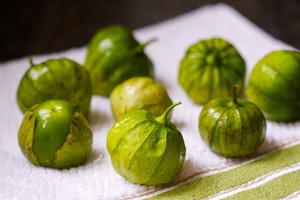 Side note: Tomatillos are the main ingredient here, not really hard to find but most people don't know what they are. 

Ingredient List

7 tomatillos
1 Pablano pepper
1 medium onion
4 cloves garlic
Cilantro
Lime 
Salt to taste 


Preheat grill. Peel the husk from the tomatillos and skin from the onion, cut onion in half. When grill is hot, throw on the tomatillos, onion and the pablano pepper. Grill until peppers and tomatillos are charred and the onion has softened, the tomatillos and pepper will be done first. While the onion finishes on the grill, peel the majority of the blackened skin from the pablano pepper and pull off the stem. Cut garlic into smaller pieces. When all veggies are ready chop into smaller pieces and put into a blender or food processor and blend to a salsa consistency. 
Pour into a bowl and stir in 1/4 cup of chopped cilantro and squeeze a lime over the top. Add salt to taste. 
This salsa is better when served chilled. Keep the leftovers for the next dish that needs a zesty zing! 
---
---
recipes recipe mexican cuisine salsa salsa verde
---