Travel review: Outer Banks, NC

May 22, 2014 02:40PM, Published by A Kitchen Drawer Writer , Categories: Lifestyle
---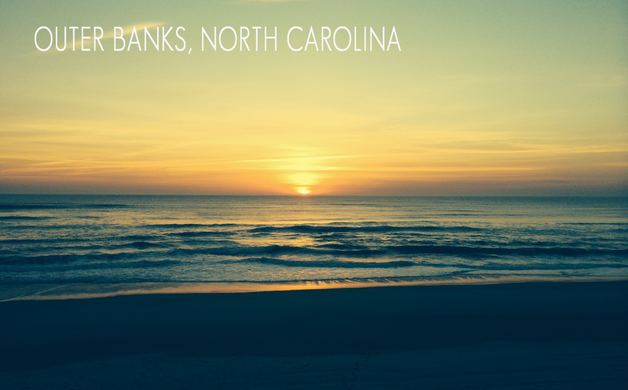 ---
---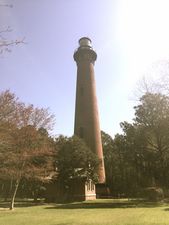 In April of 2014 on a [long] drive down from New York, my husband, brother and sister-in-law decided to stop half way in a place known as OBX: Outer Banks, NC. This coastal area is dotted with small islands and town, many with only one road running through, it's also a place famously known for it's wild horses (more on that later). 
I was surprised by not only the beautiful water around the land, but the cozy, friendly and elegant vibe that each island had. Not to mention, the food, I certainly had my fair share of steamed shrimp with ole' bay seasoning and drawn butter (!) 
Where We Stayed
The Hampton Inn & Suites in Corolla
was not what you would initially think when you hear Hampton Inn. It was directly on the water (the above picture is the beach right outside the hotel at sunrise), and was recently renovated so the rooms felt large and new. The hotel had a coastal colonial decor, and a very nice staff, including a very sweet rescue cat that lives near the water. 
BONUS: The complimentary breakfast is way above par. Omelets, oatmeal, make-your-own waffles, anything you can imagine is all out every morning at 6 AM. 
What We Did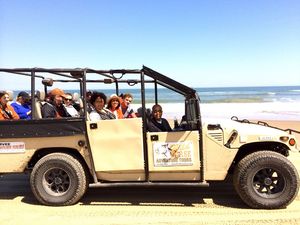 Aside from the beach, and beautiful drives (we drove out to Rodanthe) one of the main draws of the OBX is the wild horses. Instead of trying to find them on our own, we signed up for an afternoon with the
Wild Horse Adventure Tours
. They guarantee you'll see horses or your money back, win-win, right? 
Fortunately for us the weather was beautiful, so just riding in that open air hummer along the beach and through the sand with the waves crashing around us was a great experience in itself. We had a knowledgeable and funny tour guide, and after quite a bit of searching we finally stumbled upon some horses.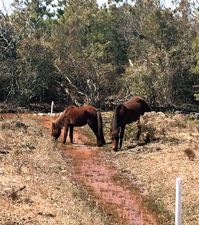 "Ok, here we go folks! Look out across the bay right there in that green patch. You see those two horses? I know the brown one's name, his name is...No Refund." 
That got a chuckle from everyone on board. The horses were smaller than I expected, and they still had their winter coats but it was lovely to see them in their own environment, completely self-sustained and untouched by humans hands. So rare these days. 
What We Ate
We ate a lot but two places must be recommended. First, a small BBQ joint in the old village of Corolla: Corolla Village Barbecue had some of the most amazing brisket. My brother devoured two brisket sandwiches in about 2 minutes. And I had some more steamed shrimp, good grief. 
And for a nice seafood dinner on the water, a must (!) try
Miller's Waterfront Restaurant
, and get there just before sunset to snag a table near the windows to watch the sun go down. The crab dip is the best I've ever had, with huge lumps of crab, and any of the fresh fish plates are amazing and big enough to share. The drinks were a little weak, but after nicely mentioning it to the waiter they brought us back a much better drink. 
Our visit was short but wonderful, and next time we plan to rent a house near the water and stay long enough to get a serious tan. 
---
---
---
travel outer banks lifestyle north carolina
---