Vintage Day is Only a Few Days Away

Jun 04, 2014 09:23AM, Published by Brittany Cobb, Categories: Arts+Entertainment, Today
---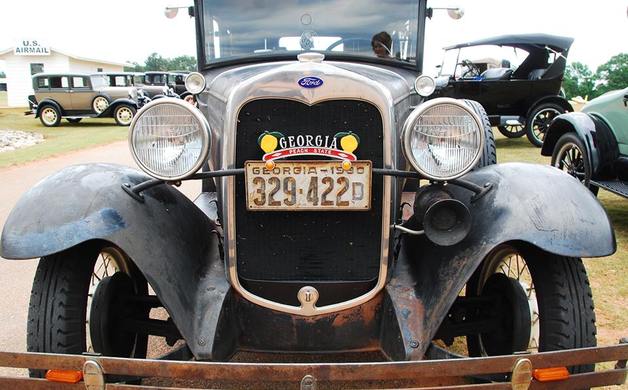 ---
---
Step Back in Time a Vintage Day's Music Festival
Candler Field Museum will re-create the sights and sounds of the 1920s at the 5th Annual Vintage Day Festival on Saturday, June 7th. The Historic Candler Field Museum is part of the Peachstate Aerodrome located in the quiet outskirts of Williamson, GA. Admission will be requested as a $10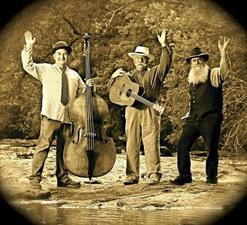 donation per car at the gate in order to offset expenses. The proceeds of which will be used to support the Youth Program that is part of the museum.
Activities are scheduled from 11am-7pm at this family-focused event that includes an invitation to dress-up in period costumes; see the display of old cars and vintage planes; and enjoy the old-fashioned food and music. This year's event will be a music festival along with an airplane parade of flight. They currently have 4 musical guests scheduled to perform - Shoulderbone Creek Orchestra, the Bonnie Ridge Bluegrass group, The Coleman Family, and the Dixie Dulcimers. 

Schedule of Events
11:00 – open with Parade of Flight
11:45 – music Coleman Family
12:30 – cake walk
1:00 PM – music Dixie Dulcimers
2:15 – cake walk
2:45 – music Shoulderbone Creek Orchestra
4:00 – cake walk
4:30 – Parade of Flight
5:30 – music Bonnie Ridge Bluegrass
6:45 – Raffle off shotgun and cash
7:00 – Flight of Curtiss Jenny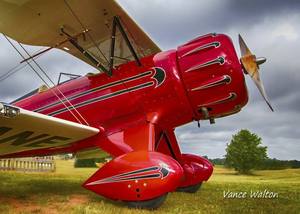 A wide variety of aircraft has been assembled and will be flown at different times in a Parade of Flight. Airplane rides will be available all day. Food and refreshments will be available all day including barbecue, hamburgers, brats, and a full menu at Barnstormer's Grill. 
Two raffles will be held - one for a cash prize of $1,000 and one for a 20 gauge shotgun donated by Autrey's Armory located in Fayetteville. Raffle Tickets are $20 respectively and can be purchased ahead of time by calling 770-467-9490 or by visiting Barnstormers Grill.
The Museum plans to remind folks how the Baby Ruth Candy Company once used airplanes to drop free candy bars over Atlanta as a form of advertising. The Museum will recreate the candy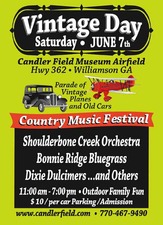 drop in remembrance of the pioneer pilots, like local pilot Doug Davis, who participated in those early promotions. 
Vintage Day best represents the Museum's continuing efforts to re-create the Original Atlanta Airport as it was in the 1920s. People who lived in the 1920s experienced a fascination with the emerging technology of both the Automobile and the Aeroplane. Barnstorming, air shows, and flying circus events were popular forms of entertainment for families before TV. Join them Saturday June 7th at Candler Field to step back in time.
---
---
entertainment music festival stuff to do vintage day airplanes
---