Great Events at the Griffin-Spalding County Library

Jun 30, 2014 02:59PM, Published by A Kitchen Drawer Writer , Categories: Community, Today
---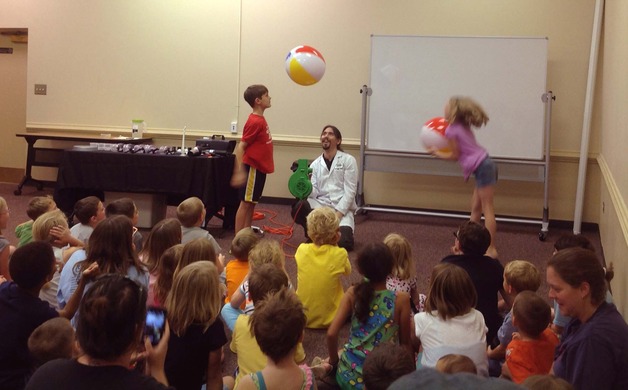 ---
---
Over 400 children and 79 teens were enrolled in the first two weeks. It is recommended that guests arrive early to the children's programs as parking is limited by the location.  The teen programs were also well received as was the adult program on canning and freezing, which was filled to capacity, and the patriotic program on Flag Day (June 14).  On the last day of May, FROGSLIB sponsored a well-attended lecture by Victoria Wilcox, author of the trilogy
Southern Son: The Saga of Doc Holliday.
The Toddlers in Motion programs continue every Wednesday at 10:30 am throughout July. This is a movement and activity program for children, ages 1-3, who must be accompanied by an adult. 
The fun continues with a 4th of July craft program on July 3 from 3:00 to 4:30 pm with crafts to celebrate America. On Saturday, July 12, at 2:30 pm, children can build projects using our Lego materials.  Their projects will be displayed in the library afterwards.  There will be another craft program for children on July 24 from 3:00 to 4:30 entitled Fizz, Boom, Fly.  We will make airplanes and other flying objects, then see how far we can get them to fly. 
July is an outstanding month with several top notch performers on the schedule.  First up is Keith Karnok, who is a professional magician and ventriloquist.  He uses magic tricks related to books to inspire children to read them.  He has been a finalist or semi-finalist in three international magic/ventriloquism competitions and is one of the most popular performers at elementary schools, libraries and preschools throughout Georgia.  Using magic and ventriloquism, he specializes in blending a meaningful message with fun and laughter.  Mr. Keith will be doing a children's program entitled "Is it Science or Magic?" at 3:00 pm on Thursday, July 10.  That evening at 6:00 pm, there will be a teen program, open to ages 11-17, entitled "Talking to Your Self: the Science of Ventriloquism."
On Thursday, July 17 at 3:00 pm, Ken Panse, the Reptile Wrangler, will be coming to the library with various animals including an alligator, a snapping turtle, a giant toad, and a couple of snakes and lizards.  Ken and his son have a comprehensive depth of knowledge and understanding of their reptilian ambassadors at Reptile Wrangler.  They have over 25 different reptiles and giant bugs so there's always plenty to learn.  If you have ever wanted kiss a toad or pet a snake, this might be your best chance.  The program is geared for ages 4-12 but all ages are welcome.
Cliff Patton will present "The Science of Air Bending" at the library on Saturday, July 19, at 2:30 pm.  This program is for teens, ages 11-17.  As a master ventriloquist, comedy magician, and professional balloon artist, Cliff Patton, has over 25 years of experience presenting professional programs for many groups.  Today he will teach Griffin teens the art of balloon twisting.  New career, anyone?  
The last program of the summer for children and teens is a Foam Party presented by Paul Esterline on Saturday, July 26th at 2:30 pm.  Wouldn't it be fun to play in mountains of foam?  Today at the library you can do just that.  They'll have a machine that will turn out TONS of foam! Yes foam by the gallon!  It is a BLAST! All ages will not be able to resist the temptation of getting in the foam. This will be a party you will never forget!  Come in a swim suit or old clothes that you don't mind getting wet and say goodbye to summer with a foamy good time.
There are two more adult programs on the agenda for the summer.  The first is Thursday July 17 at 6:00 pm.  This entertaining lecture on "Doc Holliday" will be presented by the Griffin City Archivist, Cindy Barton.
Put these great programs on your calendar now, so you won't miss a thing.  All of the programs are at the Griffin-Spalding County Library, 800 Memorial Drive.  Much of the funding for these programs came from the community through its support of the FROGSLIB book sales and donations.

---
---
---