The Speakeasy Bookstore

Jul 21, 2014 01:12PM, Published by A Kitchen Drawer Writer , Categories: Food+Drink, Community
---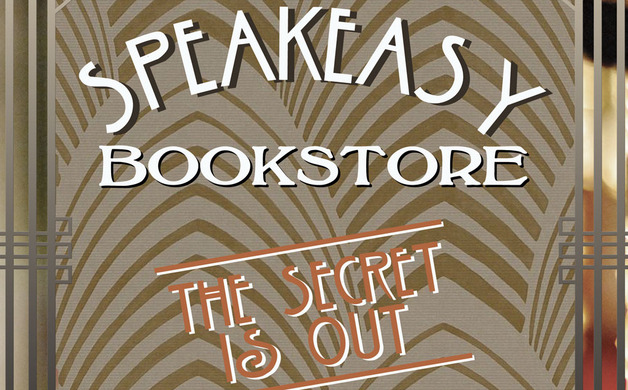 ---
---
Originally published in Volume 6 Issue 4 of Kitchen Drawer Magazine
By Rachel Scoggins
Photos by Brittany Cobb
At midnight on January 17, 1920, Prohibition began in the United States. Prohibition was the ban on the sale and production of alcohol in the country, which was enforced under the Eighteenth Amendment, and lasted from 1920 to 1933. Due to the National Prohibition Act, better known as the Volstead Act, illegal drinking establishments called speakeasies popped up throughout the country. These clandestine bars were called speakeasies because patrons would only speak about them quietly while around others or remain quiet while drinking inside them so as not to get caught by the police. Many speakeasies also required passwords to enter. Some large cities had tens of thousands of speakeasies hidden in basements, back rooms, and other secret locations in businesses and even people's houses.
In 2008, the front of a building on Main Street in Hampton collapsed during street construction, and copious amounts of old bottles were found under the sidewalk. Thus, an old forgotten local secret had been unearthed.
Hampton once had a speakeasy.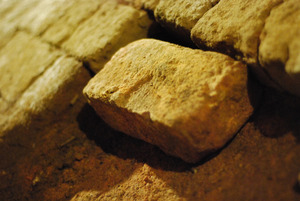 In 1870, the building on Main Street was a general store owned by a Mr. Pierce. From 1900 to 1920, Pierce's son, L.M. Pierce, owned the building and operated a bar out of it. When Prohibition passed, the bar suddenly turned back into a general store. But L.M. Pierce, a city councilman, ran a speakeasy underneath the general store.
During the 1920s, a side entrance in an alleyway opened into a long, narrow room. Although the room was small, it had a long oak bar along the middle, which was the main feature of the establishment. The walls and floors were made of brick. The alleyway where the side entrance was located led behind the building, right into sight of the jailhouse and the police station. Since the bar was owned by a city councilman, and many government officials during this time period were notorious for frequenting speakeasies, most locals just assumed the chief of police was probably at the speakeasy drinking, too.
Today, the former speakeasy is underneath Speakeasy Bookstore, a used bookstore and coffee shop owned by Don and Shannon Cannon. They plan to renovate the space in the basement to be a replica of a 1920s speakeasy.
Don's first goal is to replace the original oak bar, which was missing from the building by the 1980s. To keep the bar authentic, he wants to build it with wood from a 100-year-old maple tree. Don and Shannon want to use lamps from the 1920s, or if period lamps are impossible to obtain, they will install 1920s replica lighting. A four-inch-tall stage large enough to hold two or three people will be erected in the corner, with a 1920s standing piano beside it. Authentic Prohibition posters will line the walls, along with era-specific photos of Hampton. In the corner of the bookstore will be a spiral staircase leading down into the speakeasy. "There won't be big screen TVs or anything like that," Don said. "We don't want anything anachronistic in it. Cell phones won't even get service underneath the building."
The plan is to use the space for private parties, music events, or speakeasy-themed nights, rather than as a full bar. "We don't want it filled with raging drunks," Don said. The speakeasy will instead be a living time capsule—bartenders dressed in fedoras and suspenders or flapper dresses along with period-specific décor. Entrance to some events will even require 1920s attire. "We want to promote the historic value of the building and show people what a speakeasy was."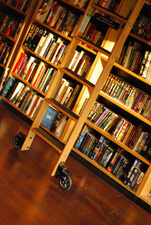 As interesting as it is to have an authentic speakeasy in your basement, Don and Shannon's main business is the bookstore upstairs. Floor-to-ceiling bookcases line three walls, and in the middle of the floor is a coffee bar. They serve a variety of coffees, such as espressos, lattes, and iced coffees, all made with Safehouse Coffee. "Hampton had no craft coffee," Don said. "We brought a full coffee bar with our store." They get their pastries, like the bacon cheddar scones, from Safehouse; donuts and muffins come from Speedway Donuts; and Shannon makes the vanilla and caramel for lattes herself.
Bookstores are extremely important to the Cannons. Shannon's family owned a bookstore on the McDonough square that she ran for ten years. While she was working at that bookstore, she met Don, and they fell madly in love. The couple is enjoying their new venture in Hampton. "We really love this store and this town," Shannon said. Both Don and Shannon are avid readers and book lovers. "It's different when you go to a used bookstore staffed by readers so you can get recommendations from people who know the authors in the store." They said the community loves having a bookstore in the area. "It brings civility to the city," said Don. "It promotes literacy and provides a cultural gathering place." In addition to having books and coffee, Speakeasy Bookstore also hosts game nights, writing and book groups, and other activities. Currently, the back room is being renovated to add more gathering space with couches and tables.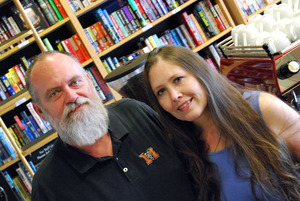 The projected completion date for the speakeasy is the end of 2014 or early 2015. But in the meantime, drop by Speakeasy Bookstore, and if you have the password, maybe you'll find something a little mysterious, a little illegal, and a little secret.
---
---
---
volume 6 issue 4 speakeasy bookstore
---