Restaurant Review: Khalifa Indian & Hookah Lounge

Jul 21, 2014 01:22PM, Published by A Kitchen Drawer Writer , Categories: Food+Drink
---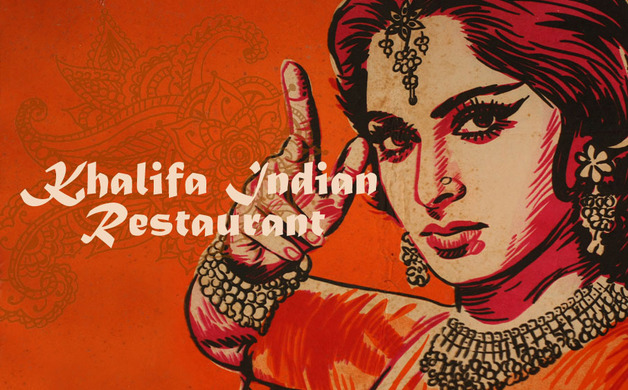 ---
Gallery: Khalifa Indian Restaurant & Hookah Lounge [9 Images] Click any image to expand.
---
---
Originally published in Volume 6 Issue 4 of Kitchen Drawer Magazine 
By Allison and the KD crowd
Photos by Nicole Scibetta and Brittany Cobb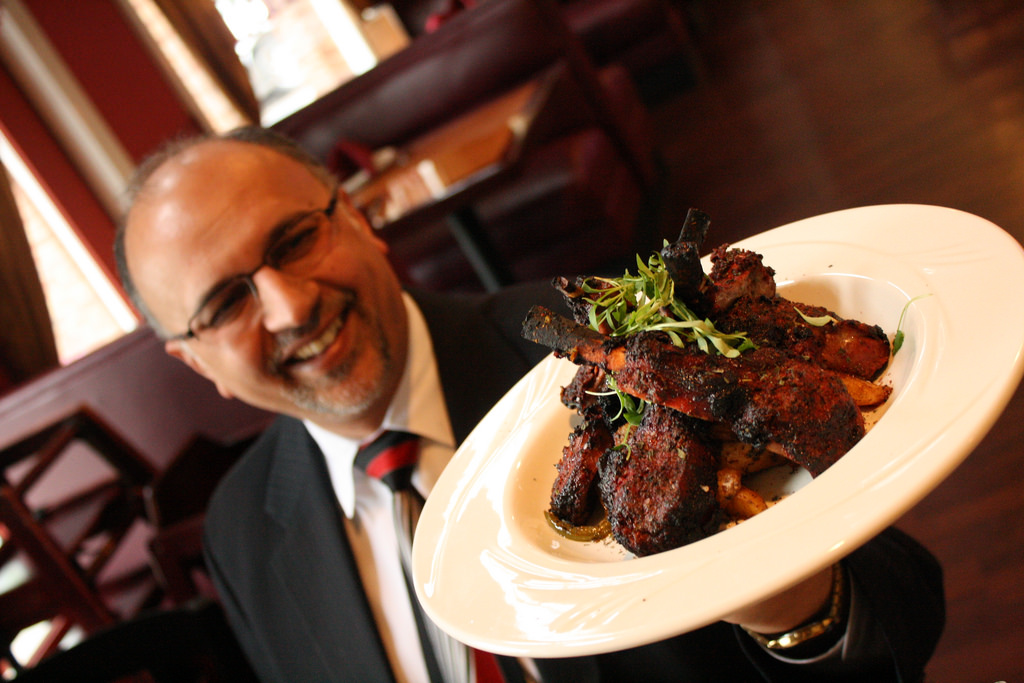 Kitchen Drawer's visit to Khalifa Indian Restaurant in Fayetteville was my first time eating Indian food. (Yes, checking out local restaurants for our readers is a tough job, but somebody has to do it.) Indian cuisine was new to some in our group, while others had tried it before, but by the end of the evening, we were all enthusiastic fans. The entire experience exceeded our expectations. Even Brittany, a self-described picky eater, was impressed. The flavor combinations gently eased me out of the "same old, same old" food routine I'd fallen into lately.

Click here for the menu! 
I enjoyed the vibrant colors of the dishes—the Amritsari Fish Fry appetizer, for example, was a brilliant crimson and different in taste and appearance from my usual fare. Another appetizer, Samosa Chaat, is a tasty, crisp turnover stuffed with tempered potatoes and green peas. My favorite starter, though, was the Chili Cheese Kulcha, an Indian flatbread, much like naan, stuffed with Amul cheese and green chilis. As Nicole put it, "The only way to make naan better is to put cheese in it."
As we enjoyed our appetizers and drinks—several in our party especially liked the Taj Mahal beer from India—owner JD Dayani told us the history of Khalifa Indian Restaurant. JD spent most of his career in the gas station business but describes himself as "crazy about food." After 25 years as a gas station owner, he decided to pursue his dream of starting a restaurant and opened the doors of Khalifa about a year and a half ago. ("Khalifa" means "emperor.") JD loves owning a restaurant, particularly when his son, Azim, is there helping out. "When he's here, I don't worry about a thing," says JD.
As he prepared to open his restaurant, JD used an advertisement in a nationwide Indian magazine to search for just the right chef. He found Chintan Sitwala, whose creations blew us all away. A favorite dish was Nalli Vindaloo, which is lamb shank and potatoes in a delicious sauce made with garlic, red wine, vinegar, and chili. It was so tender it fell off the bone with the mere coaxing of a spoon. The Tandoori Mix Grill gave us a taste of a variety of authentic Indian chicken, lamb, shrimp, and fish. I learned that "tandoori" is a method of cooking; it means that the food has been baked in a very special clay oven, flown in from India. Each item in the Tandoori Mix Grill has its own unique flavor and spices.
According to JD, Khalifa's most popular items include the Chicken Tikka Masala, the Chef's Signature Lamb Chops, and Chicken 65 (tenders marinated in yogurt, curry, and chili blends). JD says there's no need to take your kids out for fast food before visiting Khalifa; their Tandoori Chicken is popular among children. The Butter Chicken—shredded tandoori chicken in a creamy tomato sauce—was a definite crowd pleaser for our group.
One thing that sets Khalifa apart from other Indian restaurants is its wide selection of seafood, including lobster, shrimp, and a variety of fish, including salmon. We savored the beautifully served Fish Malabari, which is grouper in a coconut curry.
JD says that Khalifa prepares food much as it is prepared in India; American customers enjoy the dishes as they are, with authentic Indian flavors. While JD continues to own and operate gas stations, it's clear that he relishes the new challenge of owning a restaurant. He considers himself a "very easy boss" as long as employees meet his high standards for quality and cleanliness. In fact, Khalifa's motto is "Quality is our priority." And while the atmosphere for diners is casual, dressing well is apparently encouraged for staff; all were charming and very smartly dressed.
We finished our meal with a variety of mango treats. I particularly enjoyed the sherbet-like mango ice cream. The Mango Lassi, a drink made with mango pulp, yogurt, and rosewater, was also a big hit. Laurie declared Khalifa's the best mango lassi she had ever had. Ashley praised its almost buttery sweetness.
If you're looking for a unique experience after your meal, you can visit Khalifa's exotic hookah lounge, which features belly dancing every Saturday. You don't have to go far to experience authentic Indian cuisine locally—Khalifa is right off the square in Fayetteville. If you try Khalifa, I think you'll agree that the food is fit for an emperor.
174 Glynn St. North
Fayetteville, GA 30214
678-545-4341
Open 7 days a week: Lunch Buffet 11:30-2:30, Dinner 5-10
---
---
---
restaurant review volume 6 issue 4
---