(Update) Artist Profile: Andrew Patrick Henry

Aug 07, 2014 12:04PM, Published by A Kitchen Drawer Writer , Categories: Arts+Entertainment, Community
---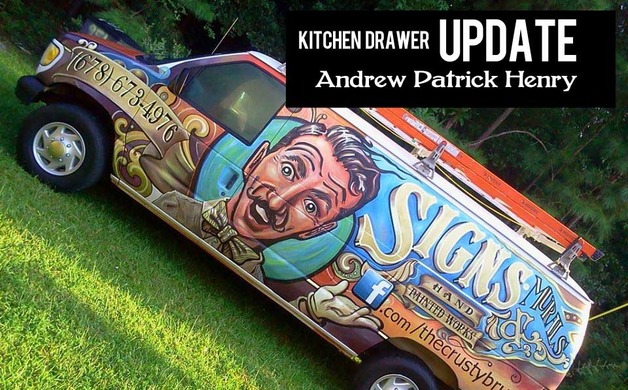 ---
Gallery: Andrew Patrick Henry (Recent Work) [9 Images] Click any image to expand.
---
---
It's been awhile since we published the artist profile on Andrew Patrick Henry in Volume 4 issue 3, at the time the (then) 20 year-old was just getting started coloring Barnesville with unique murals and art.  We thought we'd check in with the artisan to see what he's been up to for the past two years.
I met Andrew at his home studio in Barnesville (complete with a decoupage desk and real gold leaf art) there is no mistaking which house on the street is his. There are hand painted signs everywhere and a freshly primed trailer sitting in the front yard. The trailer, it turns out is for a group called Sisters on the Fly that commission Andrew to take new trailers and paint the outside to look old, rust and all.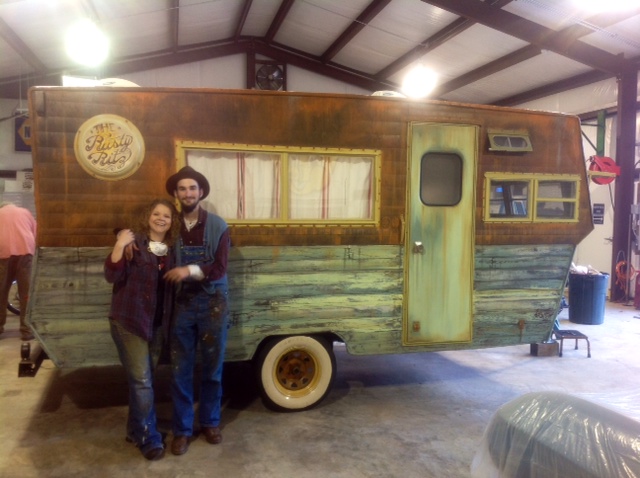 He says he stays pretty busy with his commissions and has learned a lot since he first started out two years ago. For one thing, he says he really didn't know anything about the actual art of Lettering. It's not as simple as painting words on the side of building or a sign. According to House Industries, "Before the era of digital publishing, talented artists in small lettering shops applied their talents to give personality to countless advertisements, editorials and package designs. Sadly, the use of these time-honored commercial art practices has since diminished. Studio Lettering revives the spirit of a bygone trade by gracefully combining classic techniques with 21st-century technology."
Andrew searched high and low to find those experienced in this passing art form, he found some old (rare) books, attending a training in Birmingham and made lots of friends-including the artist that designed the font for Samuel Adams beer logo. Andrew's trip to Minnesota to meet sign painters from all around the world at Mike Meyer's lettering shop was another big influence in advancing his technique. You can truly see the difference in Andrew's murals, as with any artist his work just gets better with time and experience. 
When we first met Andrew, his focus was on transforming Barnesville with his brush but since then he's done work in New York, Sacramento, CA, Leavenworth Kansas, Missouri, Illinois, and other spots around the country. Including an unforgettable trip to Illinois to paint murals with over 175 artists from around the country. The Crusty Brush knows no bounds! 
(Click through the gallery to see some of Andrew's recent work) 
Thanks for the update Andrew Patrick Henry! To see more visit Andrew's Facebook page. 
---
---
---
andrew patrick henry kitchen drawer update
---