Artist Profile: Camelot Theatre

Aug 12, 2014 12:28PM, Published by A Kitchen Drawer Writer , Categories: Arts+Entertainment, Community
---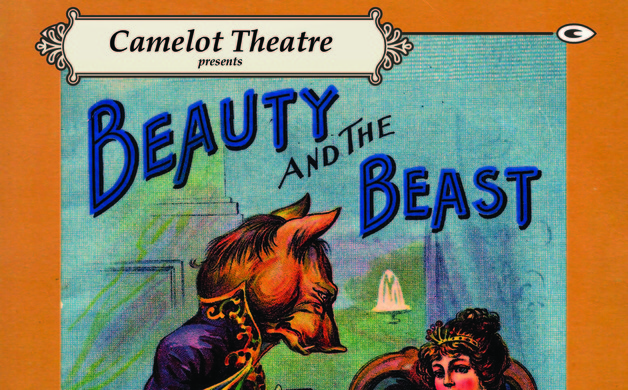 ---
Gallery: Camelot Theatre [10 Images] Click any image to expand.
---
---
Originally published in Volume 4 Issue 6 of Kitchen Drawer Magazine
By Allison Smyly
The lights go down and spellbinding music begins to play softly. The audience members filling the auditorium lean forward in anticipation. Four narrators, dressed all in black, weave a tale of a shallow and selfish prince, as an enchantress appears on stage and casts a spell on the prince's castle and all who live there. The curtain rises to reveal a charming provincial town with villagers bustling about their daily routines, as Belle, a bookish beauty who, in the words of the villagers, "doesn't quite fit in," dreams of adventure. Belle's wish comes true as she and the audience take an journey that includes a boisterous tavern, an exploding invention, foreboding forests, an enchanted castle, and a hideous beast. Finally, the spell is broken when the prince learns that beauty is found within and discovers the true meaning of love.
Such is the magic of Disney's Beauty and the Beast, as brought to life by Griffin's Camelot Theatre Company. As a "Junior" production, all 42 actors and actresses in Beauty and the Beast were 18 years of age and younger, as were many members of the technical crews. Three of the four public shows sold out; the company also performed two shows for eager second and third graders from several local elementary schools.
Founded in 1998, Camelot is a not-for-profit regional theatre group. Though its mission is to create community-based theatrical excellence with a special focus on musicals and youth productions, Camelot performs a variety of shows with wide appeal. The schedule for a typical year includes a summer production suitable for elementary-school-aged students through adults, a fall show (alternates annually between plays with adult actors and student-directed shows), and a spring performance that is geared toward middle-school aged youth through adults. Upcoming productions are Arsenic and Old Lace (November 9-11, 2012), Meet Me in St. Louis (April 5-7, 2013), and The Little Mermaid (August 23-25, 2013). Camelot usually presents two to three shows per year.
According to the company's director, Brad Fowler, the company is "the combination of the dreams of a lot of different people." Although the path has not always been easy, Brad and many others have persevered to keep affordable live theatre available in Griffin. Those helping to keep local theatre alive and well include Camelot's hands-on board members, who pitch in to help wherever needed, whether sewing costumes, building sets, or selling tickets. Camelot's current board of directors consists of Kitt Holmes (Treasurer), Jay Stone (Secretary), Mettelen Moore (Vice-President), Tim Franklin, Russell Samples, Stacy Ballard, and Tammy Stone. Brad also gives credit to technical crews, sponsors, cast members' parents, and of course, the actors and actresses who help bring the shows to life. He says, "Without those people, the show would not go."
 Brad smiles as he remembers his introduction to acting. "I took my daughters to audition for Annie in 2002. I had no intention of getting up there." A family friend, suspecting that Brad might have an undiscovered talent, persuaded Brad to audition as well. "I got up there and sang a song from church," he remembers. "I had a good time." He ended up getting three parts in the play. Brad was bitten by the theatre bug, and he and his family have been active in Camelot's productions ever since. Brad's wife, Colleen, provides valuable assistance with scheduling and keeping things running smoothly. "She's extremely organized," says Brad. "She knows I love it and the kids love it." Brad and Colleen's daughters, Whitley and Lindsey, also enjoy acting, and perform with Camelot and other local companies.
Through a contract with Partners in Education, the company currently stages productions at the Enrichment Center on Spalding Drive (the original Orrs Elementary). Camelot leases previously unused space from the school system for rehearsals and for storing costumes, props, and and sets. Camelot is a Partner in Education for the Griffin-Spalding school system and donates 10% of ticket sales to the Enrichment Center, resulting in a mutually beneficial relationship between the theatre company and the school system.
Board member Kitt Holmes believes that live theatre benefits audiences as well as those who are part of the production. She says that watching a live performance can increase a child's attention span and help develop the social skills of watching quietly and showing appreciation for the actors' efforts. She says, "Participating in theatre gives kids many of the same benefits as organized sports: confidence, self-discipline, (and) learning to work with a group. Actors and athletes practice to get better, work toward a goal, and get spectator feedback." Acting, like sports, involves physical exertion. Kitt comments, "You only need to watch a choreography session or visit the dressing room once to see how these kids work up a sweat!"
Parents of cast members are enthusiastic about the Camelot experience. According to Joy Adkisson, mother of two Beauty and the Beast cast members: "(Acting) allows them to be who they are and discover how much more they can be." Lori Bush, mother of three cast members, says, "I love that the kids feel a part of something bigger than themselves. The show depends on them, and knowing that does wonders for their confidence and gives them a place to belong."
In recent years, Camelot has been taking a group of local students to Music Theatre International's Junior Theatre Festival, an annual event in which the young participants receive training, acting experience, and networking opportunities. The 2013 Junior Theatre Festival will be held in Atlanta in January. Kitt hopes that one day, Camelot will be able to obtain grants that will enable them to offer financial assistance to young people who wish to go the festival.
Brad encourages members of the community to support local theatre groups. For about the price of admission to a movie (tickets are $10 for adults and $5 for students and seniors), audience members can enjoy the unique energy of live performances. Kitt says, "Camelot has the feeling of a family...we all work together and support each other." She adds: "I grew up watching The Little Rascals and was always jealous of the shows the gang put on. That's the way I feel about Camelot—it's like a big group of friends who say, 'Hey, let's put on a show!'"
For more information, and to purchase tickets online, visit camelottheatre.com.
---
---
artist profile volume 4 issue 6 camelot theatre
---