What's Happening?

Aug 18, 2014 04:58PM, Published by A Kitchen Drawer Writer , Categories: Arts+Entertainment, Community
---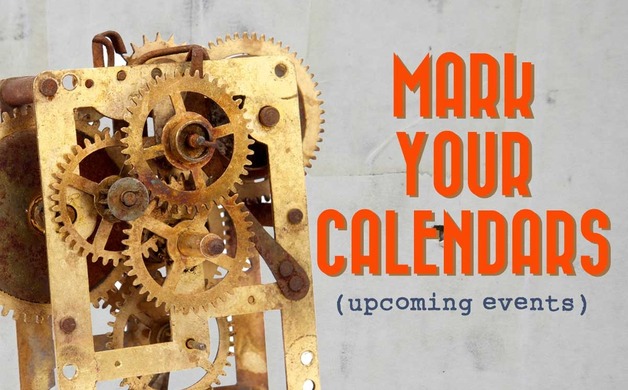 ---
---
Wednesday, August 20th
A Novel Experience
BROWN BAG BOOK GROUP W/AUTHOR LYNN CULLEN

Bestselling Author Lynn Cullen will be joining the Brown Bag Book Group this week, and doors are always open to new members. If you haven't already read it, pick up a copy of
Mrs. Poe
a book that examines the fall of Edgar Allan Poe through the eyes of his lover, poet Francis Osgood. If you love to read, don't miss this!
Friday, August 22nd - Sunday August 24th
Camelot Theatre
'MY SON PINOCCHIO, JR.'

Dress up for a night on the town! The classic tale of toymaker Geppetto's little wooden puppet is given new life. This new musical, which retells the classic Disney story from Geppetto's perspective, features the beloved classic songs "When You Wish Upon a Star" and "I've Got No Strings," alongside a host of new songs by Oscar- and Grammy Award-winner and master melodist Stephen Schwartz, tackling timely issues about what it means to be "the perfect child" – and what it means to be "a real father."
Sunday, August 31st
Serenbe Farms
LINDSAY LOU & THE FLAT BELLYS

It sounds like the perfect Sunday: good music, beautiful scenery, and a food trucks. Hosted at Serenbe Stables, the show features Lindsay Lou & The Flatbellys With roots in the Great Lakes State of Michigan, the band has been traversing the country with instruments in tow since the release of their 2012 record, Release Your Shrouds. It is said that they have a little something for everybody.
Saturday, September 6th
Griffin Revival Expedition- September 6th - 07/31/2014
GRIFFIN REVIVAL EXPEDITION

You know those beautiful Griffin historical homes that you drive by all the time? Well now is your chance to tour selected homes. Guests will have the opportunity to tour historic private homes designed by some of the Southeast's most noted architects including Neel Reid, Ivey and Crook, Frazier and Bodin, Haralson Bleckley, and James Means. And lunch is included when you purchase your ticket.
---
---
---