Fiction: Merry Christmas Mama

Aug 19, 2014 05:56PM, Published by A Kitchen Drawer Writer , Categories: In Print
---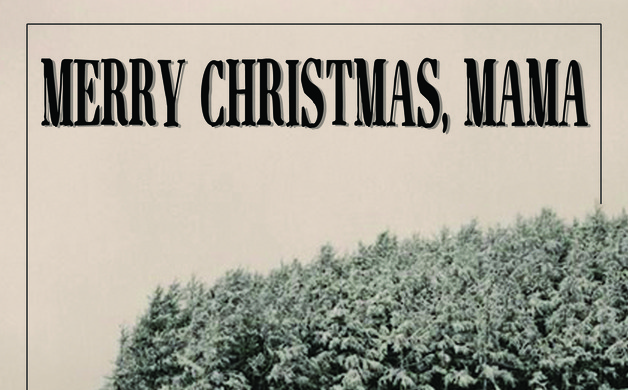 ---
---
Originally published in Volume 4 Issue 6 of Kitchen Drawer Magazine
By Amanda Cera
       Half the population of Atlanta, Georgia, surrounded me, but I was alone. I sat in the middle of Perimeter Mall on a bench, bags of Christmas gifts tucked between my feet on the floor. I was scared and exhausted. My mind couldn't find the words to capture the foreboding that stiffened my arms and clogged my throat.
       A throng of children waited in line for a chance on Santa's lap. What seemed a million lights lit the crowded walkways and stores. Red and green ribbons decorated every storefront. A huge blue spruce tree stood as the backdrop of Santa's workshop. "Only one shopping day until Christmas," warned the sign at Macy's. One day left, I thought, resting my head in my hands and allowing a single tear to escape my closed lids.
       Mama was counting on me and I had to find whatever strength I still had buried within me. Even though I was the same girl who did the grocery shopping after school and took care of the house, I wasn't sure I could breathe another breath.
       Pull it together, I told myself. If I couldn't make this Christmas special, then no one else was going to. I scrubbed the wetness from my eyes with trembling fists and grabbed my packages. The laughter of children caught my attention, and I took a few steps toward the line of children waiting to talk to Santa. I kept telling myself to walk away, that there was no magic in the fake bearded Santa sitting in the red velvet chair, but I couldn't make my feet step out of line. I didn't care if any of my friends from school saw me. I just wanted to remember what it felt like to believe in miracles.
       "Ho! Ho! Ho! Merry Christmas," Santa chimed in a "they're-paying-me-for-this-so-don't-give-me-any-flack" tone. My packages slipped from my hands, and I felt the strength flee from my legs as I sank to my knees in front of Santa's chair.
       "You okay?" he asked, patting the top of my head as if I were a five- year-old little girl instead of a 16-year-old teenager. "Tell me what you want for Christmas."
       I raised my face to look up at him, and a flood of tears threatened and then ebbed. I suddenly felt ridiculous kneeling here in front of some old man in a Santa suit with a wailing crowd of kids behind me. I shook my head, trying to clear away the leaden sorrow crushing me, and then stood. Santa's eyes shone with compassion as he steadied me with an arm around my shoulder. I didn't even know I was going to speak until I heard the words cut through the drone of the crowd.
       "A miracle," I said. "I want my Mama's last Christmas to be happy, and I want it to snow."
       Santa's gaze held steady as he gave me a soft squeeze.
       "Pray," Santa whispered. "After all, this is the season for miracles."
       He helped me gather my packages and I walked away, turning once to watch a little boy, laughing, climb up onto Santa's knee. The boy's smile was contagious, and I felt the corners of my mouth bend upward in a grin. Still, I wondered if I'd ever be happy again.
       My older sisters were waiting when I got home. Everyone had come home for this Christmas. We spent the afternoon decorating the house as we'd done when we were younger. By nightfall, the old manger scene with the one-winged angel sat on the mantel as it had every Christmas of our lives. The doorways were lined with candy canes, and the house smelled like fresh pine and sugar cookies. All the gifts were wrapped and under the tree. Christmas Eve had come.
       We all gathered around Mama's hospital bed in the blue bedroom where she'd lived these past four years. The smell of antiseptic cut through the festive Christmas smells: cinnamon, peppermint, and pine. My dad sat in his rust-colored recliner. My three sisters, my nieces and nephews, and my cousins and I stood scattered unevenly around the bed.
       Come, they told me, pa rum pum pum pum, we sang, our voices blending in harmony. I looked around the bed into the eyes of her family. Their faces smiled, but their eyes echoed the brokenness in their hearts. Only Mama's eyes were happy and bright. Mama's gaze caught mine, and I saw sadness creep into the joy—a reflection of my own pain, my loss. She was hurting for me, and I forced myself to smile.
       Mama joked and laughed. Some moments, I almost forgot she was dying. Having everyone home bolstered my strength, and the years-long journey of adult responsibility almost disappeared until it was time for everyone to go home.
       As my sisters and nieces and nephews said their goodbyes I sat in the living room and peered out the picture window, watching for snow. I remembered so many Christmas Eves, sitting on Mama's lap with a mug of hot cocoa clutched in my hands, watching for snow through that same window. I could remember how my breath fogged the cold glass of the window, how the warm mug felt against my palms, how Mama's arms felt around my waist.
       "Do you want me to stay with you, Christie?" my sister Lisa asked. I knew her own kids were waiting for Santa to come.
       "It's okay," I answered, "I'm gonna sit with Mama for a little and go to bed." She hugged me and hurried outside, tugging her coat around her. When the car had vanished around the curve, I went into Mama's room and cuddled up beside her in her bed.
       "Looks like snow," Mama whispered, hugging me tightly to her. In the glow of the night light, I could see the smile that lit Mama's face.
       "Sure does," I agreed, trying to memorize the weight and warmth of my mother's arm hugging me as I closed my eyes, hoping for numbing sleep.
       "Goodnight, my baby. I love you," Mama said.
       "I love you, too. Merry Christmas, Mama."
       When I awoke the next morning, I knew Mama was gone. I woke my Dad and called my sisters before I collapsed onto the couch in the living room. From habit, I looked out through the window. Tears streaked down my cheeks as through the window I saw the first snowflakes drift softly, silently, to earth.
---
---
fiction volume 4 issue 6 amanda cera
---