RESTAURANT REVIEW: The French Market & Tavern

Sep 22, 2014 01:17PM, Published by A Kitchen Drawer Writer , Categories: Food+Drink
---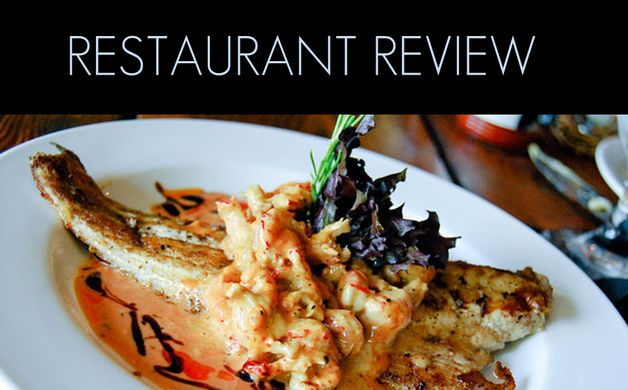 ---
Gallery: The French Market & Tavern [6 Images] Click any image to expand.
---
---
Originally Published in Volume 6 Issue 5 of Kitchen Drawer Magazine
By Laurie Cochrane

Our French Market and Tavern experience began before our crew of eight even crossed the street from the parking lot. The warm brick walls, striped awnings, and window boxes tumbling over with a profusion of greenery promised a relaxing and aesthetically rewarding diversion. And that's precisely what French Market delivered.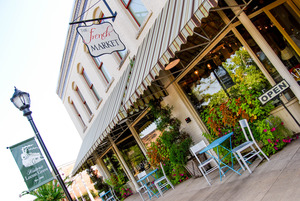 Proprietors Lauren Noah-Weaver and Rick Weaver have breathed new life into the 1902 J. L. Gardner General Store building and exhibit a heartfelt respect for its history. Lauren's background in interior design is very much in evidence in the rustic industrial décor that includes beautiful tabletops and shelving constructed from the store's original heart of pine flooring. During the renovation, the store's "library" ladder (with a stamp date of 1897) was found in the attic. Once used for reaching goods on high shelves, it is now proudly displayed in the dining room.
A lovely special events room is filled with natural light streaming through heavy, richly stained French doors that open onto an intimate courtyard garden with a fireplace, fountain, and meandering plantings. Another outdoor area in back of the restaurant offers covered seating and is adorned with ferns, lamps, and string lights. Background music is bluesy and classic jazz at just the right volume to encourage, not drown out, conversation. Although the dining room filled almost to capacity while we were there, we never had trouble hearing one another or our server.
And nowhere is Lauren's impeccable taste and love for the eclectic, classy, and unique more evident than in the retail shop that makes a visit to French Market so much more than just "eating out." A typical visit usually includes some lively shopping, expertly blended cocktails, and an exceptional meal.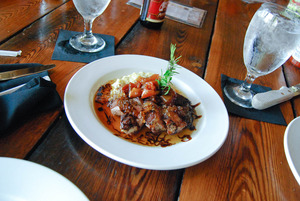 Both Rick and Chef Matlock hail from New Orleans, while Lauren is an Atlanta native. The result of their collaboration on the menus is a fabulous blend of Cajun and Southern flavors and techniques. A foremost example of this is the Fire Seared Duck Breast with savory peach compote and sweet vanilla-onion glaze. Chef Matlock pulls a fast one on the taste buds – making the onions sweet and the peaches savory, so it's hard to tell where one flavor ends and another begins! Along with silky mashed potatoes, the caramelized, complex compote forms an ideal complement to the duck. This dish was the favorite of Josh, Brittany, and me!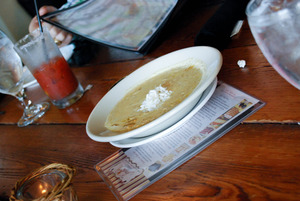 I must also mention that Chef Matlock is a Soup Wizard. When we visited, the soup of the day was a Pepper Vodka Mushroom Bisque with a creamy, browned-butter aroma and flavor that was comfort-food perfection. Ashley P. and I were WILD about this soup. On the regular menu is the delicious Royal Street Brown Butter Gumbo, with Andouille sausage and spicy jasmine rice that was a favorite of Brittany's, and Allison couldn't decide which she enjoyed most!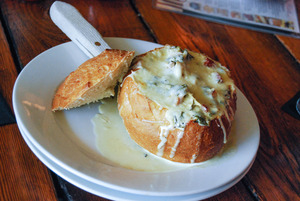 As a starter, try the Spinach Artichoke & Tasso Dip in a bread bowl. Forget your preconceptions – this is a reimagined favorite appetizer. Very well-balanced and served piping hot – the Louisiana Tasso ham lends its rich flavor without overpowering the delicate artichoke. Said Allison, "I'm not usually a fan of anything in a bread bowl, but that was a good one!"
Other menu highlights include the Crawfish Etouffee with impeccably cooked crawfish – tender, not at all rubbery – with just the right touch of heat. This dish received high marks from Nicole and Ashley M. And the Catfish Elizabeth, served with smoked tomato and Tasso cream sauce, went wonderfully with a side of mac & cheese. This dish got two thumbs up from Josh who wisely observed, "Mac & cheese can do no wrong." Ashley P. heartily agreed. Along with the regular menu, the restaurant offers unique entrée specials on Friday and Saturday nights..
For dessert, the unanimous favorite was the Salted Caramel Vanilla Crunch Cake – a light, buttery vanilla/caramel marble cake with layers of salted caramel crunch and creamy custard. Even if you never order dessert, order this.
French Market Philosophy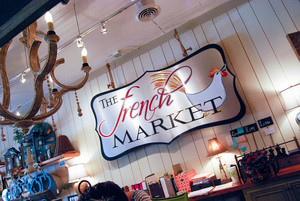 French Market rose from the ashes of the 2008 real estate fiasco. Lauren, a real estate agent at the time, saw the handwriting on the wall. "You can cry about it," she says, "or you can recreate yourself. I was just turning 40, and I decided to do something that would be harder than I ever imagined." She and her husband bought the storefront and ended up gutting it all the way to the ground. They thought they might fix up the building and resell it, but Lauren became increasingly invested in her growing dream for French Market as a multifaceted shopping and dining experience that would support local farmers and provide jobs – especially for talented, hard-working women in the area. While several servers and kitchen workers are male, every department head at French Market is female. 
Even with her far-sighted vision, Lauren didn't foresee one of the greatest contributions of French Market's success: the gradual revitalization of Locust Grove's historical downtown area. As French Market set expectations higher, one by one, the businesses surrounding French Market have followed suit and have accomplished major renovation and restoration projects.
Lauren hopes that her experience of daring to reimagine and recreate herself, her business, and her community will inspire other women with similar dreams and ambitions to follow through on them. "Sometimes you have a dream, but you think, 'Oh, I can't do that.' You have to try! The results might exceed your greatest expectations."
3840 Hwy 42 in Locust Grove, Georgia
Tuesday–Thursday: 11AM to 9PM; Friday–Saturday: 11AM to 10PM; Sunday: Brunch 10:30AM to 3:30PM
SIDEBAR: Chef Matlock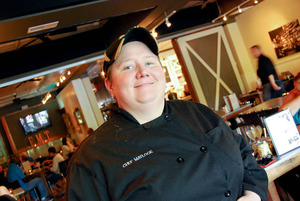 French Market's Chef Matlock enjoys a colorful culinary legacy. Her great-grandmother was the first female chef in New Orleans. According to Chef Matlock, "She wore a fedora and a three-piece suit every day, and her daughter was a burlesque dancer." Chef Matlock's enthusiasm for French Market is palpable. She felt an immediate kinship with the Weavers and manager Lisa Powell. "It's like Steel Magnolias," she says. "These are my sisters."
After collaboration with Rick and Lauren, Chef Matlock creates all the menus at home in shorthand. But then, she says, they need to love all aspects of the dish before it makes it into the dining room. "What happens at home has to happen on the plate. If we don't like the way it looks, we don't offer it. If we don't enjoy eating it, we don't offer it. If we don't enjoy making it, we don't offer it."
Chef Matlock was also in complete agreement with the Weavers' vision of creating Cajun/Southern fare, using locally sourced ingredients. She is thrilled with what our local farms have to offer and claims that "no produce can touch the produce here." Sourcing locally is a policy she began with local fishermen in New Orleans and continues by visiting local farms personally. Chef Matlock sources, for example, her honey from Southern Dove Farms, her pecans from Finster, and fresh brown eggs from "Mr. Wayne."
---
---
---
restaurant review The French Market & Tavern
---