Strangers on the Street

Oct 07, 2014 09:33AM, Published by A Kitchen Drawer Writer , Categories: Arts+Entertainment, In Print
---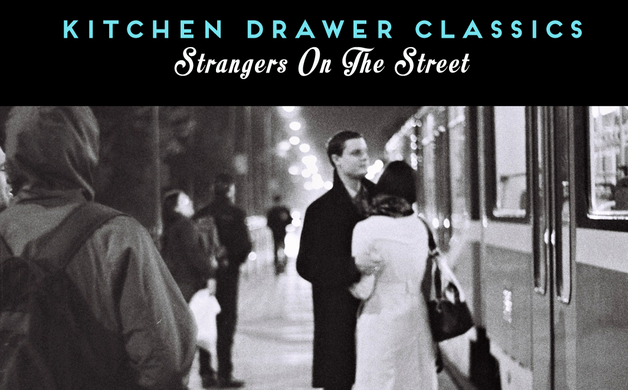 ---
---
Originally published in Volume 4 Issue 4 of Kitchen Drawer Magazine
By Margaret Landham
           He was a student at Boston University, working on becoming a CPA. He had a room at Miss Benson's boarding house. For six months now he had been walking the ten blocks to class each day, leaving at 8:10 a.m., sun, rain, sleet, or snow. He was a serious student with good grades, but few friends. As an older student, he had neither time nor money for frivolity. This had not bothered him during the long winter months, but with spring in the air, he felt strangely lonely.
            He had noticed her for the first time on a Monday, and every day, they had passed each other at precisely 8:25. She was uncommonly beautiful, with a refined and intelligent face. She was petite, with a quick, energetic walk. He thought her white shoes an unusual choice for the cold, wet March days. Her body was a mystery, wrapped in the dark green wool coat she clutched around her as protection against the wind that howled down the canyon of Standlin Avenue.
            After seeing her for two weeks, he impetuously decided to follow her. Would he be arrested for stalking? He just knew that he wanted to see more of her. Had she worked all night? Perhaps a husband and children were waiting for her.
            After he had trailed her for a block and a half, she entered an office building. Had she noticed that he was following her? He watched her linger briefly at the door of an expensive-looking boutique and then go through a door with a brass marker: Dr. Marcus Gillan, Family Dentistry.
            How long had it been since his last dental visit? More than six months, anyway. Surely everyone needs a semi-annual checkup, he thought. On impulse, he followed her into the office. The smile he had hoped to see for two weeks greeted him as he opened the door and entered the small waiting area. "May I help you?" she asked.
            His knees turned to soup. What should he say now? Will you marry me? Will you at least have dinner with me? Instead, he stammered out a request for a checkup.
            "You're in luck. We have a cancellation on Monday," she replied. Glory be, she wasn't wearing a ring on either hand.
            "Will you be here on Monday?" he asked brazenly.
            "Yes, Monday through Friday, but we close early on Fridays."
            Now she had his name, address, and phone number. He knew nothing about her except what was on her name tag – Helen. Wasn't a war fought over a beautiful woman named Helen? It seemed a reasonable thing to do.
            As a young person, he had always dreaded dental visits. Now, he could hardly wait. He literally counted the hours, dividing them into times of sleeping, eating, bathing, dressing, and of course, studying. He could do most of these and think of her at the same time. Studying was a problem. Oh well, there was more to life than books.
            The weekend seemed interminable. Finally, he was happily, excitedly on his way to the dentist, hoping that Dr. Gillan would find a cavity so that he would have to return yet another day.
            She placed a paper bib around his neck and adjusted the chair. Wonder of wonders, Dr. Gillan's survey revealed a small cavity. To spare him a return visit, Dr. Gillan decided to fill it on the spot. While the novocaine was taking effect and Dr. Gillan was checking on other patients, he learned that Helen was going to classes four nights a week to complete her nursing degree, that it would take her four years to finish, and most importantly, that she would go with him to feed the ducks at the campus pond.
            They began meeting for coffee at the corner deli. On Fridays, they walked in the park together. Once or twice they found time and money for a movie and popcorn. They learned that they both enjoyed hiking, canoeing, and skiing. They held hands while window shopping at expensive stores. They kissed under the lamppost by her apartment.
            There was no money for an expensive ring. The sterling band with the inscription, "Love is eternal," was theirs for thirty dollars.
            Dr. Gillan was incredulous, as were their families and friends. "But Helen, you've only known him for five weeks!" So they gave it another week. Dr. Gillan was the best man. Helen's roommate was her only attendant. She never held him to the promise of a diamond ring when money became available. Two grown sons and thirty-eight years later, he has promised never to tell their grandchildren that he followed her through the streets of Boston.
---
---
---
volume 4 issue 4 Margaret Landham Strangers on the Street
---