TRAVEL GUIDE: Tulum, Mexico (Part 2)

Oct 08, 2014 10:54AM, Published by A Kitchen Drawer Writer , Categories: Food+Drink, Lifestyle
---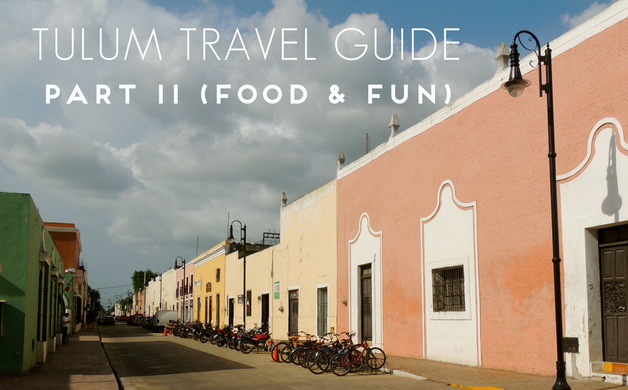 ---
---
You can read Part 1 of our Tulum guide here: 

TRAVEL GUIDE: Tulum, Mexico (Part 1) - Oct 01, 2014 10:02AM
Before the last of the sun burned skin peels away, we'll try to recap the best of a pretty perfect vacation Read More 
TO-DO
Remember the rental car recommendation in Part 1? That car will come in handy if you want to visit the Historic Colonial town of Valladoid,Yucatán's third-largest city is known for its quiet streets and sun-splashed pastel walls. 
It's certainly an option to spend a couple days here, but an afternoon is just perfect also. Walk around, soak in the atmosphere and definitely, definitely visit Maurencio (Just off the square) and buy some leather sandals. 
Along the drive to Valladoid you will pass many signs for Cenotes, a Cenote is a natural pit that exposes groundwater underneath that you can swim, snorkel, or dive in. The images below are from Cenote Zaci located in Valladoid, Mexico. 
It is fascinating to climb down into this cave, on slippery stone steps, over the ledge is a pit of unknown depths(!) filled with teal blue water. All the while you can hear the active bats above that call this Cenote home. It's sounds creepy but it's actually quite beautiful. The Gran Cenote located in Tulum is also supposed to be a great place to swim or snorkel. 
This next TO-DO is optional. On the drive down the main street in Tulum you'll pass a wall with this image painted on it (see left). This is a nude resort where they believe that happiness means no tan lines. Did we mention that Tulum is
very
laid back? For the record, we just got a shot of the outside because the art amused us. 
EAT
There was too much good food to mention here, but we'll shout out a couple highlights. Happy hour at
Hotel Paridiso
was affordable, the staff was friendly, and the music was just right, a great place to start a bar/food crawl.

Mateo's
is a great stop after Paridiso, there is a sampler platter that has a little bit of everything and it's all good. The margarita and the ceviche at
Coqui Coqui
are, in a word: perfect. 
Two restaurants a little more on the pricey side are Be Tulum and Posada Margarita. Be Tulum is a great place to stay, but if you can't afford that an afternoon lunch will do the trick, especially if you order these lobster tacos. My goodness.
No doubt most of the reviews you read about Tulum include something about Posada Margarita, and there is a reason for that. You walk down a long tropical, candle-lit pathway and for a split second you wonder if there is even a restaurant on the property. There is, and it's cozy and rustic and makes you feel like A-list movie star quietly tucked away from the Paparazzi. And it is here that you will have quite possibly the best pasta of your life. I ask you, what could be better than an ice-cold Hendricks martini, a steaming bowl of fresh pasta by candlelight on the ocean? Absolutely nothing. 
We didn't get paid to say this, Tulum is a great place to vacation. As we say "hasta luego" to Tulum, we'll finish out this travel guide with a few more photos
(The perfumery at Coqui Coqui, Mayan Ruins at Coba, and candlelight at Posada Margarita). 

---
---
---
---