RECIPE: Smoked Cuban Sandwich with Mac & Cheese Croquettes

Oct 10, 2014 12:14PM, Published by A Kitchen Drawer Writer , Categories: Food+Drink
---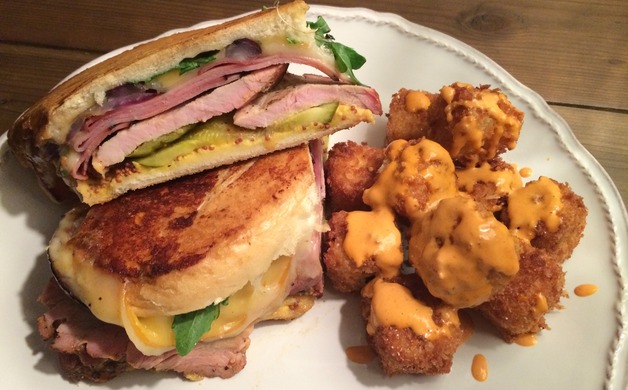 ---
---
Originally published in Volume 6 Issue 5 of Kitchen Drawer MagazineBy Chad McDaniel


Smoked Cuban Sandwich
Smoked pork tenderloin, sliced
Olive oil or butter
Cuban bread
Whole-grain mustard
Yellow mustard
Dill pickles
Maple-glazed deli ham, sandwich sliced
Grilled red onion
Swiss cheese, sliced
Smoked Gouda cheese, sliced
Arugula
Dry Rub for Tenderloin
1 tsp paprika
1 tsp cumin
½ tsp coriander
½ tsp granulated garlic
2 tsp salt
¾ tsp black pepper
Prepare charcoal grill for indirect grilling. Coat tenderloin with olive oil and season with Dry Rub. Smoke tenderloin for 10-15 minutes away from heat, then finish over direct heat for 8-12 minutes until meat is medium to medium well (around 150º). Allow pork to rest 10 minutes before slicing.
To prepare, split Cuban bread in half lengthwise, then layer from bottom to top with mustards, pickles, pork tenderloin, ham, onion, cheeses, and arugula. Slice into four individual sandwich-size portions.
Lightly coat a large skillet with olive oil or butter and heat to medium on a stovetop. Place sandwich portion on the skillet and place another heavy skillet on top. Press down firmly and cook each sandwich for two to three minutes per side until compressed and the bread is browned and crisp.
Mac & Cheese Croquettes
Prepared mac & cheese, chilled overnight and sliced into 1" cubes
Oil for frying
All-purpose flour for dredging
2 eggs, beaten
Panko bread crumbs for dredging
Heat about one inch of oil in a cast-iron skillet on medium. Submerge the handle of a wooden spoon in the oil; when bubbles appear around spoon handle, the oil is ready. Dredge each mac & cheese cube in flour, then dip into beaten egg, and then into bread crumbs to coat. Fry each cube for about two minutes on each side until golden brown, then drain on paper towels. Serve with Sriracha Mayo Sauce.
Sriracha Mayo Sauce

1 part mayonnaise
¾ part Sriracha sauce
¼ part ketchup
---
---
---
recipe Volume 6 Issue 5 Chad McDaniel
---