Restaurant Review: Kid's Edition

Oct 15, 2014 10:30AM, Published by A Kitchen Drawer Writer , Categories: In Print, Today
---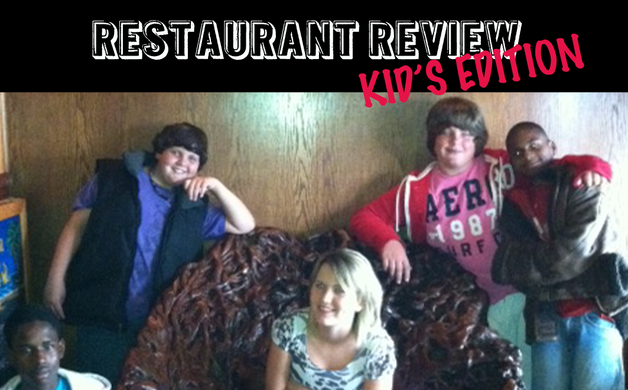 ---
---
Originally published in Volume 4 Issue 3 of Kitchen Drawer Illustrated 
Students at Mainstay Academy in Griffin were rewarded for outstanding accomplishments with a trip to Mr. Fuji restaurant in the North Griffin Square Shopping Center. Teacher Heidi Thompson shares some of their reviews with our readers:
I went to Mr.Fuji because my class and I earned it. We went to Mr. Fuji because half of the class had never been. So, my teachers and my social workers took us out to eat on Friday, March 23, 2012. My opinion of Mr. Fuji was that it was excellent.

The restaurant was excellent because it was clean like a baby's bottom. It was also clean because the floor was mopped and swept. Mr. Fuji's dishes were sparkly clean. They also had their stove sparkly clean. The counter was clean like somebody cleaned it with a baby wipe.

This is the second reason why I liked the restaurant. The service was good. I liked the server because she had good manners. She had fast service. She got what we needed when we asked for it. She got our dirty dishes when we were done eating. She also had what we needed in her pouch.

The third reason why I liked the restaurant is because they had good tricks. When the Japanese man was cooking he showed his good cooking skills. He flipped the bowl of fire in his hat. When the Japanese man touched the fire he didn't cry like a baby. When the Japanese man threw the eggs in his shirt, they didn't crack. He stacked the onions on top of each other and put fire on top. Then the onions fell into little slices. These cooking skills were cool.

I love Mr. Fuji because it was the best restaurant I've been to in my life. It was clean. I like the service. They also had good tricks. That is why I think you should go to this restaurant. It's the best restaurant! Come to Griffin, GA today!
T. Francis, 8th grade 
For a reward, my classmates and I went to Mr. Fuji for being good and being on progress level. I thought the restaurant was wonderful! It was wonderful because there were pictures all over the wall. The food was D'lish and the room was organized.

My first reason for why I like Mr. Fuji is there are pictures all over the wall. They have them in lines. They neatly place them up there. They place them next to the door wall as soon as you come in. They have pix of people so you can see who ate there before you.

My second reason for why I like Mr. Fuji is the food was D'lish. The food was good as all get out! The food was cooked in front of you. You get to see how they fix it for you. They ask you how you like your chicken or steak. The chicken was sweet and the veggies were spicy.

My third reason for why I like Mr. Fuji is the room was organized. The chairs were lined up next to each other. The plates were lined up next to each other on the table. The grill materials were separate from each other. The napkins were on the plate when you walk in. It was organized like my mom's room.

I think you should take your family to Mr. Fuji. It is the best place to eat. They have the best food in the world! They have the best service that you will ever get. They may have more than two chefs that cook for you. You can have a whole table full of people with you. When you walk in you will be amazed at what you see!
C. Bartlett, 7th grade
I went on a field trip to Mr. Fuji with my class at Mainstay Academy on Friday, March 23, 2012. We took a field trip to Mr. Fuji because we had good behavior. Also we went to Mr. Fuji so we can write a review about it. My opinion statement about the restaurant is that there were some things I liked and some things I didn't like.

The area we were in was great. It was roomier than being the only person in an empty pool. I didn't have to stay still. I could move my feet without touching anybody. Also, you could see the dude cook your food and be entertained while you wait for your food to get done.

The service was great. One of the drinks I had was a Shirley Temple. The drinks were sweet and refreshing like a cold cup of water on a hot day. Also, before you can even finish your drink, they will bring you a refill. At Mr. Fuji the music was more relaxing than a massage at the spa.

The reason I didn't like the restaurant is because of the sauces they had. I strongly suggest you go to Mr. Fuji. If you're thirsty and hungry, go to that restaurant. I really hope you like it.
D. Sterling, 7th grade 
Once upon a time there was a teacher named Mrs. Thompson. She took some of her students to Mr. Fuji because they had good behavior. Then one of the employees greeted us and showed us where we would be seated.

The waitress asked us what we would like to drink and we told her. Then the chef came out and started cooking. He had chicken, rice, eggs, butter, teriyaki sauce, and two knives. The cook started to do tricks with the knives. I could smell the rice cooking like my mom's Sunday dinner. The eggs smelled like my pawpaw's scrambled eggs. The chicken smelled like my granny's favorite chicken.

I like how the restaurant was clean. The floor was clean by no dirt being on the floor. The trash cans were emptied. The floors were swept. Also, the tables were clean, meaning wiped down.

The employees were kind, funny, and sweet. They put a smile on my face (by) frightening my teachers with fake mustard in a squirt bottle. I felt comfortable because everybody was getting along. They brought our drinks and cooked excellent food for us.

Last, but not least, everyone should go there and eat. It's fun! I'm pretty sure if you go, you will have fun! So, go and try Mr. Fuji and enjoy yourself!!
K. McCoy, 6th grade 
---
---