UPDATE: The r(E)volution Can't Die

Oct 20, 2014 11:00AM, Published by A Kitchen Drawer Writer , Categories: Lifestyle
---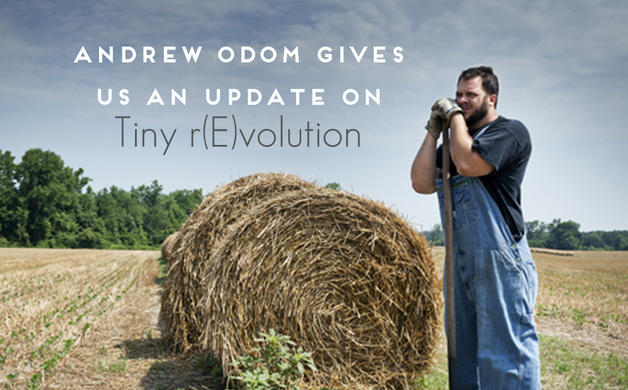 ---
Gallery: Tiny r(E)volution by Andrew Odom [9 Images] Click any image to expand.
---
---
You
can read the original article in Volume 4 Issue 4 

Digital Issue: Volume 4 Issue 4 - May 19, 2014 02:42PM
That's right, one of Kitchen Drawer's most notorious covers, it's tattoo man! Read More 
By Andrew Odom
I don't remember exactly when I worked with Kitchen Drawer on the original article about our tiny house build. I know it was in 2011 sometime and I know our house was merely a frame at that time. But I also remember how proud we already were with it.  At just 240 sq. ft. built on a 30' long x 8.3' wide, tandem axle trailer, the Tiny r(E)volution tiny house was already poised to be an exciting adventure for us and for middle Georgia.
 Let us rewind for just a moment. You may not at all be familiar with the tiny house movement or our Tiny r(E)volution tiny house. As the housing market crumbled in 2007 and mortgages were being foreclosed on at a rate not seen in decades people in their 20s and 30s were finding themselves in dire straits regarding housing, personal financing, and an uncertain future. Most reacted with fear while others reacted in protest. My wife and I reacted with an unusual calm. We looked at what was available to us and analyzed what we did and didn't want from a house. Serendipitously we came across Tumbleweed Tiny Homes at about the same time and realized that perhaps instead of trying to fit ourselves inside a house we should fit a house to us! And so we did just that.
In January of 2012 we hitched up our nearly completed tiny house to the back of a Chevy 2500HD with North Carolina in our sites. My wife is from North Carolina and we were able to secure a small plot of family land there, which seemed a perfect place to raise our new baby and park our self-built tiny house. As we moved down the road it occurred to me that most people probably thought we were crazy for doing this. At the time though I could think of little more than the fact we might be crazy but having built the house cash-on-the-barrel, we were without a mortgage. No one could take our home away from us!
Once we arrived with our house in North Carolina we quickly did the finish work to move in. Our custom kitchen was already built and waiting for install. Within a week we had hooked up our water, our electricity, our sewage, and even had our house strapped down for potentially dangerous coastal weather. Our dream was coming to life and those days and nights of confusion, doubt, sweat, and even blood, was a real thing now. After a month or two of living on-site we decided it best to move back to Georgia to take care of some personal business and tie up other loose ends. What we thought would be just a month or two ended up being the rest of the year and it wasn't until the first part of 2013 that we moved back in.
Like any house our first few months were full of small project here and there, some landscaping duties, etc. We had to tweak our heating and cooling. We had to add the finish coat to our cork flooring as well as winterize some areas where our insulation seemed less than ideal. Overall it was great fun though.
At this same time we became heavily involved in the tiny house community even writing a book and being asked to speak at several building workshops and conferences. Our tiny house – while a shelter from the proverbial storm for us – had evolved into an entity of its own. 
Each day brought new challenges and discoveries though. During the hot months we learned the value of shade and using even an awning to keep down interior heat from the direct sun outside. One particularly rainy stretch of summer we learned that our stoop needed to be a porch and we either needed to add more dirt to our front yard or we needed a walkway because even the ducks seemed to be wearing life jackets! We found out that fish and onions can ONLY be cooked out of doors. 2013 was a blast and our house was working out better than we could have imagined.
By New Years 2014 we were growing restless though. With our projects nearly complete and nothing really on the horizon as well as the coldest winter in recent history giving us a slight case of cabin fever we decided to pursue tiny house living in a new fashion. We decided to take to the open road again (we were both once full-time missionaries living out of only a backpack each) and discover things about America that we had failed to learn through books. We also wanted to see how the landscape of America was changing and how the "American Dream" ethos was holding up so many years later. To keep with our budget consciousness though we knew we needed to stick with "one in/one out." That meant in order for us to purchase a travel trailer or camper to travel in we need to sell the tiny house. It was a bittersweet revelation but one that was absolutely necessary.
On May 16, 2014 our tiny house was hitched up again. This time it was headed for Myrtle Beach, SC and its new family. We were closing one chapter and immediately opening another. We were giving up one adventure for another. There was no looking back and to make sure we shattered the rear view mirror!
In early August we loaded up our possessions in our travel trailer and the back our pickup truck and took off for whatever came after the North Carolina state line. We have been on the road full-time since – living and discovering. We like to think that as long as we keep our minds open, our hearts full, and our relationships tight, the Tiny r(E)volution won't die. The r(E)volution can't die! 
 Photos by Andrew Odom. Read more about Andrew HERE. 
---
---
---