The Right Dog for the Wright Family

Oct 22, 2014 09:40AM, Published by A Kitchen Drawer Writer , Categories: In Print
---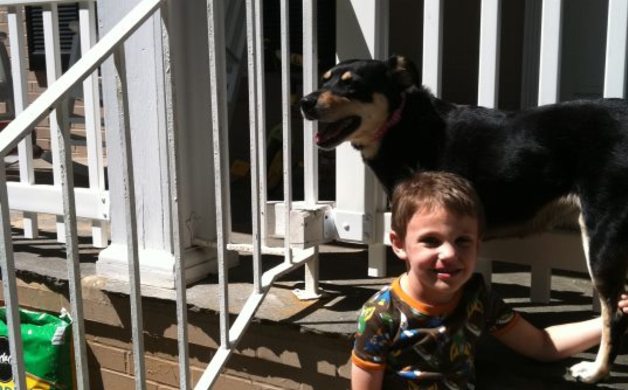 ---
---
Originally published in Volume 4 Issue 3 of Kitchen Drawer Magazine
By Rachel Scoggins 
Brooke Wright is the mother of five-year-old Gavin, who is autistic. A few years ago, the family moved to Griffin from Eastman, Georgia so that Gavin could be part of the Stepping Stones Applied Behavioral Analysis (ABA) classroom for autistic kids. "Autistic kids are disconnected from the world," Brooke says. Gavin is loving towards her and her husband, but he had never had any interest in an animal until Brooke and her husband decided to get a dog. When Brooke she saw Rosa, she immediately knew that Rosa was the right dog for the Wright family. "She just wanted to be petted," Brooke explains. Rosa's caring and nurturing spirit quickly got her adopted.
At first, Gavin didn't really have any interest in Rosa, but it took only a couple of weeks for the two of them to become inseparable. "She's a perfect fit for him," Brooke says. Rosa is the one that usually approaches Gavin, initiating play with him. She nudges him, which encourages him to play with her. But now, over a year later, Gavin initiates play with Rosa when he's in the right mood. Brooke explains that their games aren't like normal games, such as playing fetch; it's more like chase: "When they play, he just laughs and thinks it's funny." And Rosa is the perfect playmate for Gavin. When he plays roughly with her or doesn't realize he's hugging her too tightly, she doesn't get mad at him and endures it patiently.
Rosa and Gavin spend most of their time together. She sleeps on his bed, runs out of the house to stand and greet him when he comes home, and even mourns when he is gone too long. A while back, Gavin spent the day away from home at school and therapy. Rosa ate a sock, threw it up, then ate a plastic star that had to be removed. "She gets anxiety when he's not around," Brooke explains.
That is not surprising. Although Rosa is the Wrights' pet, she also serves another purpose. She has become Gavin's unofficial service dog. Brooke realized that Rosa was a service dog in the making when the family took Rosa on vacation with them. Gavin got sick and Rosa wouldn't leave his side. At one point, Rosa came to the doorway, got Brooke's and her husband's attention, and continually looked back and forth between them and Gavin to let them know something was wrong. "We were like, this is amazing," Brooke says. "You'd think she was a seizure alert dog because he was sick and she knew to come get us."
Although Rosa has all the makings of a service dog, she isn't one yet, which is unfortunate for the family. Gavin needs Rosa to be his official service dog so she can go everywhere with the family. Right now, whenever Brooke takes Gavin places, she has to grip his hand because he will just take off across stores without warning. If Rosa becomes a certified service dog, Gavin can be tethered to Rosa so she can help keep him from wandering off. But until she gets certified, Rosa cannot go into public places.
Service dogs are common for children with autism. The mission of one nonprofit agency, 4 Paws for Ability, is to provide trained service dogs to individuals with disabilities across the country. The Wrights have looked into obtaining a dog through them. Since the cost to train and place a dog usually runs about $22,000, 4 Paws for Ability asks the family to raise $13,000. Other organizations offer free dogs, but those waiting lists are usually two to five years, whereas 4 Paws places a dog in the household within a year. Although price is one factor, Brooke is also hesitant to try an agency because a child must first bond with a service dog to officially adopt it, and Gavin acts uninterested in most animals. If the child and dog do not bond, the process has to start over.
And why should they go through all that when they already have Rosa?
The problem is this: for Rosa to be trained, she would have to go away and be boarded for six months. Brooke refuses to let Rosa be taken away from Gavin for that long. "I don't want that bond to go away." Unfortunately, Brooke and her husband do not know how to train service dogs, and even if they did, their busy days leave insufficient time to train Rosa. The Americans with Disabilities Act (ADA) doesn't provide specific guidelines for raising, training, or obtaining service animals. It simply provides a definition of what a service animal is. To become identified as a service dog, the dog has to meet the definition given by the ADA. A dog can be trained to meet these guidelines by a willing professional dog trainer or even by a dog lover who is self-taught through manuals and classes.
In some ways, Rosa already acts like Gavin's service dog. For example, Gavin used to have anxiety when sleeping. Brooke and her husband tried different tactics to try to alleviate it, but to no avail. One evening, without training or instruction, Rosa jumped on the Gavin's bed and began sleeping at the foot of the bed. Ever since then, Gavin's anxiety has stopped. "We haven't told her to do anything. It's just like she knows, 'Gavin needs me,'" Brooke explains. If trained as a service dog, Rosa could go everywhere with Gavin, even to school.
"Rosa will always be our pet," Brooke states, "but if she's a service dog, she can do more with us." Rosa is a friendly, people-loving dog. She's not aggressively protective; rather, she greets people when they come up to Gavin and the family. However, that is something that will have to be stopped when Rosa becomes a service dog. When Rosa is at "work" with Gavin (such as at a  restaurant), she can't go up and greet people. "Rosa would only be a 'working dog' when she's out in public," Brooke says. "She'll continue to do what she already does at home because she's already working." She adds, "Rosa enjoys being with Gavin, so I think she'd enjoy working as a service dog. It probably wouldn't even feel like working."
The Wrights really want a local trainer to train Rosa so she doesn't have to leave Gavin. "We would love it if someone would donate money or time," Brooke says. "We would love to have a local trainer. Anyone can do it if they know about service dogs." The Wrights want to stay within the community since they moved here to help Gavin in the first place, while keeping Rosa and Gavin together. Their search to find a local trainer hasn't yielded any results yet, but they remain hopeful.
"I know all this has happened for a reason," Brooke claims. "Rosa's just been a blessing for us."
---
---
---