Finding Molly

Oct 24, 2014 09:00AM, Published by A Kitchen Drawer Writer , Categories: In Print, Community
---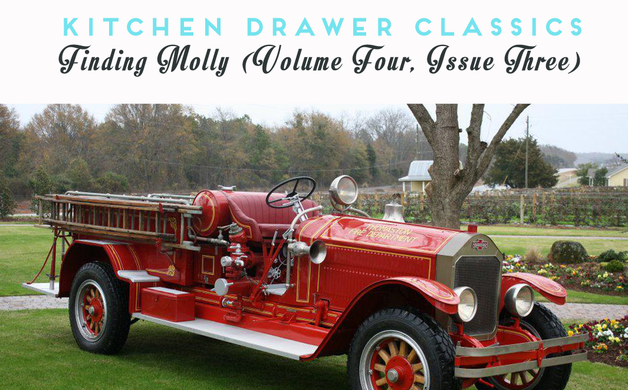 ---
---
Originally published in Volume 4 Issue 3 of Kitchen Drawer Magazine
By Allison Smyly with Jeff Sanders
As a boy, Jeff Sanders was a big fan of Thomaston's fire department, where his dad was a volunteer firefighter. Jeff watched his dad and other firefighters battle many a blaze from the seat of one of the three fire trucks Thomaston had at that time. Jeff's favorite fire truck was a 1927 American LaFrance, also known as "Molly." Jeff credits the fire department and its chief at the time, C.W. "Bushy" McDaniel, with helping him decide to behave himself in school and in all of life. Mr. McDaniel, whose wife taught across the hall from Jeff's first grade class, often visited the grammar school and served as an unofficial mentor to the children. In the middle of one of Jeff's frequent temper tantrums, Chief McDaniel appeared in his classroom. "If you will stop this ruckus, I'll come get you on Friday morning and take you to school on Molly," the fire chief said. "You can ring the bell all the way to school."
Jeff behaved well for the rest of the week, anticipating that morning as if waiting for Santa Claus. At home, Jeff and his dad could hear the loud motor of the fire engine from blocks away and waited breathlessly to see if Chief McDaniel would remember his promise. Remember he did, and Jeff was on top of the world as he rang Molly's bell all the way around the town square and on to school. When they arrived at the school, Chief McDaniel gently lifted Jeff from the seat, and before placing him on the ground, said, "If you ever pitch another temper tantrum, you cannot ride or sit on one of my fire trucks, nor come to the fire station, ever!" Jeff proudly walked into the school a reformed student who never had another tantrum.
Jeff remembers spending pleasant summer days at the fire station, polishing the fire equipment, watching old timers play checkers, and listening to the firefighters' stories. When Jeff would step up on a crate to peer longingly at an Orange Crush in the soft drink chest, a fireman would always say, "I'll pay for this one, you pay next time," even though Jeff had brought his nickel for a drink.

Back then, events at the fire department made news for the whole community. Jeff remembers the whole town coming out to see a 1959 closed cab LaFrance fire truck coming in to town by train, but Molly always remained Jeff's favorite. Throughout his childhood, Jeff stayed loyal to the fire department and Molly, despite a misunderstanding that resulted in Jeff's missing an opportunity to ride Molly in a parade.
Things were never quite the same for Jeff after the fire station was remodeled and Molly was placed behind windowless doors; now, he could only admire her when the doors were open or when the truck was out of the station. With the delivery of another new fire truck in 1962, Molly was retired and placed in "parade status." This meant that unless there was a large fire, she would never again respond to a fire call. After the truck was retired, Chief McDaniel fondly called her "Ole Molly."
Although it appeared that Molly's glory days were over, she got another chance to shine in "active duty." In August 1966, Thomaston's worst fire in more than thirty years erupted when a tank overflowed during a gas delivery to the Britt Oil Company, resulting in a massive explosion and fire. Flames engulfed the oil company, Rogers Concrete, Ideal Cleaners, and several other small buildings. Even the railroad tracks were damaged in the extensive heat of the fire. All available fire trucks were called to service, including "Ole Molly." On her final fire call, Molly pumped 800 gallons of water per minute for hours and never missed a beat.
After the fire, Molly was cleaned up and again placed in parade status until October 1966, when she was sold at public auction to local businessman Tom Cason. Though Mr. Cason invited him to come see Molly any time, Jeff only visited a few times. Seeing Molly in a garage instead of at the fire station brought Jeff a twinge of sadness. After Molly was sold to Skip Seback of Decatur, Georgia, Jeff caught glimpses of her at the Atlanta Fire Muster and on the news. Jeff lost track of Molly's whereabouts when she was sold to new owners out of state, but he and his dad never forgot the old fire truck.
In 1988, Jeff's dad told him that he needed to find Ole Molly and bring her back home "where she belongs." For years, roadblocks and dead ends marred Jeff's attempts to find Molly and bring her back to the Thomaston area. Once, when Jeff's ailing father asked about his search, Jeff told his dad that he was ready to give up. "Don't ever give up," Jeff's dad replied. "You just might miss out on a blessing if you do." Jeff then promised his dad that he would never stop trying to find Ole Molly and bring her home. A couple of months later, Jeff's dad died, and his mother passed away a short time later.
Jeff renewed his search for Molly after his parents' deaths, spending hundreds of hours on the Internet and on the phone. More years passed and Jeff's search remained fruitless. He feared that the "grand old lady" was rusting away somewhere, never to be found. On a cold day in December 2010, Jeff's friend Russ McGee, bubbling over with excitement, called Jeff and told him to check his e-mail. Russ had forwarded to Jeff a news clip from Fox News in Charlotte, NC, entitled, "Old Red Fire Truck Looking for a Home." Jeff was almost afraid to watch the clip for fear of another disappointment. In the news clip, the owner of a 1927 LaFrance showed various important papers, including one that showed that the truck had been built for the town of Thomaston, Georgia. It was Molly!
Although the fire truck was for sale, the asking price proved to be far beyond Jeff's means and triple the actual worth of the antique fire truck. Although the city leaders of Thomaston very much wanted to bring Molly back to the area, the price was not within the city's budget, either. Hoping that he would find an ally in Truett Cathy, the founder of Chick-fil-A and the owner of The Rock Ranch near Thomaston, Jeff enlisted the help of his friend Jeff Manley, manager of The Rock Ranch.
Mr. Cathy was willing to help, but he told Jeff Sanders point blank, "Get the price down." According to Jeff Manley, Mr. Cathy loves old fire trucks, but he also loves "horse trading." After months of difficult negotiations, a selling price was agreed upon. Mr. Cathy purchased the fire truck, then gave it to the city of Thomaston in appreciation of the support The Rock Ranch receives from its community. "(Mr. Cathy) is so genuinely thankful that God has given him the resources to bless others," says Jeff Manley.
The dream of welcoming Molly back home came true in December 2011. Jeff Manley recalls that a small group of tough, burly fireman learned of Molly's return and came to watch her roll into town on a trailer. It was a solemn, emotional time as these men silently pondered their own special memories of Molly, perhaps of admiring her in a parade or watching their fathers or grandfathers fight fires with her. "It was as quiet as a church," said Jeff.
Since the city of Thomaston does not have a place to house Molly, she is now on display in Truett's Barn at The Rock Ranch for all to see and enjoy, complete with a brand new set of BF Goodrich Silvertown tires. Charles McDaniel, son of fire chief C.W. McDaniel, and Von Mitchell donated funds to have pinstriper Rob Cochrane paint all the striping and lettering by hand, just as it would have been done 85 years ago when Molly was first delivered to Thomaston. As Safety Officer at The Rock Ranch, Jeff Sanders can visit Molly often, as can anyone who wants to remember the days when a shiny red fire truck, a gleaming brass bell, and an Orange Crush were just about all it took to make a perfect afternoon for a child. Molly's glory days are here again.
---
---
volume 4 issue 3 Finding Molly Truett Cathy
---