No Tricks This Halloween With The Teal Pumpkin Project

Oct 29, 2014 01:39PM, Published by Emily Bethune , Categories: Lifestyle
---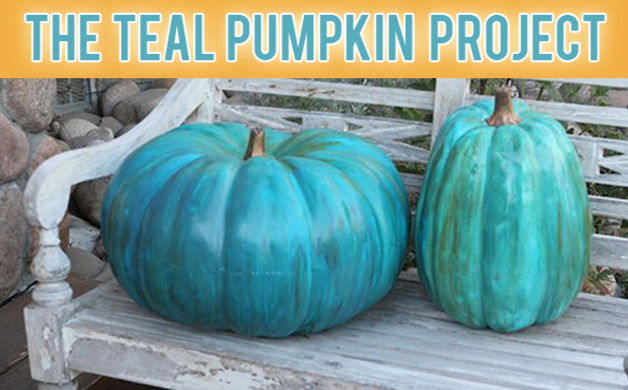 ---
---
Every kid loves Halloween, right? Dressing up, playing with friends, eating candy and handmade goodies is what the holiday is about.   However, if your child is one of many who lives with food allergies, it can be a difficult holiday leading to stress and worry over what may end up in your child's hand.
Thanks to a mother in Tennesee, Becky Basalone, parents and children can relax a little bit more.  A movement tagged #tealpumpkinproject allowing kids with food allergies to enjoy the holiday in a way less scary way while out trick or treating.  The program is taking off online, spreading across the nation, even into other countries. The idea is that you place a teal pumpkin on your porch to let people know that you have non-food items available for treats. The Teal Pumpkin Project is designed to promote safety, inclusion and respect of individuals managing food allergies.  It isn't a way to cut candy out of Halloween, but offers the opportunity to allow everyone to participate and enjoy the festivities. 
It's a great idea to offer candy and non-food treats, not just one or the other. Food allergies affect 1 in 13 children in the United States. While some children may just have a slight allergy, others may have a more sensitive and severe reaction, so keeping the treats separate is key.
Not only is this great for personal trick or treating, any school, church, or business that holds activities can be as inclusive as possible and display a teal pumpkin to let people know that there are options for their children as well. 
No child should have to suffer and miss out on an important part of their childhood. Making memories that will last a lifetime while they are finally able to thanks to The Teal Pumpkin Project!
If you would like to participate or to help spread awareness you can check out foodallergy.org.  Here you can get materials to print or digital information you can share over social media channels.

---
---
Halloween Teal Pumpkin Project Food Allergy Kids Kids food allergy
---