Preventing Bullying Through Martial Arts

Oct 30, 2014 10:10AM, Published by A Kitchen Drawer Writer , Categories: In Print, Community
---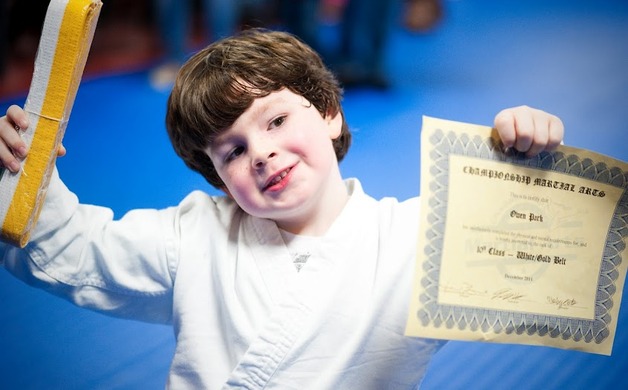 ---
---
Originally published in Volume 4 Issue 3 of Kitchen Drawer Magazine
Bullying is a hot topic these days: a major concern for young people, parents, teachers, and school administrators. Being bullied can take an emotional toll that stays with a child for years to come. While there is widespread agreement that a problem exists, solutions seem to be in short supply. Martial arts training is a good place to start looking for answers to this baffling problem, both for those who are being bullied, and surprisingly, even for the bullies themselves. It is one way to bring attention to the problem of bullying and give students a safe place to  obtain "tools" to help solve the problem.
 Studying martial arts is a logical step for those who are suffering through the trauma of being bullied. According to Kevin Brown, a senior instructor at Championship Martial Arts (CMA) of Griffin, martial arts students are taught how to defend themselves, but they also learn strategies for keeping conflicts from escalating into physical confrontations in the first place. Students learn techniques for escaping from physically threatening situations, whether on the schoolyard, during free time, or those involving a stranger. Martial arts students are consistently taught to distinguish between scuffles with classmates and siblings versus more ominous "stranger danger" situations, and to respond appropriately. Jim Brown, CMA's Program Director, says that their studio encourages parents to talk about self-defense with their families, so that children will know what to do if the need arises.
A key component of martial arts is teaching students to believe in themselves. CMA incorporates into their program "Black Belt Values," which promote positive traits such as focus, discipline, confidence, self-respect, perseverance, and integrity. Bully prevention, including recognizing bullying behavior, and stranger awareness are key components of the Black Belt Values curriculum. This program develops life skills including leadership, teamwork, and goal setting, which will be useful throughout students' lives, according to Jim Brown. Listening and public speaking skills are also part of the Black Belt Values program. Staff members at CMA believe that young people and adults alike who exhibit values such as the ones taught in this program are much more likely to be able to deal with uncomfortable situations.
 How can martial arts help young people who are engaging in aggressive behavior, or "bullying," other students? Kevin Brown believes that some "bullies" are not necessarily behaving as such on purpose. "They think they're being the class clown," he says. The students are taught that some behaviors that they may perceive as funny are actually bullying. According to Kevin, "We can bring to light what they're actually doing as opposed to what they think they're doing."   Kevin says,"Some people think that if you teach a kid to punch and kick, they'll be a bully." He believes that the opposite is often true: teaching young people to use physical force only when physically threatened, and as a last resort, will prevent them from bullying others. David Hart, also a senior instructor at CMA, believes that bullies act the way they do because they lack self-confidence and a sense of self-worth. He believes that martial arts promote self-esteem by providing reinforcement for positive behaviors and removing incentives for negative behaviors such as bullying.
Jim says, "The beauty of martial arts is that it encompasses not just the physical aspects of the 'sport,' but the mental and emotional lessons as well." He believes that misplaced aggression and a "win-at-all costs" mindset contribute to the bullying problem and a lack of self-esteem. In contrast, he  believes that students who learn proper values are much better prepared for life's uncertainties. The improved physical fitness, speed, strength, and flexibility that come with martial arts training can also boost students' confidence in a healthy way.
According to Jim, while karate and other forms of martial arts (jiu-jitsu, grappling, and Israeli combatives are blended into CMA's program) will always be used for self-defense, in recent years, martial arts have also become performing arts. Top martial artists often have tumbling and gymnastics skills in addition to excellent martial arts abilities. The combination of these skills, known as "extreme martial arts," results in exciting forms, known as "katas," which include flips, twists and aerials. Learning these skills, in addition to more traditional martial arts forms, is exciting for students and audiences and can provide a positive outlet for energy that might otherwise be misdirected into bullying. Similarly, students who can demonstrate such skills might be less likely targets for bullies.
 Kristie Hall, a pre-kindergarten teacher at Cowan Road Elementary, sees martial arts training as a relevant answer to the bullying problem. "Someone needs to pay attention to the children who are being bullied," Kristie says. She believes that martial arts training gives students the confidence to stand up for what is right and helps them discover their own unique strengths and abilities. In her opinion, karate also builds empathy for others, helping to prevent bullying behavior before it begins. Kristie's own children, Ryan, 13, and Emily, 10, have been taking karate for several years; both have first-degree black belts and are working on their second-degree black belts. While watching her children's karate lessons, she has observed shy, withdrawn students become enthusiastic, respectful, and confident. Kristie says, "As a teacher, I know that anything positive you can bring out (about a child) really helps."
Championship Martial Arts is located  at 210 E. Solomon Street in Griffin. For more information about their programs, call (770)228-6159, visit www.cmagriffin.com, or e-mail cmagriffin@gmail.com.
---
---
Championship Martial Arts Bullying
---