A Day In the Life On The Farm

Nov 03, 2014 10:38AM, Published by A Kitchen Drawer Writer , Categories: Lifestyle, Community
---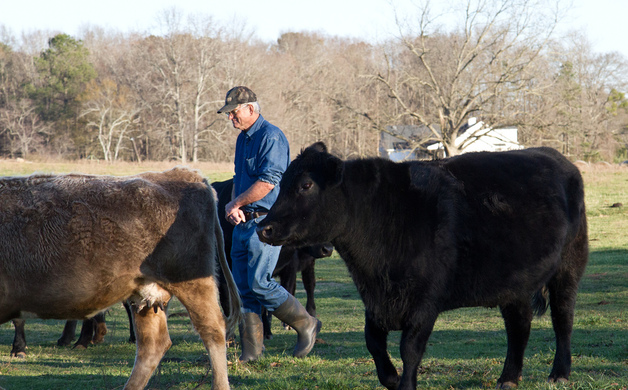 ---
---
Originally published in Volume 4 Issue 2 of Kitchen Drawer Magazine 
Roger Green was born in his grandparents' house at Green Valley Dairy Farms in Meansville, Georgia on Thanksgiving day in 1947. Farming has been an important part of his life ever since.
Roger and his three brothers helped their dad on the dairy farm most days, rising early to get their chores done before school and working hard after school. In 1990, Roger started his own cattle farm, Evergreen Farms, when he built a home for himself, his wife Kay, and his three daughters on 100 acres, just a mile down the road from the dairy farm. These days, Roger and Kay remain as busy as ever, managing Evergreen Farms, a new poultry operation they began in 2011, and working with two of Roger's brothers to manage Green Valley Dairy Farms.
Though farm work can be demanding, Roger and Kay make sure they spend plenty of time with their three daughters and five grandchildren, who enjoy the farm life, too. Roger and Kay are members of Christ Chapel Community Church in Zebulon. Roger is a member of the Pike County Antique Tractor Club and finds time to be in every local parade, sporting his restored antique tractor with his grandchildren in the wagon. He has served on the Pike County Board of Education since 2006.
Some things haven't changed about farm life since Roger was born into it 64 years ago. The days are still long, the work is still hard, and the unexpected sometimes happens; but like most farmers, Roger Green wouldn't have it any other way.
---
---
A Day In the Life Green Valley Dairy Farms
---