Hope For Steve

Nov 04, 2014 04:14PM, Published by A Kitchen Drawer Writer , Categories: In Print
---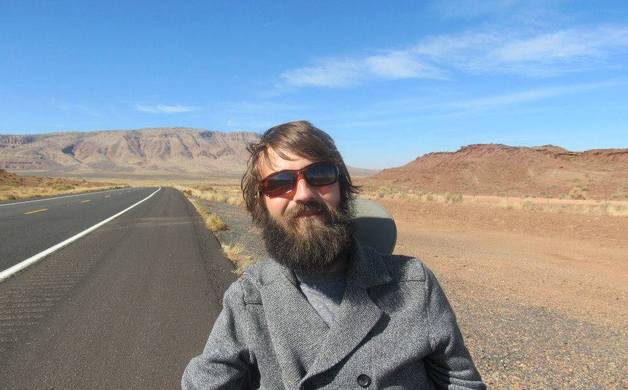 ---
---
By Pete ChagnonPhotos by Raymond Adams
There was once a time when God looked down on everything he had made and saw that "…it was very good…" (Genesis 1:31). That might surprise you when you turn on the news. Where is the good? Where are the good? What is so good about this world we live in?
I ask myself that question on a daily basis—where are the good? Perhaps you've asked yourself that very question. We search the TV news and the Internet looking for the good—but have we ever searched our backyards? Our neighborhoods? Our communities? This is a story of the day something good found me. Earlier this year, goodness walked right into my radio studio in Griffin in the form of a story involving Hope and Steve Dezember of Atlanta. Surely when God looks down from heaven upon this couple, he says they are good…very good.
I interviewed director Sarah Spicer and producer/editor Matt Moore, who were in the midst of producing the documentary Hope for Steve. Steve was a good friend of theirs from college, and when they received news that he was seriously ill with a disease that had no known cure, they were surprised by his reaction and felt compelled to share his story through film. Hope and Steve's story is so powerful that their film's Kickstarter campaign raised the needed $30,000 plus in 14 days (45 days had been allotted). Even singer Michael Franti was so touched by the Dezembers' story that he would later visit Steve in the hospital and become good friends with the couple.
In 2011, Steve Dezember was your average American guy in his 20s, full of life, hopes, and dreams. Hope, appropriately named, was his girlfriend. However, all that would change in the blink of an eye when Steve began to lose control over his body, and several times he unexplainably fell. Knowing that something was just not right, Steve went to a doctor and was eventually diagnosed with Lou Gehrig's disease, or ALS.
 Amyotrophic lateral sclerosis (ALS) is a neurodegenerative disease that results in the loss of muscle movement and eventually, total paralysis. Muscles waste away—patients are essentially buried alive in their own bodies. ALS affects the brain's ability to control movement, breathing, and speech, but typically, mental capacity remains intact. ALS is an eventual death sentence, with many victims surviving only two to five years.
Bearing in mind the gravity of the diagnosis, how would any of us respond to being handed that news? Steve responded by calling Hope and gently breaking the news to her. While all that was sinking in, he said that he would completely understand if their relationship was over, but if she decided to stay with him, then he wanted to get married. She accepted his marriage proposal, and by doing so, his journey and struggle through ALS. This is where the story really begins.
Steve tells everyone that ALS has given him a renewed desire to live life to the fullest. The wedding took place quickly, before the disease progressed too far, and shortly after the wedding Hope and Steve embarked on a cross-country journey. They wanted it to be a celebration of life and a way to increase awareness for ALS research, so they painted their minivan in bright colors and flowers—really, you can't miss it! As they shared their passion for life with others, their enthusiasm was contagious. One supporter was even inspired to give Steve and Hope a trip to Belize. Many people still inspired by their story continue to help them in their daily struggle with ALS.
Not very many people, including me, understand ALS. We might know that a famous baseball player named Lou Gehrig died of the disease many decades ago, but apart from that, ALS doesn't get much press. Hope and Steve are changing that through their story and documentary. The realities of ALS are not for the faint of heart. It quickly voids a person of any dignity or pride. Steve has to allow himself to rely 100 percent on Hope, and Hope has to be willing to be there 100 percent for Steve.
It wasn't long before Steve could no longer walk, eat, or even get out of bed. He requires around-the-clock attention and care. Hope takes her vows of "for better or for worse" seriously, even quitting her job and losing their only source of income to care for her husband. Now they depend on the charity of others, another humbling experience for anyone.
Steve has regular medical setbacks and long stays in hospitals. For a time he was only able to communicate in labored whispers. Now, through the kindness of others, he can communicate through a Tobii—a device that tracks his eye movement and translates text into a synthesized voice. Steve also has a motorized wheelchair that allows him some mobility. He even enjoys painting—Hope spreads out large canvases on the floor and Steve rolls his wheelchair through paint, creating fantastic works of art.
Through all the ups and downs, Steve and Hope's devotion and reliance on each other is inspiring to everyone who sees their story unfold in the documentary Hope for Steve. In it, we get to know them personally, catch their enthusiasm for life, and see how Hope Dezember is not only hope for Steve, but hope for every one of us searching for a spark of human goodness in a world gone crazy.
But for the skeptic, the age-old question remains—can you really find good in a story of human suffering? Can something good really come from Steve's battle with ALS? An answer can be found in their awareness campaign. Hopefully, through increased awareness and donations raised through this documentary, a cure for ALS will one day be a reality.
I had the pleasure of viewing Hope for Steve June 1 at its Buckhead premiere. I cannot sing its praises enough. You'll be in for a wild ride, lots of tears, and plenty of laughs! There is no question your outlook on life will be changed. Please go to www.HopeforSteve.com to purchase a copy. Two dollars from every DVD sold will go to ALS research, and a portion of the proceeds of the DVD sales go to Hope and Steve Dezember.
Faced with a death sentence, Steve Dezember went on another soul-searching journey, and that path led him to Jesus. He became born again, as some call it, and was baptized at North Point Community Church in Atlanta. Although Steve no longer has an audible voice, Sarah Spicer told me that when you look into his eyes, you know he has peace in his heart and can tell that he believes that his eternity is secure. I, for one, believe when his time comes—as it will for each of us—Steve will walk through those pearly gates under his own power.
---
---
Volume 6 Issue 5 Hope For Steve Pete Chagnon
---