St. George's Announces Addition of High School

Nov 05, 2014 10:00AM, Published by A Kitchen Drawer Writer , Categories: Community, Today
---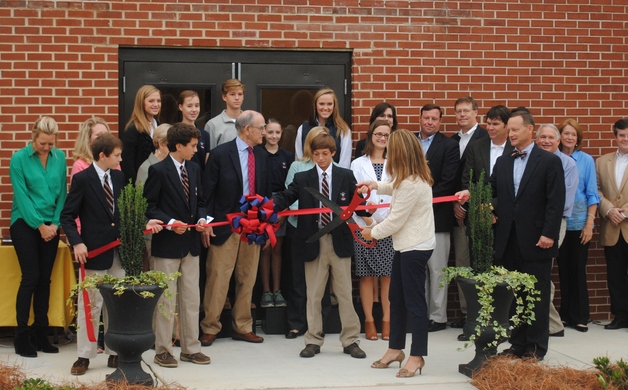 ---
---
The announcement was made by Ashley Taylor, Board Chair, during a special ribbon cutting event held recently for the opening of the school's new Harrison Wing.
St. George's Head of School, Dr. Larry Collins, commented, "This is an exciting endeavor we've chosen to embark upon after much consideration."  Collins led many meetings with the Board of Trustees, middle school parents and school administration to determine whether to pursue the addition of the higher classes.  SGES will provide a rich, personalized high school experience with distinctive opportunities for each student.  The curriculum will include AP courses and college courses.  An additional grade will be added each subsequent year until all grades, 9 through 12, are in place.
The new Harrison wing will provide classrooms and a learning environment with space for interactive, round-table discussions.  The new wing includes a state of the art science lab, audio-visual room, and additional classrooms.  The Harrison Wing also includes the Learning Enrichment Center that focuses on challenging each student.  The school will also commit to a highly individualized and comprehensive college advisory process that begins in the 8th grade with college planning, advisory and admission support, including college visits.
Taylor, also announced that St. George's Episcopal School is the beneficiary of a significant monetary gift to the school over the next five years.  This gift will be used as an investment in the high school program, reduction of debt and improvement of current facilities.                                                                                 
Taylor's announcement brought cheers from the student body assembled for the celebratory event.  Plans are currently underway to prepare for the new 9th graders beginning next year. St. George's Episcopal School is currently a PK3 – 8 independent school located in Milner Georgia.  Visit the school's website at sges.org for additional information.
---
---
---