RECIPE: Maple Vinaigrette Dressing

Nov 06, 2014 12:41PM, Published by Courtney Yancey, Categories: Food+Drink
---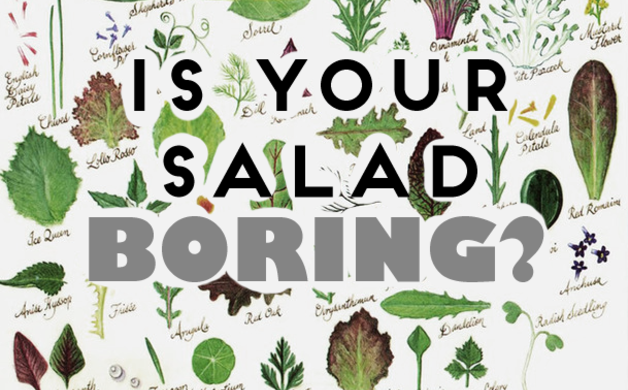 ---
---
By Fitness Contributor, Courtney Yancey
The weather is cooling off! Temperatures rise and fall a little inconsistently this time of year, but if you are anything like me you revel in every moment that exuberates the goodness of fall. Crisp weather, cool mornings, and cozy evenings staying warm. It makes me want Thanksgiving; more specifically, a hot bowl of mashed potatoes, or casserole, or pie, or anything other than a cold, stupid salad.
There are tons of things you can do with vegetables to keep your nutrition up to par this season, but the reality is that you get tired of steaming and sautéing on this wonderful journey we call nutritious life. With that being said, let's talk fall salad. Kitchen Drawer is here to rescue you from cold, boring lettuce that makes you want to stick your face into a toasty pumpkin pie.
Fall evidently being the theme here, we are showing off an autumn salad dressing today. There is room for variation with this maple vinagerette, so feel free to switch up the maple syrup into something lower sugar if that's your thing. Really, this is a drizzled-style dressing so the sugar content is so miniscule you don't have to worry about it. 
SALAD PEOPLE, HERE'S TO YOU: 

INGREDIENTS
1/3 Cup Apple Cider Vinegar

2 Tablespoons of Maple Syrup

1 1/2 Teaspoons grainy Dijon Mustard

Kosher Salt & Cracked pepper

2/3 Cup of Extra Virgin Olive Oil
In a small bowl whisk the vinegar and maple syrup. You really want the good, pure maple syrup not the Aunt Jemimah here. Second, drop in the Dijon mustard, a sprinkle of coarse kosher salt, a sprinkle of pepper, and whisk away! Stir in the olive oil until the consistency is thin enough to drizzle.
Olive oil contains healthy fat properties to keep you full so you aren't scavenging cupboards at 11 PM for lack of adequate nutrients through your day. 
PLOT TWIST: Microwave this dressing for about 40 seconds and drizzle over your salad; this is what sets it apart from your summer salad munch routine. The warmth of this vinaigrette makes you feel so much better about your life.
Make a bed of spinach, sliced red onion, a few chopped pecans, a sprinkle of your favorite cheese (I am into feta or goat), and you've got a salad to brag to the world about.  A little extra fall flare might lead you chopping up a juicy Gala apple, sprinkling it all over your plate, and tasting the autumn goodness that brings top-notch nutrition to your soul.Warm & Drizzle, Serve room temp, or refridgerate: whatever mood you go with, you're sure to love the dressing of the season! 
---
---
recipe courtney yancey health fitness
---